Eight Queensland Drag Racing Champions have been found amid scorching Saturday temperatures at Willowbank Raceway, following a frenetic day of eliminations-style racing for the final round of the QDRC for 2015.
Josh Fletcher (Donnelly Blasting Services QDRC Outlaws), Tony Bellert (QDRC SuperComp), Kellie Kidd (Knijff Earthmoving Modified), Tony Whyatt (Powercruise Super Sedan), Lucas Holz (Prime Signs/Speed Elec Super Street), Tammy Goldthorpe (Modified Bike), Tim Barron (Wallace Bishop Loyal Watches Junior Dragster) and David Gauldie (Super Gas) were crowned QDRC champions this evening courtesy of their results in today's final round.
All of the QDRC champions will be presented with their QDRC trophies at a special presentation evening on the 11th of December at Ipswich's Pumpyard Bar and Brewery.
For Fletcher, Bellert, Holz, Goldthorpe and Barron, Saturday served up a double victory, with these racers also taking out the round wins in their respective brackets. Joining them in receiving the last QDRC round win trophies for 2015 were Stephen Gouws (Knijff Earthmoving Modified), Adam Solomon (Powercruise Super Sedan) and Dale O'Dwyer (Super Gas).
For the Bellert family, the evening was a special one, with both Tony Bellert and his sister Kellie Kidd taking out their respective titles in honour of their late mother Bronwyn Bellert, and their father Phil Bellert helping Kellie to her victory by beating her last remaining title rival – Michael Bailey – in the second round of eliminations.
Kidd was watching from the sidelines, after 'breaking out' (going faster than her nominated dial-in) during her first round of racing – incidentally in a race against Bailey.
"How do you even sum that up – you just can't!" exclaimed a jubilant Kidd. "To face off against my nearest rival in the first round and then lose to him, and then to be biting my nails in the grandstand watching dad race him in the next round was just intense – my heart felt like it stopped watching dad take on the guy that could take the championship from me, but he was on a mission and he came to my rescue, and I will be forever grateful for that.
"I am so proud of our family and so proud of our team right now. It is hard to put into words how we are actually feeling, because we are racing for our mum and for everyone we have lost over the last four years – we have lost so many family members and great friends, and we have had them on our minds and been on a mission this season.
"We really wanted the 1-2 for dad and I in our championship and we came so close – if he had won the final he would have been right behind me on the standings, but we have come away with two championships, a bracket winner and a bracket runner-up in one day so I can't be anything but proud.
"Mum would be looking down smiling. And next year we go to a whole new level, fulfilling one of mum's last wishes when my eight year old son Alex will join dad, Tony and I in racing some thirty odd years after dad started all of this. We are very much looking forward to this new chapter for our team and to continuing the legacy."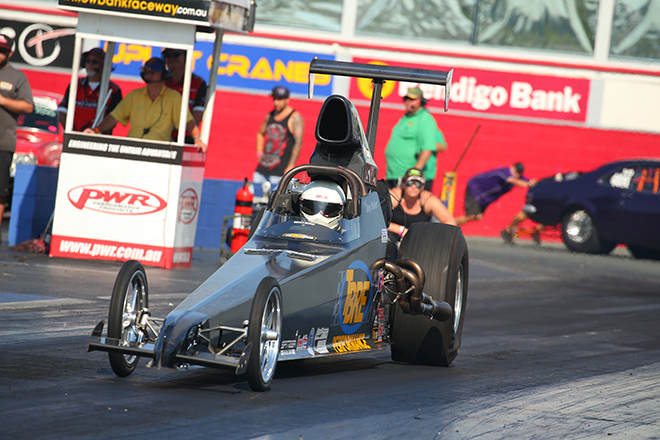 For Bellert, it was his second QDRC SuperComp title in a row.
"To take back to back titles and see the family succeed is pretty good!" said Bellert. "Kellie won her championship, I won mine, and dad was in the final – all in all, it was an awesome day and there are big celebrations ahead. It was a little disappointing that (nearest championship rival) Sam Kiprios couldn't make it this weekend and have a good run at it, but that's racing. We will be back next year and have another go."
For Fletcher, the Donnelly Blasting Services QDRC Outlaws championship tops off a golden year for the Cornubia racer, following on from his recent sixth Street Series title. On his way to the title, he would successfully face off against his nearest rival Nathan Pullen in the final race of the year.
"It is great to win three championships for the Fletcher family (Street Sedan and QDRC Outlaws for Josh, Powder Puff for his step-mother Susanne Fletcher)," said Fletcher. "For the family it just can't be any better – we entered three and we have won three, and that is pretty awesome. We will be back next year for sure!"
In the Prime Signs/Speed Elec Super Street championship chase it was tense from the beginning, with the three top contenders all being eliminated in the very first round of racing this evening. This opened the door for reigning champion Lucas Holz and Andrew Stathis (fourth and fifth in the standings before the final round) to challenge.
Heading into the semi-final, Stathis would falter with a rare red light, seeing Holz the only one left with the potential to take the title from leader Neil Tschutura. In a tense final, Holz would race none other than his own wife Angela Holz in a must-win race to tie for the championship lead. By virtue of being the most successful of the tied racers on the night, he would be awarded back to back championships.
"Racing against Angela saw me more nervous than I have ever been," said Holz. "I have never actually raced against her before, and as I had to take the win to take the championship it was very nerve-wracking and very intense. We had this championship pretty high on our agenda, so to win it was just so important and to take it back to back as well is just amazing – I am pretty speechless. This is a dream come true."
In Super Gas, it was a matter of best friends battling it out, with the title chase coming down to just one point between Kallangur's Gauldie and Simon Isherwood. A fifth Super Gas title would be found by the reigning champion Gauldie, despite a first round lose, when Isherwood failed to make it past the second round of racing. Emerging victorious for the round for the category was Dale O'Dwyer.
"I got that by the skin of my teeth! I was very nervous watching Simon take on Patrick Barron in the semi-final. We had folded in the first round – we didn't want to do that, but sometimes that happens and we just weren't good enough to win that round. We had to sit back and see what happened and Simon is quite capable of winning the championships, but a bit of luck came our way. This makes five titles and with Simon and I trading for a while, this is my first time to go two in a row," said Gauldie.
In the Modified Bike class, the championship came down to the very last race, with Tammy Goldthorpe taking the round win from reigning champ Ken Collin to overtake in-form racer Brian Alvisio for the title.
"I still can't believe that that just happened!" exclaimed Goldthorpe. "I had to win the last race to win the championship and I just can't believe it. The odds weren't in our favour as Brian has been on his game all year long and I knew it was going to be hard – when I raced him in the semis it was really make or break time. I am absolutely ecstatic to have the win."
For the Wallace Bishop Loyal Watches Junior Dragster class, it was all about Tim Barron, with the youngster taking out back to back titles in his last year in the bracket.
"It is great to win the event tonight and also to take out back to back QDRC championships – we are super excited. It has been 10 years in Junior Dragster, and I have to thank mum and dad for being there and for supporting me, as well as all of the other races and to the track for the events they put on," said Barron.
In the Powercruise Super Sedan bracket, it was Tony Whyatt who took out the championship after defeating Mandy Pukis (round one), Paul Doeblien (round two) and David Morris (round three), before round winner Solomon would take him on in the semi-final. On his way to the round victory, the second fastest qualifier Solomon put in an impressive effort to dispatch not only Whyatt but also Cameron Sendall and Max Carpenter.
For full results, please click here.
Images: dragphotos.com.au