Does your child want to race a Junior Dragster?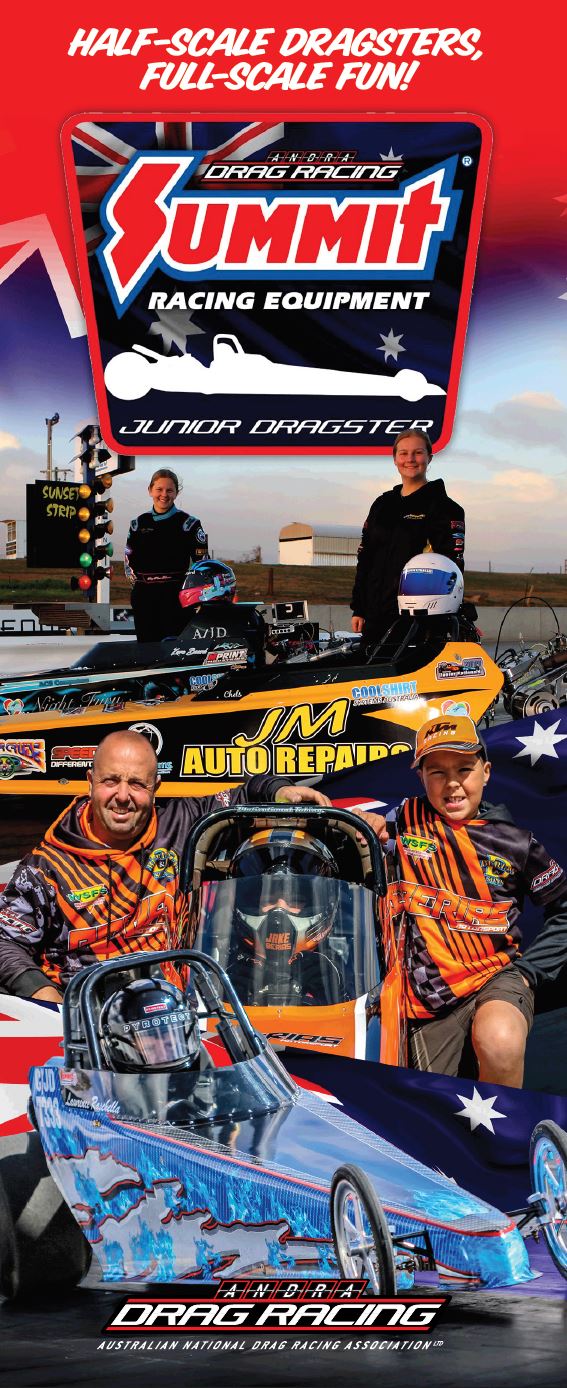 The Summit Racing Equipment Junior Dragster bracket was created by ANDRA for competitors between the ages of 8 and 16 inclusive, racing scaled Dragsters and Funny Cars.
Junior Dragsters are replicas of the sports' fastest cars, Top Fuel. Just like their full-size counterparts, the vehicles will need a log book and inspection to meet ANDRA's stringent technical specifications. ANDRA also places speed and elapsed time restrictions on competitors based on their age and experience.
The licencing process includes multiple steps involving theoretical, orientation and practical testing before a junior competitor is able to take part in side by side racing. You can download the licence and medical forms below.
Getting Started
If you are interested in Junior racing the best thing to do is head to a track near you to check out a race and chat to the racers and families involved. Plan on spending several hours at the track and take in the entire experience.
With ANDRA's open pit areas there is easy access to the drag racing community who are known to be a very welcoming group. This is particularly true of Junior drag racers and their families. Junior Dragster teams are more than happy to answer questions, show people their cars, and, in some cases, will allow kids to get in their car to get a feel for a junior dragster and what it's like to sit inside of one.
As you walk through the pits go up to those who are out in the pit area, say hello and ask questions. Topics may include advice on parts, tools and equipment essential to getting started (and some items you may not need immediately and what you can add later).
Around Australia there are Drag Racing Clubs and Junior Drag Racing Associations affiliated with ANDRA – you can view a full listing on the ANDRA Clubs and ANDRA Tracks pages of this website.
So you want to get started – what else do you need?
A Junior Dragster vehicle
Whether you buy a new or a used car comes down to preference, but for newcomers, beginning with a used Junior Dragster has several advantages. The most obvious is cost. You can find quality used Junior Dragsters for a fraction of the cost of a new one, and in most instances, the used dragster comes complete, including the engine, which is typically not the case with a new dragster. Once again contacting a local ANDRA member club or Junior Dragster Association may assist with information.
Personal Protective Equipment
Arm restraints, an approved helmet, frontal head restraint and protective clothing including race suit, shoes, gloves and socks are all included in clothing requirements. When selecting your helmet, it is really important that it not only meets ANDRA minimum requirements but that the helmet fits correctly, not one you'll grow into, and is in good condition. Ensure it comes with head restraint tether points. For the full list of requirements and all specifications click here to read the ANDRA rulebook. An ANDRA technical officer is also available to answer questions by phone or email.
Want more information?
Contact us at info@andra.com.au or technical@andra.com.au or you may find the following resources helpful:
JUNIOR DRAGSTER RESOURCES:
JUNIOR DRAGSTER CLUBS:
West Coast Junior Dragster Association – Contact: Doug Green on 0414 715 179 or WCJDA@mail.com or visit the Club on Facebook at West Coast JDs