The Australian Drag Racing Championship (ADRC) delivered plenty of thrills at the Perth Motorplex as part of the 51st annual MacTrack Westernationals at the weekend.
By virtue of an oh-so-close victory over the legendary John Zappia, on-form Daniel Gregorini took not only the victory, but also what he calls a stranglehold on the ADRC Top Doorslammer championship.
Jay Upton meanwhile persevered through niggling issues all weekend long to hold on for the ANDRA Gold Christmas Tree over Greg Durack.
In the Top Doorslammer final, it was almost too close to call with Gregorini ultimately triumphing over Zappia with a 5.730 second pass to Zappia's 5.728. Earlier in the evening, Gregorini had faced off against Frank Taylor (round one) and Stuart Moresby (semi), while Zappia had emerged successful from a round one Goldenstates rematch against Pino Priolo, and a semi-final against Steve Aldridge. Gregorini had also earlier claimed the Crow Cams Top Qualifier Award presented by Decoglaze Glass Splashbacks.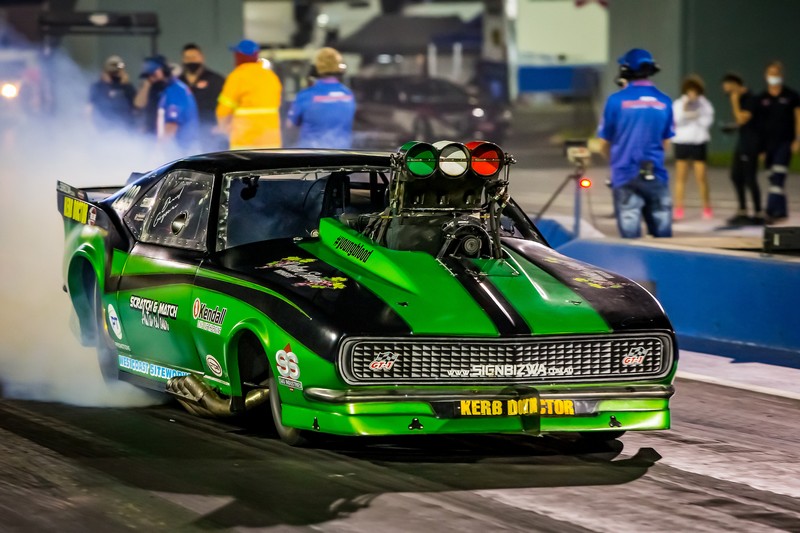 "This is awesome, absolutely awesome," enthused Gregorini.
"We came to this meeting with a new combination, a new camshaft to try and keep progressing and we have had a few dramas this weekend, knocking some bearings around and knocking some plugs around – but we kept it going and limped it through running the numbers," Gregorini said.
"We couldn't step it up past 5.71, so we knew I had to get the reaction time over Zappia and hope he didn't come for me – which he did, that was a PB I believe for his weekend. But we did enough and with my earlier pass we also got the ET and MPH points too, so we have the maximum points and a stranglehold on the championship.
"Bring on the ANDRA Grand Finals! By my calculations we will have a gap of forty-eight points and that is quite a lead so I am feeling very confident, it was always our plan to do what we could to extend our lead but to come away with the maximum points is just awesome.
"We will go back to the shop now and reassess our engine program and try and sort through our few issues and get ready to come back in April to Perth in what should be good weather and try and get it back in the sixties and bring this championship home!" he concluded, while thanking his crew, the Perth Motorplex, ANDRA, and his sponsors Scratch and Match Autocolour, Kerb Doctor, Westcoast Siteworks, Kendall Oils, S & S Industries, Dalisa Estate Winery, Signbiz WA, PT Promotions, Go Print, Dirty Detailing, Final Drive Engineering, Gforce Race Cars, Resolution Racing Services, DMPE and Applied Automotive.
In Top Fuel Motorcycle, in the end Jay Upton – who also claims the Crow Cams Top Qualifier Award presented by Decoglaze Glass Splashbacks for the class – did enough to clinch the victory despite a number of obstacles throughout the weekend. He faced off against Greg Durack in the final after enjoying a bye run in the first round and having a solo in the semi when Ricky Wood was unable to front. Durack meanwhile raced Wayne McGuinness in the opening round ahead of a bye in the semi.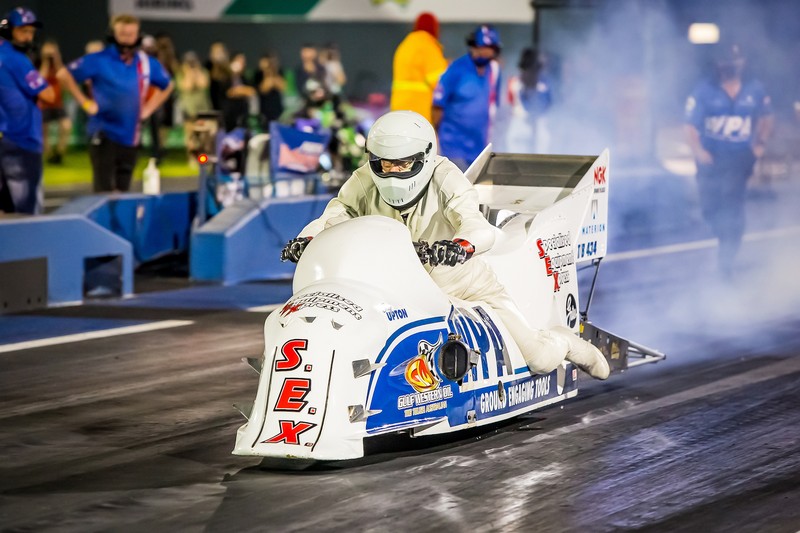 "That one was a bit messy, it was a bit of a Steven Bradbury win, but we will take it – and a holeshot at that, I didn't even realise that until afterwards," said Upton, who had the day before claimed the Crow Cams Top Qualifier Award presented by Decoglaze Glass Splashbacks.
"The Westernationals is one of those really hard events to win, and we had a pretty torrid day with issues – we had a leaking rear tyre, we lost a blower belt in the second round, and we dragged the parachute in the first! It was a messy weekend, but even though it was slow we did what we had to do, and we got it done.
"I must say a very special thank you to my crew, they put in a really big effort today to get through the problems. We are building towards the ANDRA Grand Finals and hopefully now that we have learned where our problems are we can make some progress.
"Thank you also to our sponsors, Rare Parts Western Australia, Gates Belt and Hose, and Gulf Western Oils for their support; as well as the track staff and volunteers, and to all the race fans."
Also recognised at the event presentations from the ADRC ranks was Top Doorslammer racer Frank Taylor, who was awarded the Vinyl Wraps and Graphics Best Presented Award.
The weekend also saw action from the Summit Racing Equipment Sportsman Series. For a wrap-up of the SRESS racing, please click here.
For full results from the 51st MacTrack Westernationals, please click here
The next and final round of the 2021/2022 Australian Drag Racing Championship (ADRC) will be held at the Perth Motorplex across April 8-9 as part of the ANDRA Grand Finals event. For more information, visit www.andra.com.au