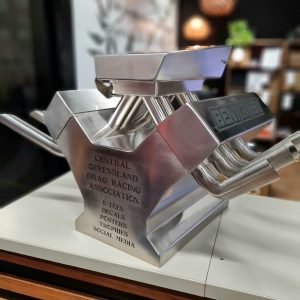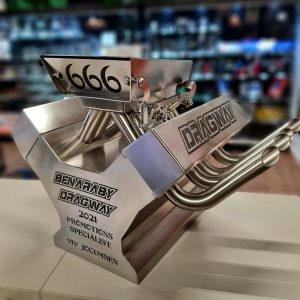 Viv Jocumsen was recently presented with a very special edition trophy by the Central Queensland Drag Racing Association (CQDRA) in recognition of his efforts in promoting Benaraby Dragway.
The striking hand-made Small Block Chevy replica dubbed 'The Beast' was custom cut and laser etched by local Rockhampton company Precision Engraving and Laser Cutting, and carries the number 666 across the throttle butterfly in a nod to Jocumsen's business, 666 Performance.
"The racers, committee and I wanted to show Viv our appreciation for all the hard work he does behind the scenes for Benaraby Dragway," CQDRA President, Mike Gawley, said.
"Every week he is working on the next design for our online race posters; each month he makes the artwork flasher than the ten months before; and every event that warrants a Tee Shirt gets Viv's magic touch.
"Our 2021 Member decals were re-created by Viv this year and he also goes to great lengths to help pick the nicest trophies he can for our enthusiastic racers.
"On numerous occasions Viv has been the leader organising our famous All Bikes events, doing everything from printing posters to garnering sponsors and organising bands, designing glass trophies, consulting racers and more.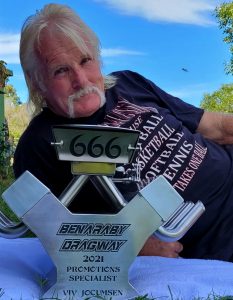 "We hope that Viv will get years of enjoyment from this great conversation piece."
Jocumsen was blown away when presented with the intricately designed trophy.
"When Mike presented it to me I was just absolutely gobsmacked; absolutely blown away," Jocumsen said.
"I didn't expect anything and this is just so impressive, when you see it in the flesh you can see the amount of work that has gone into it; the engineering that has gone into this piece is just unbelievable.
"They kept it a secret and I was so surprised. I had heard Mike talking about having the injection hat all done and the throttle worked out, and I thought he had gone and bought himself a drag car!" Viv laughed.
"I am definitely looking forward to next year – it has been a tough past 18 months with the new committee working hard on Benaraby while also dealing with all of the COVID and Government stuff, but I think it has all come up roses and I hope that next year the COVID stuff won't weigh us down as much as we look to continue becoming a bigger and better sporting facility.
"I would like to thank all of the competitors, the spectators, and all of the people that actually help to run Benaraby Dragway. We don't do it for any personal gain, we do it so people have somewhere that is very amicable and a good place to go and have a good time and race their vehicles."
To learn more about Benaraby Dragway, go to www.benarabydragway.com
For more from ANDRA, go to www.andra.com.au