John Zappia is a nine-time ANDRA Top Doorslammer champion following the completion of qualifying for the ANDRA Championship Grand Final in front of a huge 9000 strong crowd at Adelaide International Raceway.
The West Aussie's ninth title in a row came on a new 1000ft track record of 4.839 at 227.49 mph to top qualify and ensure he is mathematically out of reach. Zappia is just a whisker away from the 1000ft Top Doorslammer National Record of 4.81 seconds and could surpass that mark when Melbourne Sports Med & Anti Ageing Top Doorslammer gets underway on Sunday.
"We ran a 4.83 (in the first qualifier) and a 4.84 in our third, the last time I was here we ran a 4.88," said Zappia.
"The National Record is a 4.81 and we've run 4.79 at quarter mile tracks so we know we're not far off. We tried for it on the second run and I hung on through tyre shake a bit too long. On the third we backed it off and it went through.
"No (there won't be any celebrations yet), we'll get the meeting over and done with and we'll celebrate later.
"But nine Championships is fantastic. The Fuchs Monaro has been great and thanks to all the sponsors that have supported us down the years, it's paid off.
"We're wrapped with the crowd. A qualifying crowd, I don't think you need three round formats to get a crowd – that ain't gonna fix the sport. The sport is fine we just need to have the right attitude, all turn up at the same place at the same time and the sport will be fine."
Grant O'Rourke also dipped under five seconds with a first round pass of 4.970 to secure second place on race day followed by Mark Belleri, Rob Taylor, Marty Dack, Scott Ferguson, Wayne Keys and Pat Carbone.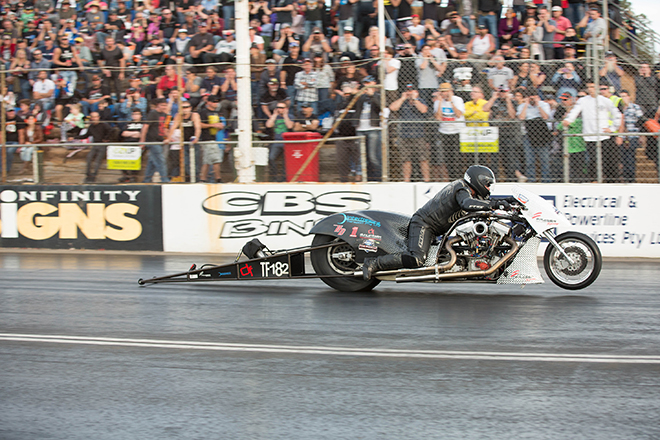 Chris Porter edged further ahead in the ANDRA Top Fuel Motorcycle Championship after qualifying first with his nearest rival Chris Matheson in fourth after a troubled day.
A first round 5.921 at 166.09 mph over the 1000ft distance was enough for Porter to secure the number one from Mark Drew with a 6.099 second pass and Rob Cassar in third on a 6.187. Matheson qualified fourth with a stuttering 6.974-second pass to set up a first round match up with Porter for the title.
"No pressure!" said Porter.
"I'm still worried about Chris, I think he's getting pretty close (in the Championship).
"The crowd has been fantastic. The race meeting is going off. All in all we haven't hurt any parts and I've got two guys that aren't my crew – my son and a guy called Adam Leighton who just bought a fuel bike, I'm licensing him next week. He's here to help because I don't have my usual crew and we're kicking a goal."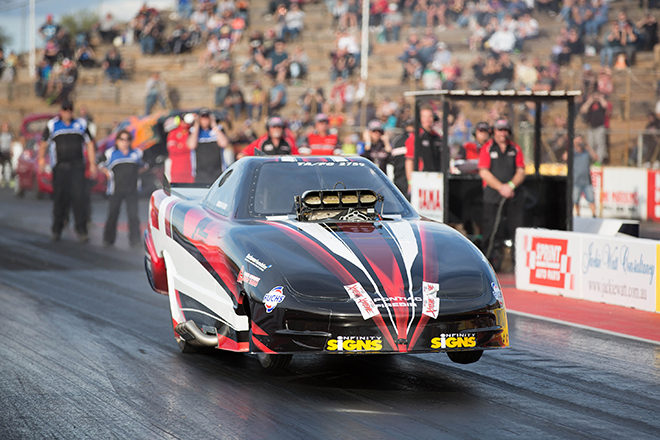 In THR Developments Top Alcohol local South Aussie Gary Bucsh qualified first, his first ever in the bracket, with a 4.975 second pass over 1000ft at 203.48 mph after just two qualifiers. Busch was the only racer to go under five seconds in the four car field.
"We're happy with how the car went, we've still got some clutch issues but we're happy with the way it went," said Busch.
"It's the first time we top qualified in Top Alcohol, obviously we haven't got the big heavy hitters here but everyone is pretty close and it's a good field, it will bea good race."
Jason Maggs qualified second with a 5.006 but detonated an engine punching a hole on either side as a result of a suspected oil pump seizure. Craig Russo qualified third with a 5.104 elapsed time and Brian Lockman is fourth on a 5.714.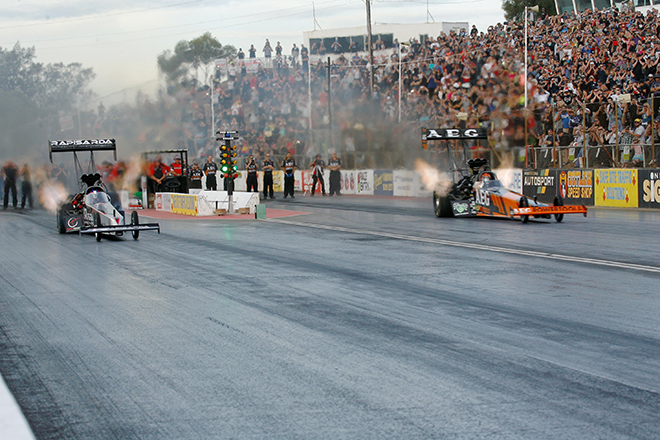 The big Adelaide crowd was also treated to some exhibition VP Racing Fuels Top Fuel action with Darren Morgan and Wayne Newby splitting wins over two passes with a best of three decider slated for Sunday.
Newby took the first match race with a 4.209 at 256.52 mph from Morgan's 4.521 at 108.08 mph. The second went Morgan's way as he improved on a 4.119 second run at 275.79 mph from Newby running in 4.209 seconds at 265.52 mph.
The ANDRA Championship Grand Final continues on Sunday with eliminations in the Summit Racing Equipment Sportsman Series from 9am. The ANDRA Drag Racing Series returns to the track at approximately 12:10pm.
For more information please visit: www.adelaideraceway.com.au
For final qualifying results please click here.
Image credits: Dave Hope