The stage is set for a monumental Grand Final later this month (Adelaide International Raceway, March 23-24) following the conclusion of the penultimate round of the 2017/2018 Summit Racing Equipment Sportsman Series at the Perth Motorplex.
Hoisting ANDRA Christmas Trees on Sunday night were Steph Gullotto (DENSO Super Street), Bryan Finn (Modified Bike), Martin Mirco (Super Sedan), Matt Czerny (Modified), Chris Theo (Top Sportsman), David Smith (Supercharged Outlaws) Jim Ioannidis (SuperStock), Ralph Lewis (Competition) and Wayne Patterson (Competition Bike).
Runners-up were Joel Trotman (DENSO Super Street), Trent Anthony (Modified Bike), George Tipouikidis (Super Sedan), Mark Grieve (Modified), Alby Bakranich (Top Sportsman), Jon Ferguson (Supercharged Outlaws) Jamie Chaisty (SuperStock), Stuart Moresby (Competition) and Phill Paton (Competition Bike).
For full results from this weekend's Summit Racing Equipment Sportsman Series round at the Perth Motorplex, please click here.
Smith's Supercharged Outlaws story this weekend read like a fairy-tale, with the West Australian taking victory in his Dodge Stratus in what was his first ever competitive event.
Smith took the win from Ferguson and his distinctive Chev Belair after having earlier defeated Adam Murrihy – the defending champion and recipient of the Longest Distance Travelled Award and the Supercharged Outlaws Top Qualifier Medallion – sponsored by The Tile Co-The Shower People, KC Tools and Summit Racing. Smith went on from his win over Murrihy to take victory from a red-lighting Norbert Claite ahead of a bye run into the final. Ferguson meanwhile had survived a double break-out semi-final against Chris Went, after earlier taking wins over Shane Kramer and Darren White.
"This is a pretty hard thing to comprehend, it seems surreal still and I am lost for words really. It is pretty incredible, but I guess you surround yourself with good people and the results show," said Smith, while thanking Total Work Wear Salisbury and Morley Mitsubishi for their support.
"It is funny, because you always try and stay optimistic and stay positive and be confident, so we were saying all meeting 'we are going to the finals, we are going to win it', but not actually thinking we were going to win it – it is pretty cool, it is pretty special.
"We will take the car home now and regroup and get ready to bring it back out next season. We have a good base line now, so hopefully we will have half a shot of doing something."
Czerny was another racer celebrating a break-through this evening. The racer has lead the Modified points tally for much of the season, however had not laid claim to an event win until tonight despite two previous final appearances this season.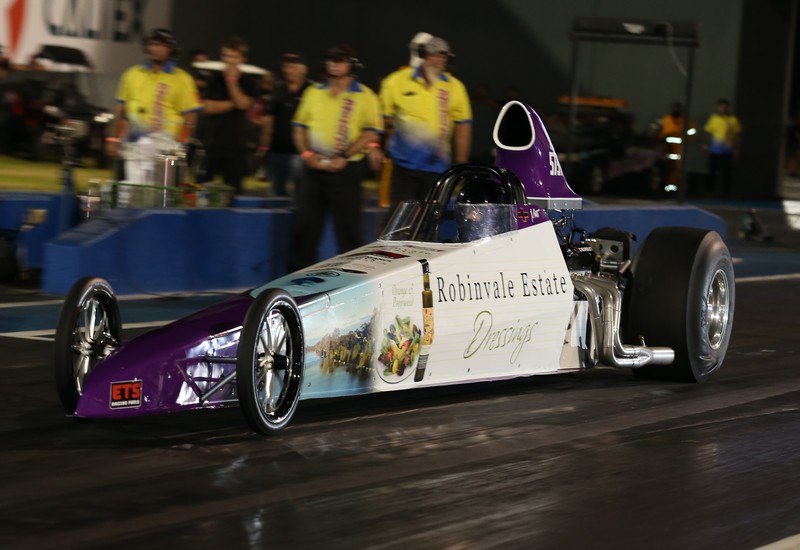 On his way to the final against the red-lighting Grieve, the Victorian dragster racer took wins against Damien Le-Cocq, a red-lighting Erin Healy and Nicholas Wroe (round one), while Grieve of Milbridge (WA) booked his ticket to the final by winning against John Althuizen – who had earlier reset the national A/MA record in his Ford Boss Hemi to 7.555s – a breaking-out Jeff Acton, and Sergio Bonetti (round one) in his T-Bucket Altered.
"I am ecstatic. We had came close the last couple of times but we went into the finals a little bit more confident this time; I said to myself 'we are going to win it', and we did!" Czerny said, while thanking Robinvale Estate Dressing, ETS Race Fuels, Paul Turner, Race Comp Motorsports, Castlemaine Rod Shop, Total Tools Epping and MSMAA for their support.
"We cut a really good light, they had been okay during eliminations, but we pulled it all together for the final. I am just stoked for my crew guys, Ray and Dave – they are like brothers to me.
"The car ran like clockwork all weekend; it is consistent and we know what it is going to do every pass and this weekend proved it. We were onto a good thing and we didn't need to change anything, we just did the same thing every time and we got our first tree and it's a gold one! We can head to Adelaide's Grand Final now and just look forward to having fun.
"If anyone had of said to us at the start of the season that we would make three finals, I would have said they were kidding themselves. This joint is amazing, the staff are all so friendly, the pit layout is amazing, the weather was perfect – everything just turned it on for us this weekend."
Yet another racer grinning ear to ear was Ioannidis, who not only Top Qualified and took out the Super Stock victory, but also reset the national C/MSA ET record in the process (9.555s).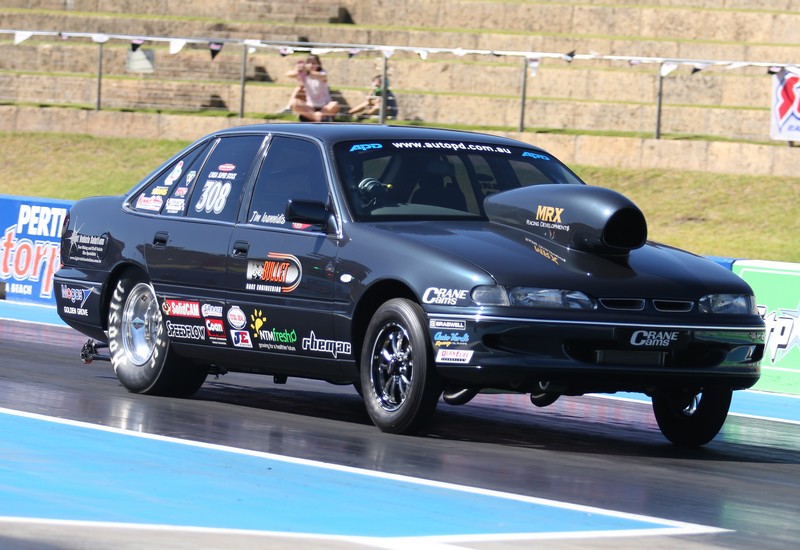 Before facing off against defending champion Chaisty in the final, Ioannidis had earlier dispatched Tom Dimitropoulos and Allen Puglia; while Chaisty took a hole-shot win over a PB-ing Todd Stacy in the semi-final after having earlier faced off against Brett Glover. While Chaisty couldn't take the event honours, he also reset a national record, knocking down the H/MSA marker to 9.249s.
"I am happy, I am content; we came here and that is what we wanted to do – we planned on top qualifying and we wanted to win like everyone else. I am stoked with the car's performance," grinned Ioannidis, who thanks Light Vehicle Solutions, Bullet Race Engineering and the whole team from SCM for their support.
"We race together as a team and without them, I do nothing; so, this is for all of us and I am absolutely stoked with what they do for me. In three weeks' time we will run at the Grand Final, and hopefully come home with the Gold."
In Super Sedan, Mirco was able to push defending champion Tipouikidis all the way down the strip to a break-out to take the victory. He had earlier enjoyed a bye run into the final after taking on Kim Bastow, Yvette Gregg and Michael Konstandinou (round one). Tipouikidis meanwhile came to the final following victories over Alex Gkroidis, Phil Radamanthos, Neil Scott and Laurence Adamos (round one).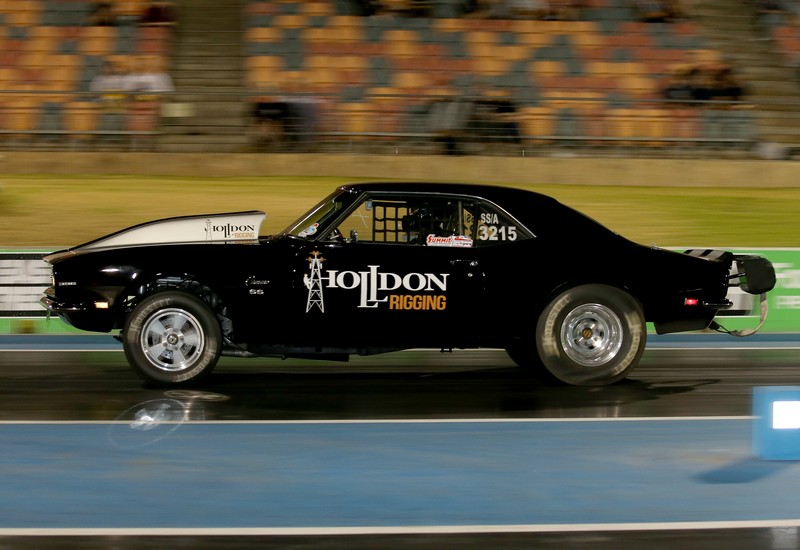 "I can't believe I have got my hands on one of these," Mirco said.
"I have to say thank you to George and his crew for coming over this weekend, he has the number one on his car for a reason and in the final, we had to go for it, and we did!"
In the Competition Bike ranks, Patterson took the victory while Top Qualifier Paton was able to secure not only the runner-up honours, but also a new national record (DD/CB – 8.344s). Patterson, of Bunbury (WA), had enjoyed a bye to the final after having earlier taken victory from Daniel Natalotto, while Paton defeated a red-lighting Ryan Learmonth after a bye in the first round of eliminations.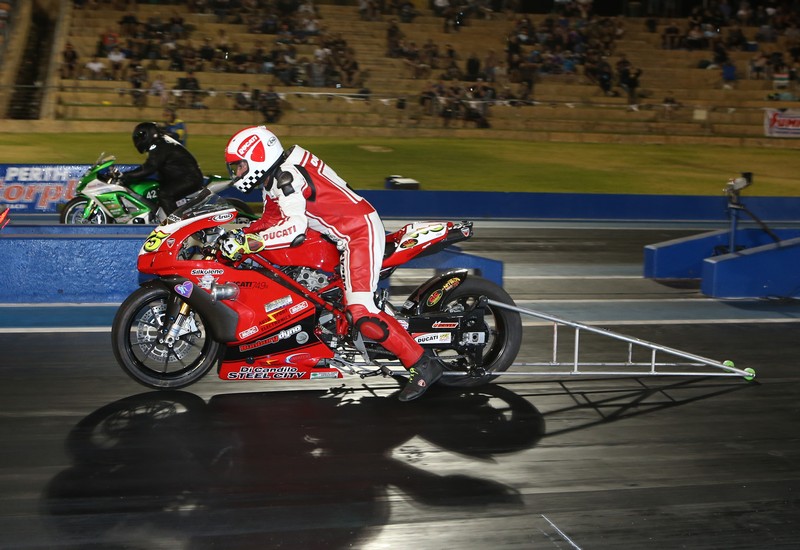 "We had a few dramas yesterday, the bike didn't go any good, my electric toothbrush broke down this morning – I had a really bad run," laughed Patterson.
"I would like to thank my mates for helping us get here and thank Phil for a really close race at the end, it was very close and it was a great thing."
The Competition bracket was host to a sea of broken race cars, with finalists Ralph Lewis and Stuart Moresby being no exception.
Moresby was unable to move off the start line in the final while Lewis struggled down the track. The pair had each enjoyed solo passes in the semi-finals when Russell Ladbrook and top qualifier Trent Morrison were unable to show. Earlier in the night, Wanneroo's Lewis and his Ford Altered had taken on Stephen Del Caro, while Harrisdale racer Moresby's first eliminator in his Ford BF XR8 Ute was another solo when Matt George failed to greet the starter.
"We had a bit of luck today and we have a bit of work to do, but we got the Gold Christmas Tree! We just got it done, plugged away and now it is happy days," Lewis said.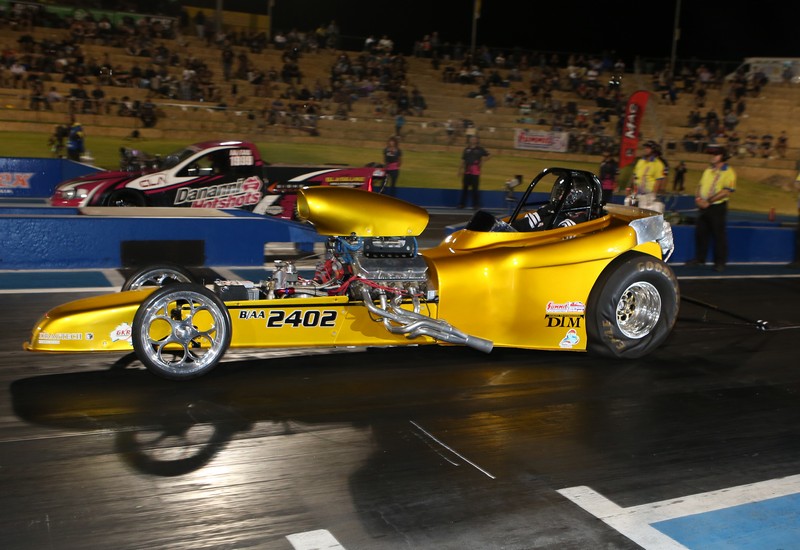 The final for the DENSO Super Street saw the top qualifier Trotman and his VC Commodore face off against the second quickest qualifier, Steph Gulloto, for the Westernats honours.
It was the 'teacher's pet' VN Commodore of Gullotto who would take the win in what was an exceptionally tight race to the line. Earlier, the local racer had faced off against Craig Caton (round one) before a bye in the second eliminator, and then faced Robert Stone before taking on Denise McKenna in the semi-final. Fellow West Australian Trotman enjoyed a bye into the final, after having emerged victorious from Chris De Bruin and a red-lighting John Szabo following a bye in the first eliminator.
In the Top Sportsman bracket, winner Theo went to the final after beating Paul Downe in the semis, with the Victorian having earlier faced off against John Faraone. Local racer Bakranich meanwhile had dispatched Top Qualifier Medallion recipient Darren Nichele in the first round, before taking on Johnny Brecich in the semi-final.
In Modified Bike, defending champion Finn did his quest to secure three consecutive national titles no harm by securing the victory over Anthony, after having earlier taken on a red-lighting Zoe Nieuwhof in round one, before defeating Luke Seaton, Geoff Smith and Ross Garrett. It was an eventful run to the final for runner-up Anthony, who raced against the centre-block-hitting Danny Rickard in the semi final after having earlier faced off against Brian Hotker, survived a double red-lighting race against Dave Essers, and dispatched Morry Cantarella in the opening stanza.
ANDRA thanks the Perth Motorplex as well as all of the volunteers and sponsors for an outstanding race track and a well-run event.
The final round of the 2017/2018 Summit Racing Equipment Sportsman Series will be held at Adelaide International Raceway across March 23-24. For more information, visit www.andra.com.au and www.adelaidedragracepromotions.com.au
For results from this weekend's Summit Racing Equipment Sportsman Series round at the Perth Motorplex, please click here
IMAGES FROM TOP: DAVE SMITH, MATT CZERNY, JIM IOANNIDIS, MARTIN MIRCO, WAYNE PATTERSON, RALPH LEWIS (ABOVE) AND (BELOW) STEPH GULLOTTO, CHRIS THEO, BRYAN FINN. ALL IMAGES BY OUTLAW IMAGES.