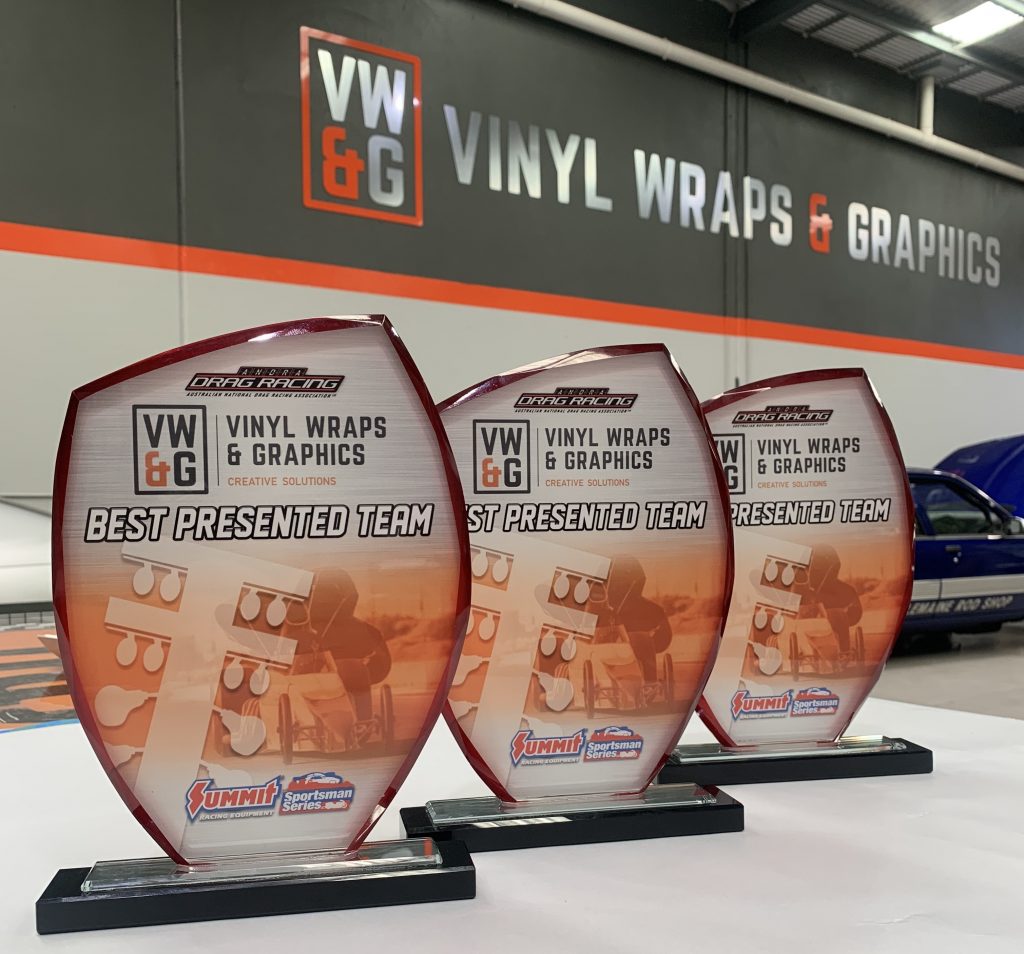 At the recent South Coast 660, Supercharged Outlaws racer Jason Keily and his 'The Gambler' 1934 Ford Coupe were rewarded with the coveted Vinyl Wraps and Graphics Best Presented Award.
"To receive the award is just fantastic. We always make sure the car is well presented when we turn up to a meeting and the crew do a great job of keeping it nice and clean at the track, but to be recognised for it is awesome," Keily said.
"With all the hard work you put in to keep the car in good order and to ensure the team is presented well as a whole, it is nice to be recognised.
"Thank you to Vinyl Wraps and Graphics for sponsoring the award. It is a great award, and it looks amazing too."
Keily brought 'The Gambler' over from America about six years ago, and over the years it has undergone plenty of changes to the point that now the body shell is the only thing that is left from its original journey to Australia.
The West Melbourne racer contests the Coupe in the Supercharged Outlaws bracket and was forced to settle for a second-round loss to eventual SCO winner, Shane Baxter, at the South Coast 660.
"South Coast Raceway is a fantastic track and the way it is run is amazing,"' he said.
"Our weekend though results-wise wasn't quite as fantastic as we had a few problems throughout the weekend – but that is racing! Sometimes things go your way and sometimes they don't.
"I had a problem with the O-Ring in the Blower in the first round and then in the second round I didn't get to run it at all with a leak.
"But even so, it was a good weekend and a great event. My thanks goes to ANDRA and Summit Racing Equipment for their running of the Summit Racing Equipment Sportsman Series, and to the South Coast Raceway team.
"I would also like to thank my crew – we had Jen, Paul and 'Dodgy' with us at the South Coast 660, with Dodgy helping us out as we were a crew member down as Rocco who normally helps us was unwell. Graeme Cooper, a legend of the sport, also gives up his time to help us out which is fantastic.
"Finally, I would like to recognise my sponsors, Johnny Marshall from Marshall Custom Cams who has always stood behind us and also Pete from SDE Converters."
So, what is next on the docket for Keily?
"We are thinking about the Westernationals, it depends what happens with the borders but things are looking promising so far. It is a big ask for us but we are really thinking about it. We will definitely be at Mildura for sure," he said.
"For us the championship isn't a factor anymore this season as we have had a lot of dramas this year, but we still want to go for the love of it and to compete."
Headed up by respected racer and 2018 Summit Racing Equipment Sportsman Series Modified Champion, Matt Czerny, Vinyl Wraps and Graphics is behind some of the best presented sportsman and professional teams across the country.
Not only does it specialise in making racers look their best on and off the track, the Melbourne-based business – which celebrates its 10th birthday this year – also specialises in commercial vehicle signage, fleet signage and commercial wall signage.
For full results from the 2021 South Coast 660, please click here.
To see the current points tally ahead of the next round of the extended 19/20/21 Summit Racing Equipment Sportsman Series, please click here.
The Summit Racing Equipment Sportsman Series will now travel to the Perth Motorplex for the Westernationals before returning to Victoria for the Twilight Nationals at Mildura's Sunset Strip across March 12-13. Confirmation about the dates and venue of the ANDRA Grand Final is expected to be confirmed in the coming days.
The 19/20/21 Summit Racing Equipment Sportsman Series season which has been extended in the face of COVID-19 to not only deliver successful completion of the current competition, but also a record prize pool thanks to Summit Racing Equipment. The performance powerhouse has announced it will offer 50 percent extra end of season prize money for a total prize pool of more than $100k including $10k for the prestigious John Storm Memorial, creating the biggest prize pool in Australian Drag Racing history.
For more information, visit www.andra.com.au
PIC AT TOP CREDIT TO BRIGHTDESIGN.COM.AU