At the 50th annual Westernationals at the Perth Motorplex, Dean Dawes and his 'The Perthorican' Mazda RX3 were recognised with the coveted Vinyl Wraps and Graphics Best Presented Award.
"I was very happy to be awarded the Vinyl Wraps and Graphics Best Presented Award as there are some pretty epic teams who are putting in 110 percent all of the time," Dawes said.
"Vinyl Wraps and Graphics have really stepped up to be part of a great award for us to cherish this season and it is now proudly on display in the Shed – our thanks goes to them for being a part of our great sport.
"I was wrapped to receive the award and to do so at the Westernationals no less. It put some wind back in all of our sails as we were bumped out early on the Sunday with some silly gremlins while chasing that Gold Tree.
"I was smiling for ages and all of the team were in great spirits. We have been working hard at not only making the car look good, but also our small pit setup, and everyone goes to the effort of looking professional on the track as we feel it really helps us to put on a good show for the fans.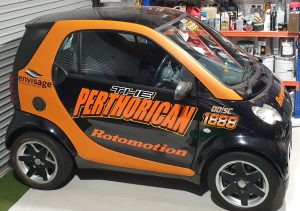 "Our new little push car 'TowBee' was also on debut at the Westernats and it was a great help to the team – I am pretty sure he got us a few points when it came to the decision making for the Best Presented Award!"
Dawes explains that his striking orange race car was built in Perth and finished in true 'rotary style.'
"Built in Perth, the car was finished in the 'Puerto Rico' style of rotary drag cars. It runs a high RPM 13B rotary engine with a giant Garrett turbo blowing big boost and big flames after dark," he explained.
"It has a manual gearbox with a very short wheelbase, and the 'The Perthorican' name pays tribute to the style of car and the legendary love of rotary drag cars in Puerto Rico – they have the fastest rotary cars on the planet over there and hopefully Perth will have a few quick ones soon too!
"We are currently trying to iron out a few bugs that will allow us to be back in the hunt for WA's first six second rotary pass. There is a pretty hectic field of cars who have the ability do it and we think we are right up there with a chance."
While 'The Perthorican' was recognised with the Vinyl Wraps and Graphics Best Presented Award at the Westernats, the rest of the weekend was a bit of a mixed bag for the team.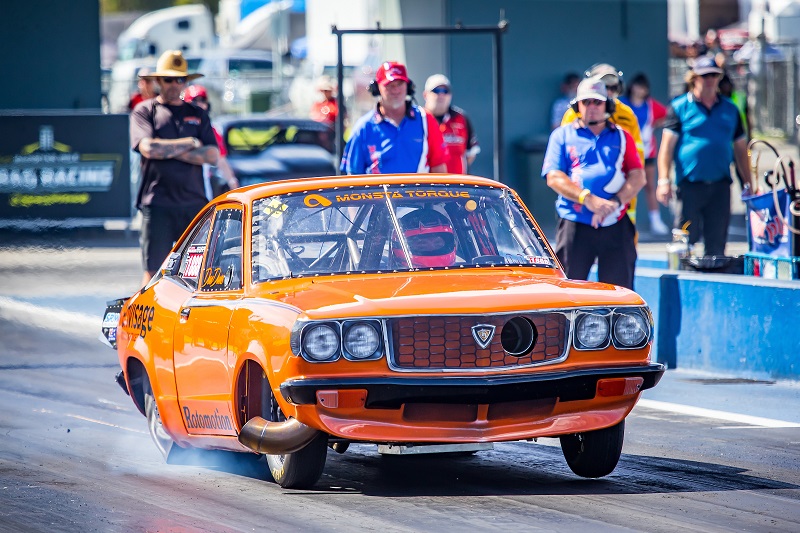 "We actually broke the car quite substantially on the last qualifier of Saturday night and it looked like we would be gone for the rest of the weekend at that moment," Dawes explains.
"But one of my close friends called in a favour to a friend after we discovered the problem and that friend stepped up and had us going again early on Sunday Morning.
"Without those kind of people around I would have been done. While we didn't go on to win a Gold Tree, I will forever be grateful to those special human beings for going out of their way to get us back in the hunt and with the Vinyl Wraps and Graphics Best Presented Award coming later on in the weekend it did help the disappointment vanish.
"There are lots of people who have helped us out over the year we have had. I would like to thank in particular my pit boss Janine Dawes, my crew chief Shane Brown, our hard-working Westernats crew (Adrian and Conner Bateman), and all of our visitors and fans.
"I also would like to thank Michael Buckley and John Clements at Rotomotion, Envisage Accounting Services, Glen from Autosport Electronics and Darren from Billet Inc, as well as Todd Stacy and Sean Stolk for always jumping in where they can.
"And to that top quality bloke who got us going again on an early Sunday morning – thank you!
"I would also like to take this time to give a shout out to the hard-working team at Evolve Facility Management who have given WA Drag Racing some much needed security and certainty. Evolve, ANDRA and the Perth Motorplex Team really do offer the best drag racing complex and surface in Australia from a safety and presentation/management point of view in my opinion.
"I am over the moon that they have gotten the track back into the hands of motorsport and drag racing people where it belongs and can't wait to see everyone back at the track next season."
Headed up by respected racer and 2018 Summit Racing Equipment Sportsman Series Modified Champion, Matt Czerny, Vinyl Wraps and Graphics is behind some of the best presented sportsman and professional teams across the country.
Not only does it specialise in making racers look their best on and off the track, the Melbourne-based business – which celebrates its 10th birthday this year – also specialises in commercial vehicle signage, fleet signage and commercial wall signage.
The 2019/2021/2021 extended Summit Racing Equipment Sportsman Series recently concluded with the ANDRA Grand Final at Mildura's Sunset Strip. For a full listing of event results and championship points, please click here (results) and here (points tallies).
Dates for the 2021/2022 Summit Racing Equipment Sportsman Series will be released shortly.
For more information, visit www.andra.com.au