The Summit Racing Equipment Grand Finals had it all with drama, action, tough racing, and upsets. In Super Comp records were reset in Competition Eliminator, Super Stock and Super Compact. The combination of good air and a sticky track saw seven sportsman records broken.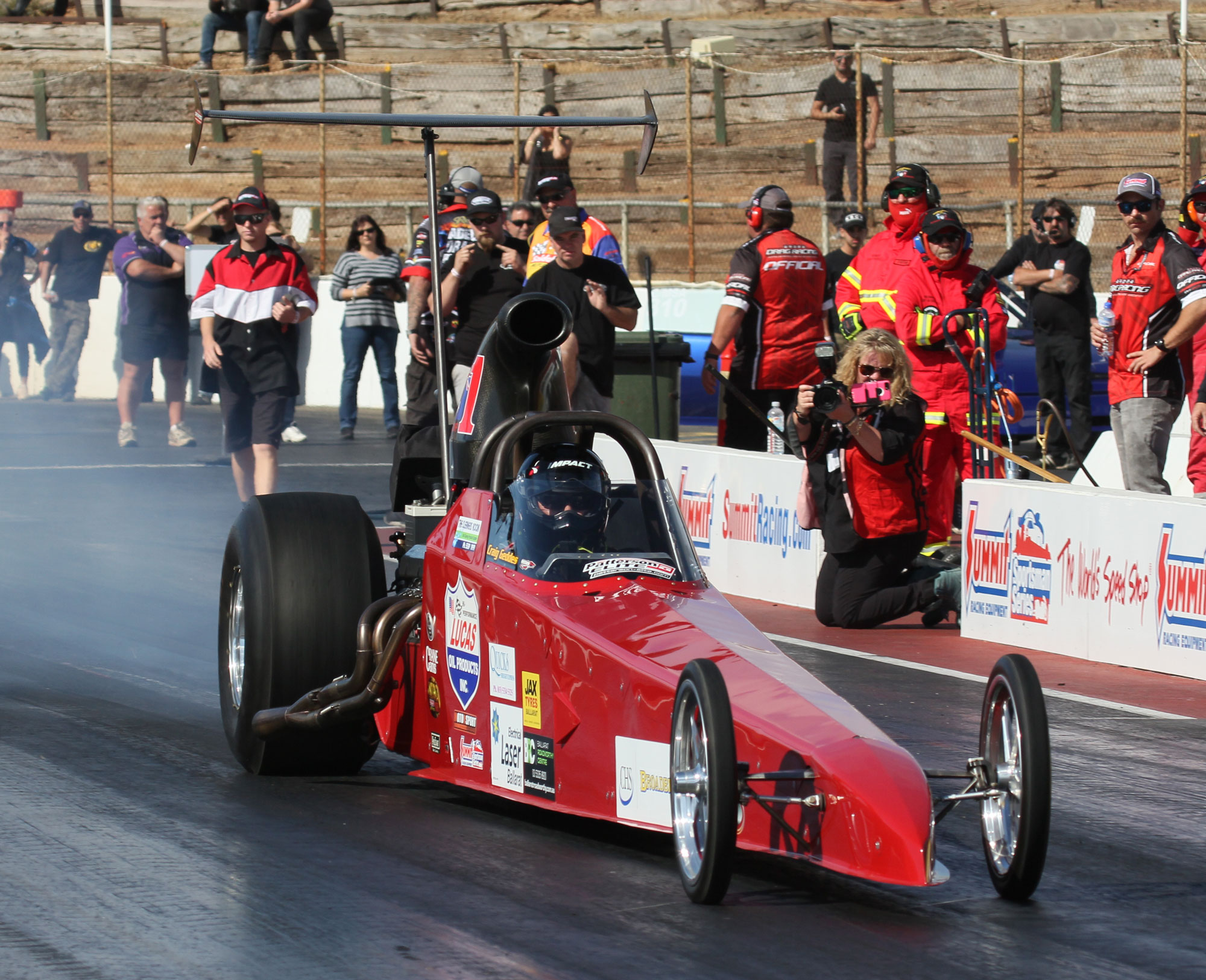 In Competition Eliminator two-time Comp champ Craig Geddes came into the event on maximum 300 points following a successful WA swing at the Goldenstates and Westernationals. Coming into Adelaide he was unbeatable.
With not enough entries in their respective classes, Comp, Super Stock and Super Compact became one in Super Comp for the weekend. Friday started with 18 entries however Daniel Camilleri and Joe Fontanelli pulled out before Rd 1.
Super Comp was a tough pack with seven records reset. After three rounds of racing the final came down to a battle of the Champions – Geddes in Competition and Jamie Chaisty in Super Stock. We were expecting a huge race, however, it was all decided on the start line when Chaisty was timed out on the tree and received a red light. Geddes wrapped up his third Comp championship, while Chaisty went home as your new Super Stock champ. The Super Compact Championship was won by Andrew Dyson.

In Top Sportsman it was great to see Jason Stares back on the drag strip. He was in Adelaide early for the allocated test and tune on Wednesday. This was the first time Stares was back behind the wheel of his Lucas Oil Corvette since his non-racing accident last year.
This category saw four drivers – Matt Forbes, Stares, Darren Saliba, and Paul Russo sitting on maximum points, so it was definitely game on.
Forbes was the first to fall in Rd 1, while Amanda Martin dropped a tough 7.724 on a 7.72 on Russo in Rd 2.
In Rd 3 it was Saliba's who tasted defeat in the hands of Martin, unfortunately, he also tipped his Pontiac GTO over in the sand pit. Thankfully Darren was okay. Jason Arbery's 417 Chev-powered Ford Capri put the Firebird of Greg Damiani on the trailer, while Stares picked up a solo.
In the Top Sportsman semis, Arbery moved into the finals on a solo, while Stares went .009 on the tree but broke out handing Martin the win. Although with this round Stares had done enough to secure his second straight ANDRA championship.
For the final Martin had the advantage at the tree but Arbery took the win with an 8.282 on an 8.28 dial-in.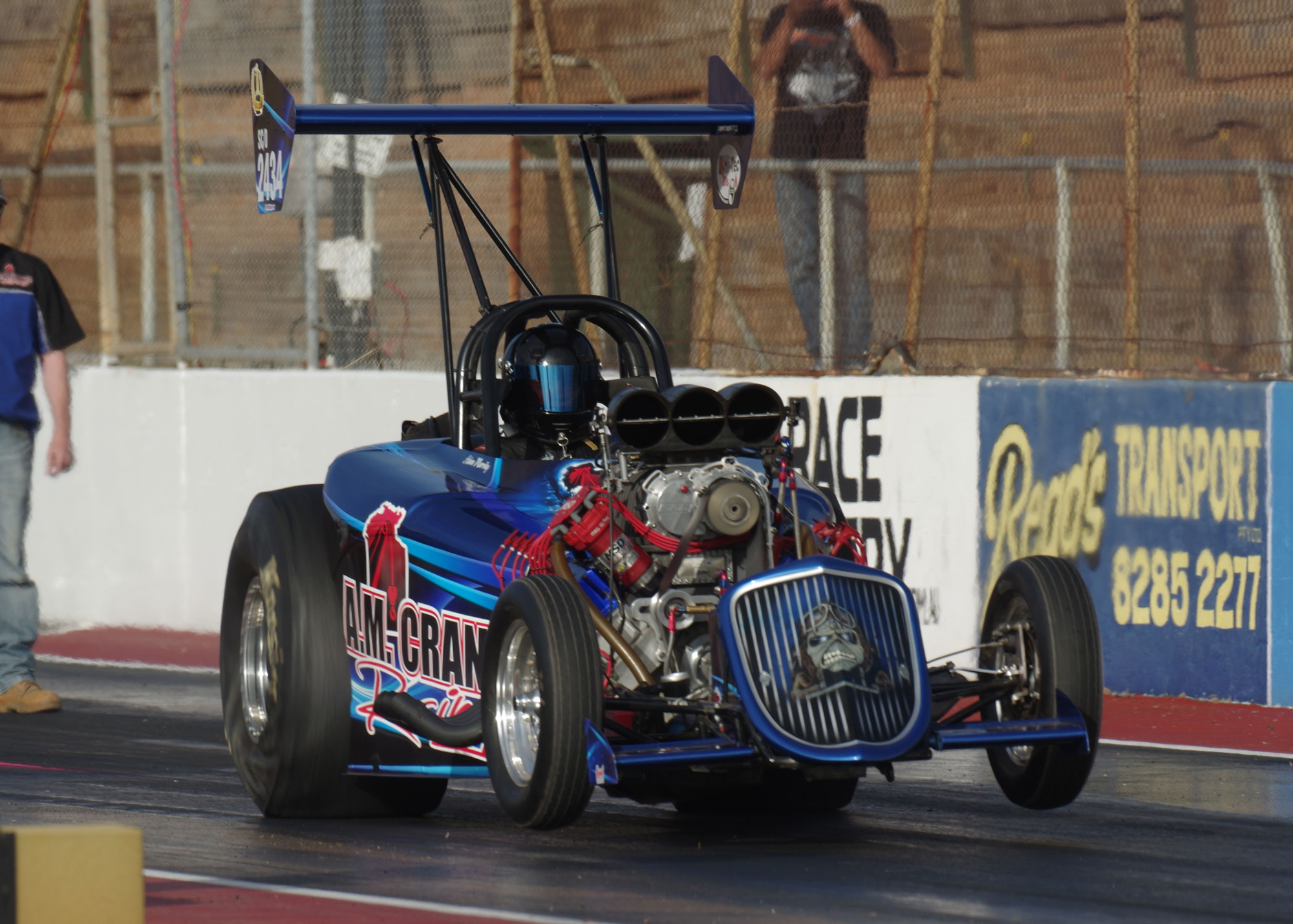 Supercharged Outlaws saw another group in the chase for a championship. Mark Hunt, Justin Russell and Doina Day were on 300 points while Adam Murrihy wasn't far behind on 290 and Alan Mahnkoph on 250.
Day, Russell and Mahnkoph were gone by the end of Rd 1 leaving Hunt and reigning Outlaws champ Murrihy to battle it out. By the semis, Murrihy made it through when Jason Kelly broke and Hunt went too quick against Mick Mahoney's Mustang.
The money run saw the '32 Bantam of Murrihy taking the win over Mahoney and winning his second ANDRA Championship. Murrihy also snapped up the Longest Distance Award.
The period-perfect front-engined dragster of Warren Leonard was awarded Best Engineered.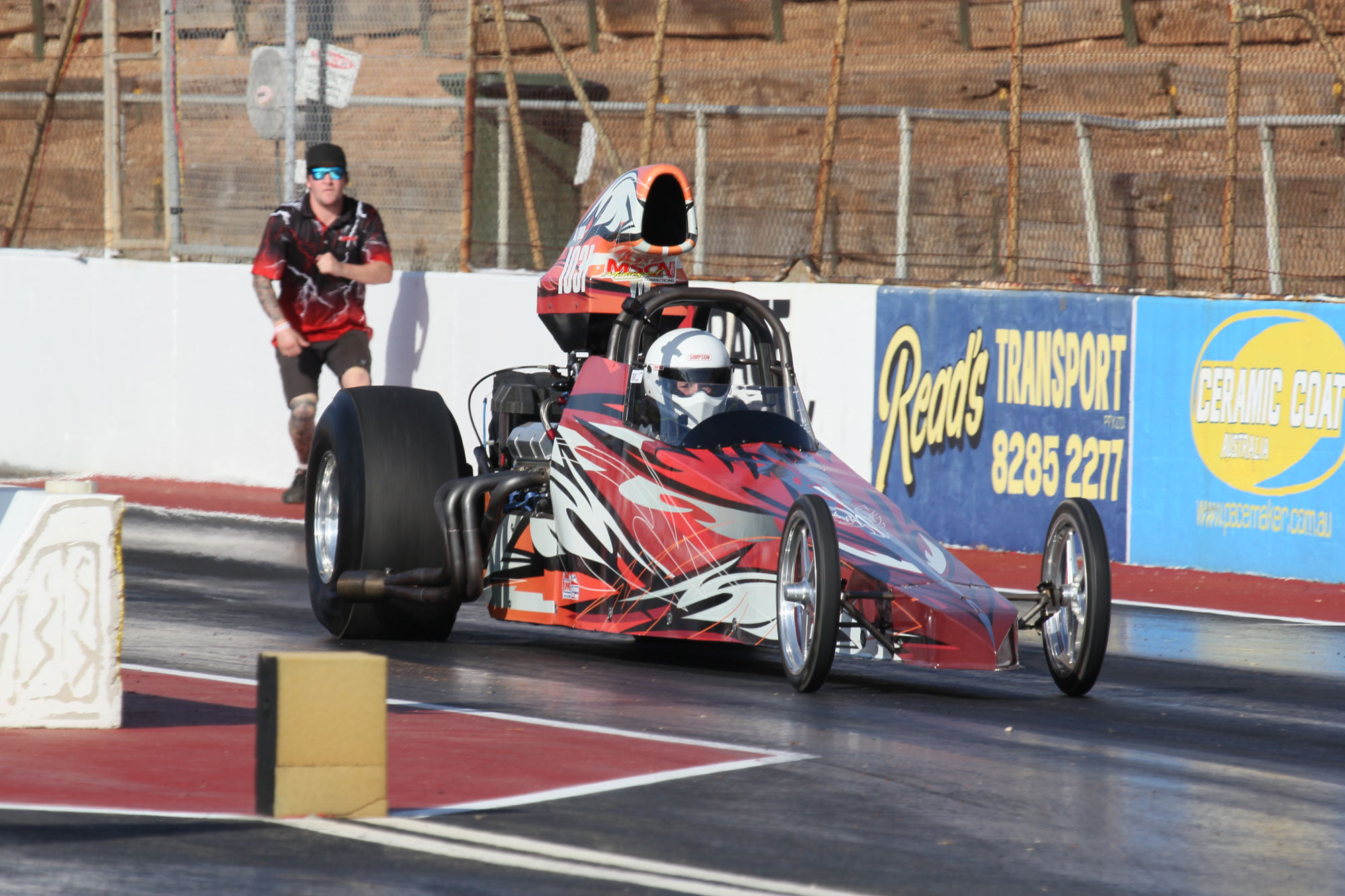 In Modified Eliminator it was a pair of dragsters in the final with Stewart Johnson and Paul Utting. Johnson went through in the semi-finals when the new champ Craig Baker stalled in the burnout and was unable to restart. Top qualifier Leanne Braggs was defeated by Utting.
For the final, neither driver changed their dial-ins. Utting was away first with a nice .041 reaction to a .163 from Johnson who shortly after blazed the tyres and looked to have lost the race. However, Utting broke out with an 8.476 on a 8.48 D-I.
Craig Baker took out the ANDRA Modified Eliminator Championship and Leanne Braggs closed out her drag racing career with a runner-up. The Fuchs dragster of Kenny Stewart was awarded Best Presented Car & Crew thanks to YBI and Summit Racing Equipment.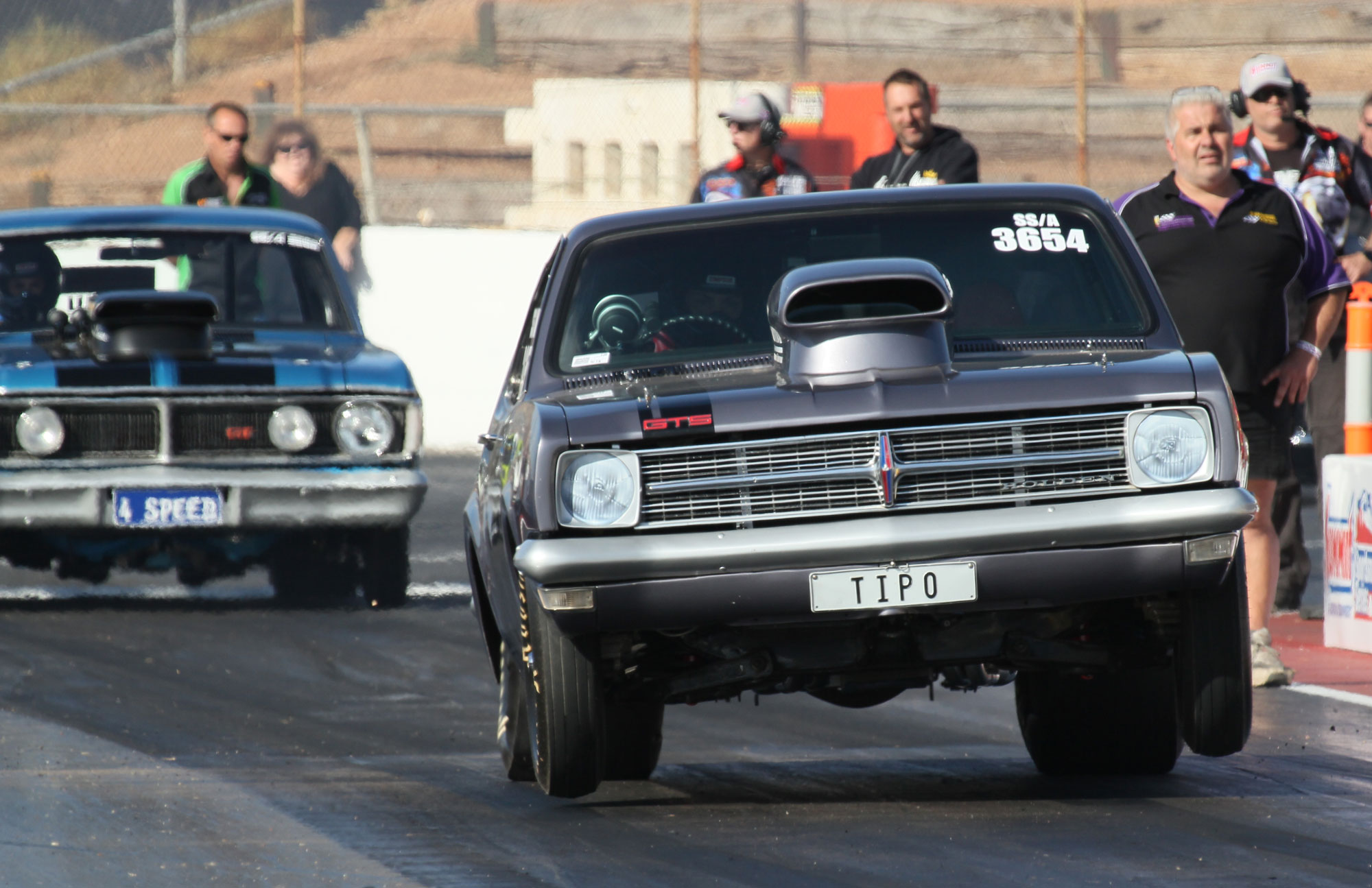 Super Sedan saw 4-time ANDRA Champ John Kapiris come into the event with 300 points in his back pocket, followed by Peter Tzokas (270) and George Tipouikidis on 260.
Tzokas was knocked out early, while Kapiris faced the sweet Holden Monaro of Tipouikidis in the semi-finals and lost it on the tree. Dylan Argent picked up the solo into the finals.
The money run went to Tipouikidis who went 0.36 at the tree and took the win and the Super Sedan championship with a 9.90 on a 9.85 D-I to a losing 9.46 on a 9.40 D-I from Argent's Ford Capri. That was a close race.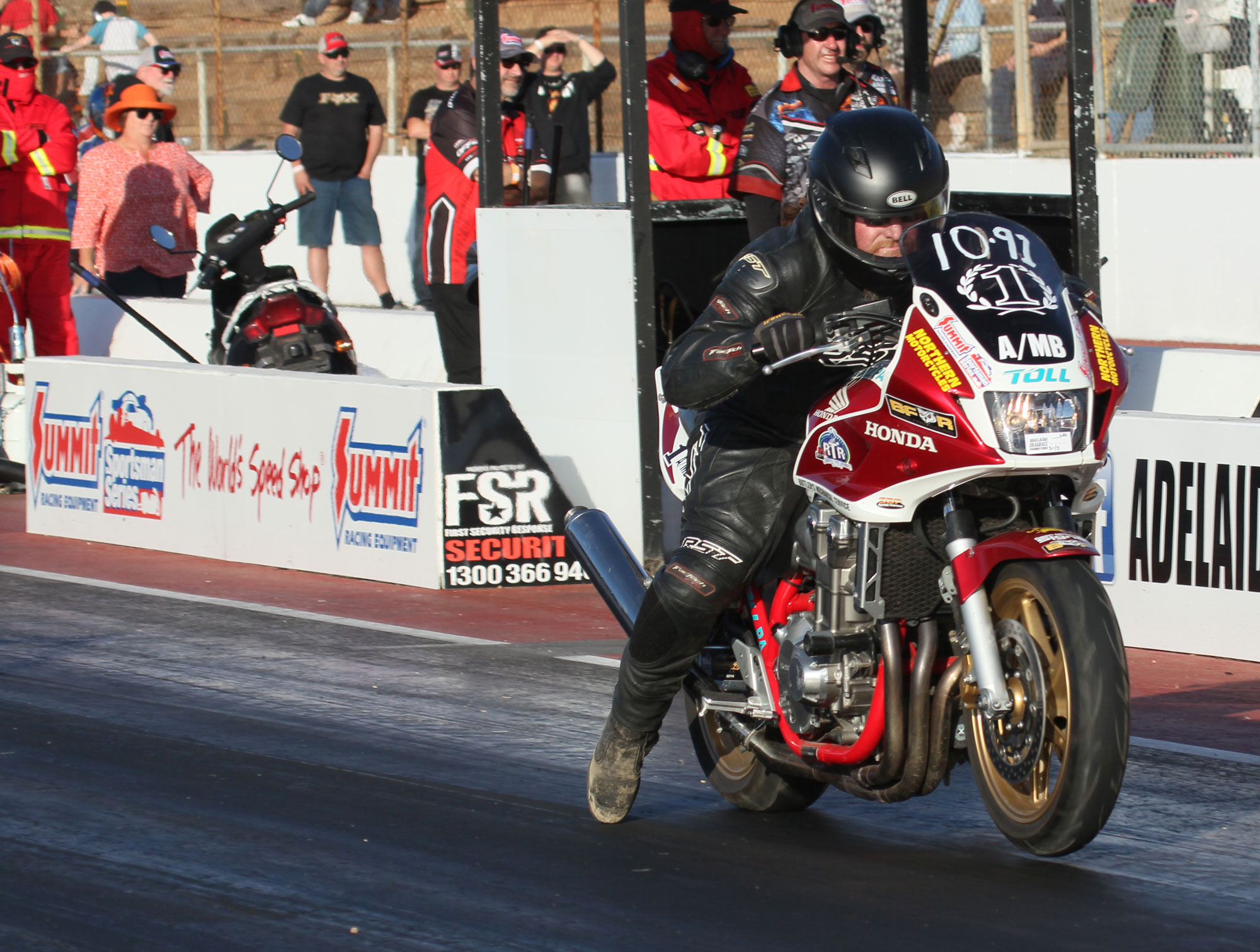 In Modified Bike we had the reigning champ, Bryan Finn, sitting on 300 points and joined by West Aussie Gordon Crawford. Matt Lisle had 290 and Gavin Dohnt on 260.
Finn disposed of Dohnt in Rd 1 while Crawford went red against Finn in Rd 2. In the semi-finals Finn knocked out Lisle with a 10.902 on a 10.90 and WA racer Daniel Natalotto pulled a .003 reaction against Tony Frost's .329 to take the win.
The final of Modified Bike went to Finn in a close race, while Natalotto went home with a runner-up trophy and a new B/MB speed record.
Scoring his second back-to-back championship Finn took the win with a .069 reacted 10.973 on a 10.90 D-I to a .043 reacted 9.087 on an 8.96 D-I. Finn went home with the win, the championship and the John Storm Memorial Trophy, not a bad day out on the Honda!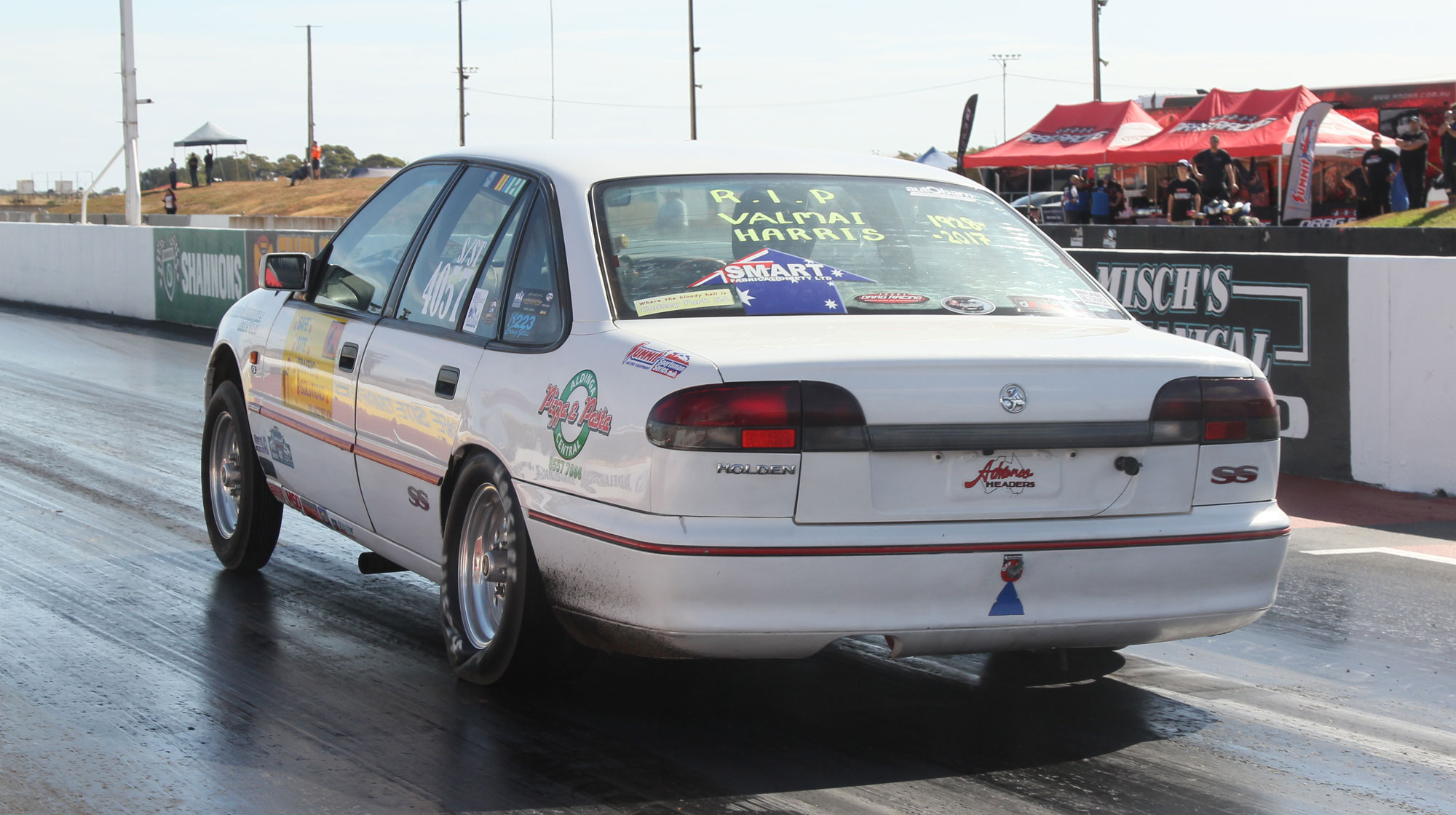 Super Street racers Chris Tatchell, Anton Krajina and Paul Gabellini came into the Summit Racing Equipment Grand Finals with 200 points each. Allan Hutchen had 180 while Jacob Mills was on 170.
By the time the semi-finals had come around only Hutchen and Tatchell remained. However, they were sent packing by Australian Nationals winner Graeme Cooper, and Harry Harris.
For the final the white Holden Commodore took the win with a .061 reacted 11.50 on a 11.48 D-I while Cooper broke out in his world famous EH Wagon. Cooper sadly announced during presentations that he would be scaling back his racing next season and only competing locally at selected events. Taking out the No.1 in the championship was Chris Tatchell with Allan Hutchen the runner-up.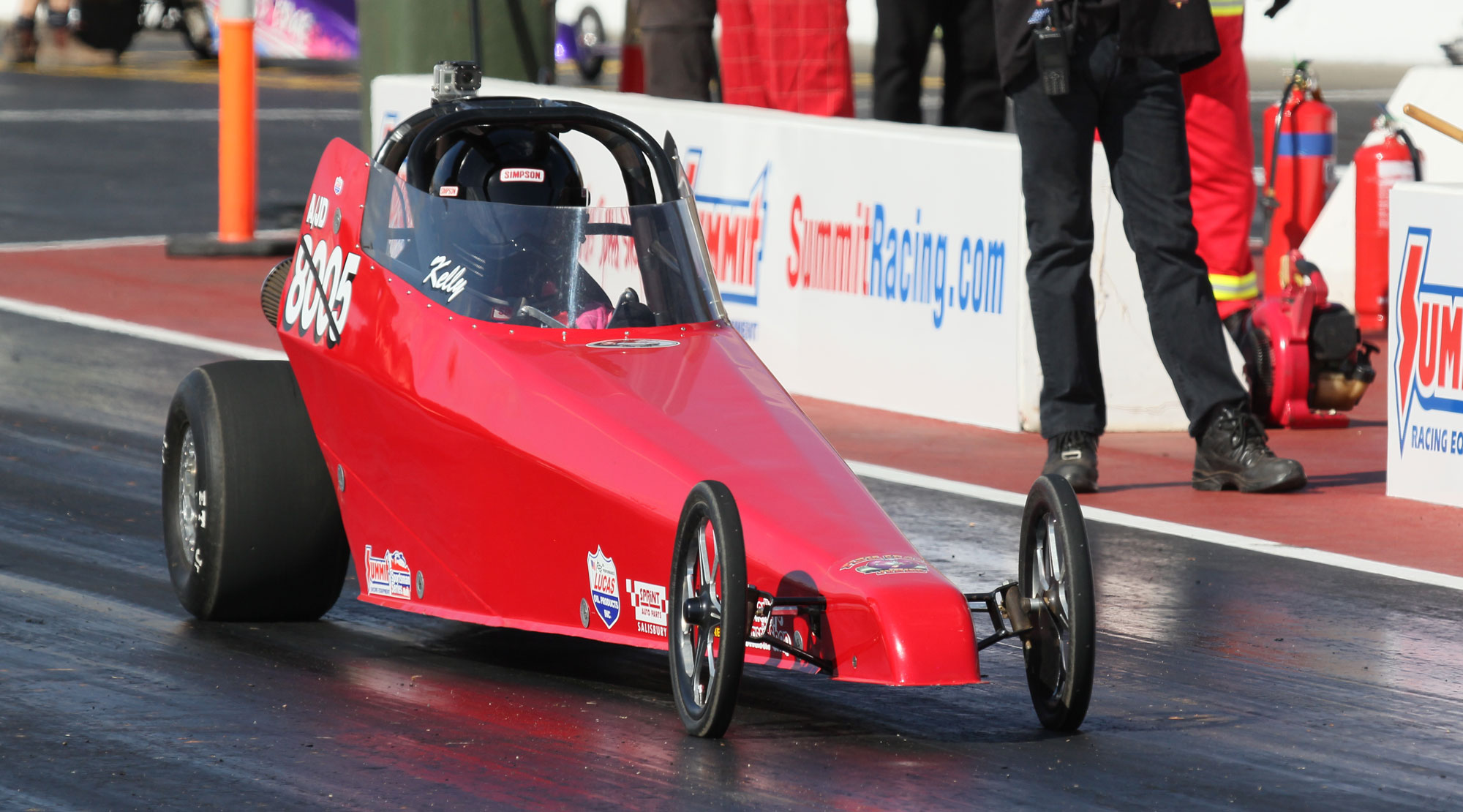 With dad Craig not making it through to the finals, it was up to young Josh Baker to make the family proud. The JD driver had some work to do with Joel Burns, Luke Veersma, Jasmine Slamar and Kelly Donnelly all in the chase for a championship.
Slammer broke out in Rd 1, Burns lost in the next round against Kelly Donnelly, and Veersma went too fast on his solo and withdrew from the event.
In the final Baker red lighted handing Donnelly the win. As for the championship Kelly will be the No.1 for next season while Joel Burns picked up runner-up in his final season in Junior.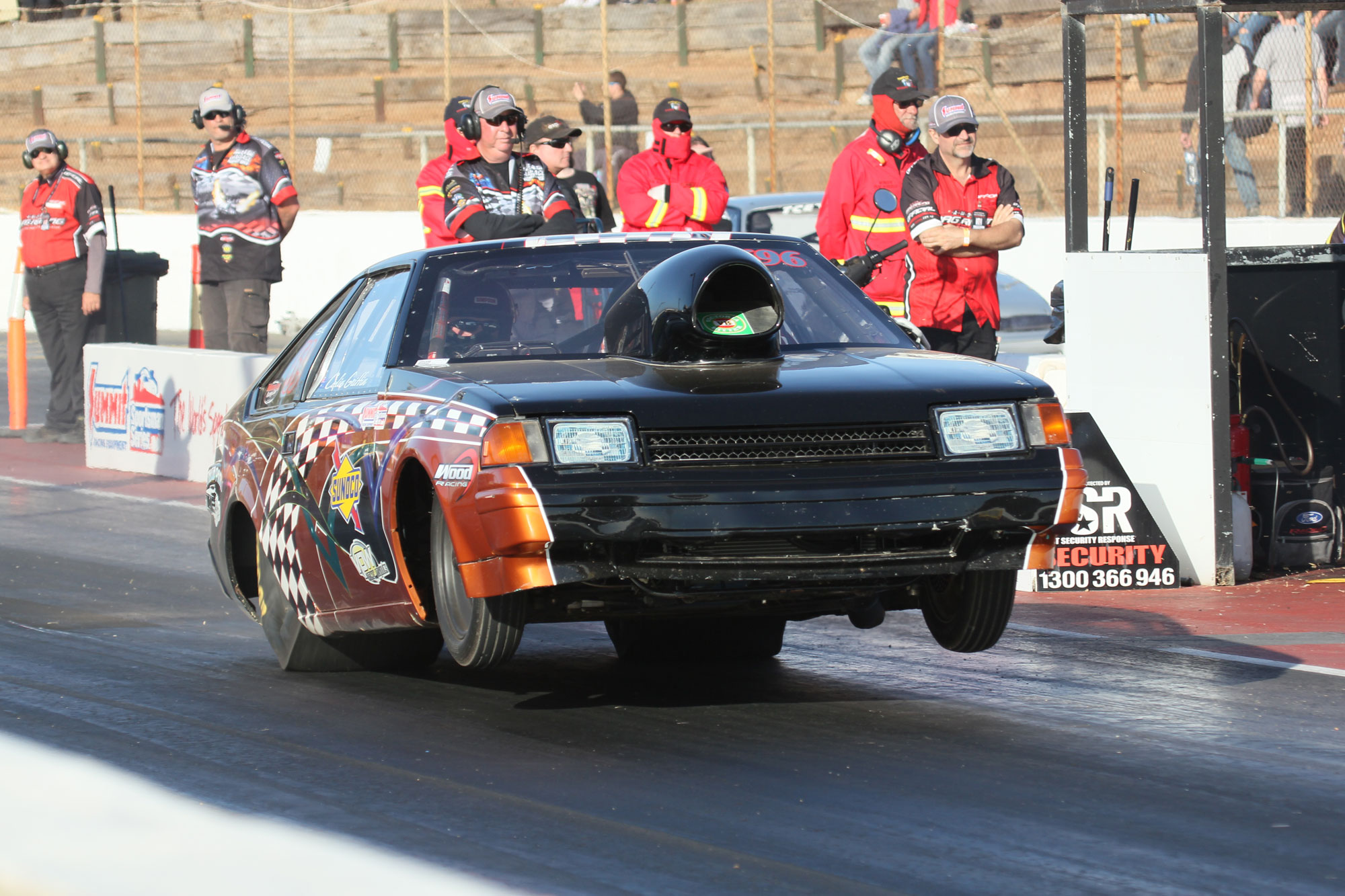 The Super Gas championship was a four-way battle between, two-time champ Darryl Stephen, Graeme Spencer, Colin Griffin and Adrian McGrotty.
In Rd 1, McGrotty fouled on the tree against Griffin, Stephen broke out against Peter Datsun, while Spencer survived a double breakout. In the semis just three cars were left. Spencer put Jeff Romeo on the trailer while Griffin had a solo.
The Super Gas final was all over at the tree when Spencer went red handing Griffin the automatic win. Griffin went on the take the out the championship for the second time in his long career, winning it way back in 1998!
Congrats to all the finalists and Summit Racing Equipment Sportsman Champions and we look forward to catching up with you all for another season of ANDRA drag racing in a few months time.
images by Dave Hope, and Dennis Allen