Modified Bike will be hotly contested bracket at Nitro Up North, with three entrants having won four ANDRA Championships between them. In the spotlight is current Summit Racing Equipment Sportsman Champ Bryan Finn, who having gone back-to-back in 2016 and 2017, will no doubt be looking to make it three-in-a-row this coming season. In fact, if he does, he will create Modified Bike history.
Other two-time Modified Bike champions are Andrew LeDilly (2001-2000) and Adam Ewing (2008-2007).
However, inside the field, we have two other former ANDRA champs – Victorian Gavin Dohnt (2013) and WA rider Ian Read (2015), who no doubt are equally keen to win more ANDRA gold.
"I love going up north this time of the year, "said Finn. The weather is warm and so are the people. This will be my fourth trip to Alice and my second to Darwin, and while I've done pretty good at Alice, its Darwin that I'm hoping will turn around for me, especially after my first round red light in 2016.
Whilst most people would book their accommodation first, Finn has a different approach to his trip.
"I was able to borrow a van last year, but this time it was a little different," said Finn. I entered first and worried how I was going to get there last. I just knew no matter what, I was going! All I needed to do was figure out how.
"Gavin Dohnt offered me a ride but I'll be going up with Danny Rickard. I can't wait for the road trip to begin on the Tuesday before the event.
"I had such great memories from last year, except for the early exit. But there is always a positive," said Finn. Prior to the race, I got to meet a bunch of people who invited me to an engagement party on Saturday night. I had no idea who they were, or who was getting engaged!
"I told them I was racing. But when I red lighted, the positive was that I still got to go to the party. You know me I just like to go with the flow.
"I also love the fishing and cooking the crabs up there and the people are all really friendly and laid back. Just like me (laughing). I will be bringing along some new brighter Hawaiian shirts so me and my crewman Barry (Brooks) will stand out in the crowd."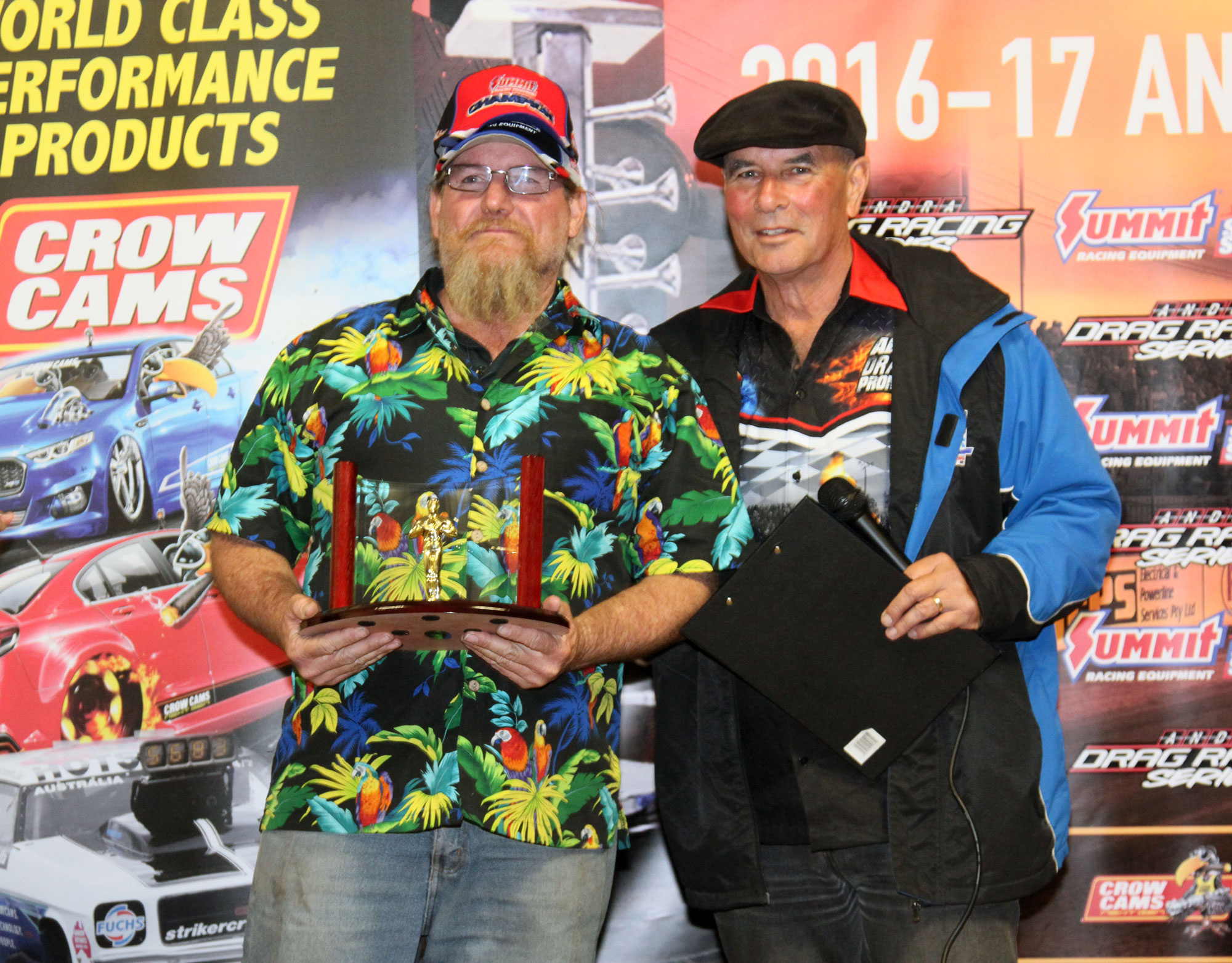 It's no secret that Finn is once again chasing the Summit Racing Equipment Sportsman Series. He's done his homework.
"I will be chasing another Modified Bike championship and if all goes to plan I will be the first to win three in a row. I'm also going to try and backup with another John Storm memorial trophy. Winning that last season was such a big deal for me, not only because of its historical importance, but I just like it.
"My plans are to chase every Summit Racing round. It's a tough bracket with some very talented riders. I have always said that every bike has the chance to win. For me, I haven't changed anything major on the bike because it's a good package. I say why change a winner?
"I'd like to thank my new boss Graham Shiell. I've only been in a job for three weeks and I've already been allowed to go away for two weeks. I'm so glad as a fellow drag racer Graham knows and understands what it's like, said Finn.
"Darwin and the Nitro Up North event is a great event to kick off the 2017/18 Summit Racing Sportsman Series. And a week later we get to do it again in Alice Springs. Bring it on!"
Photos by Dave Hope and Mark Cuffe

INFORMATION
NITRO UP NORTH
When: July 21-22, 2017
Where: Hidden Valley Drag Strip, Darwin
What: The Northern Territory's biggest drag racing event featuring Nitro Dragsters, 400 Thunder Professional Drag Racing Series and Rd 1 of the Summit Racing Equipment Sportsman Series
Spectator tickets are now available online, or from Redline Plumbing in Darwin. Tickets will also be available at the gate.
www.nitroupnorth.com
DESERT NATIONALS
When: July 29-30, 2017
Where: Alice Springs Inland Dragway
What: The Desert Nationals features Rd 2 of the Summit Racing Equipment Sportsman Series. The Lamattina Top Fuel dragster is set to rock Alice Springs with Australia's quickest and fastest female – Kelly Bettes behind the wheel. In addition, And if that's not enough, Top Fuel Motorcycle and Top Doorslammer will be making spectacular runs over the 2-days.
For further info to enter or spectator pricing go HERE
If you are a racer/team who will be attending either Hidden Valley or Alice Springs and have news or info please send to media@andra.com.au
[END]