A taste of Australia's biggest drag racing show came to the Brisbane CBD yesterday, with thousands of city-goers able to get up close and personal with high-powered racing machines and their drivers at Reddacliff Place ahead of this week's Fuchs Winternationals (4-7 June).
Two-time Top Fuel champion Phil Lamattina and his Fuchs Top Fuel dragster, two-time and reigning Pro Stock Motorcycle champion Luke Crowley and his two-wheeled weapon, former Top Alcohol champion Steve Reed and his Funny Car and Wallace Bishop Jewellers Loyal Watches CEO and drag racer Stuart Bishop and his Top Doorslammer were all on-hand across the day.
Joining them were the ANDRA truck, ANDRA Business Development Manager Jennifer Harrison and Willowbank Raceway promotional staff, chatting to fans and giving out Fuchs Winternationals prizes across the day.
Those that missed the event or are keen for more drag racing action before gates open for the Fuchs Winternationals on Thursday still have another chance, with Lamattina to be joined by seven-time Top Doorslammer champion John Zappia and his Fuchs Top Doorslammer at Booval's Burson Auto Parts store (196 Brisbane Street, Booval) from 4.00pm to 6.00pm on Wednesday 3 June.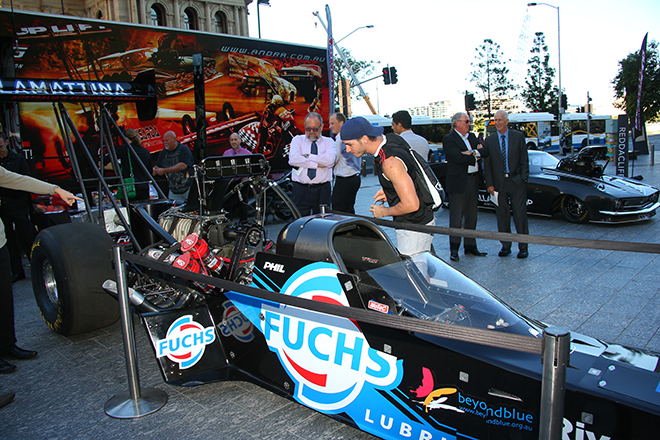 Top Doorslammer racer Bishop said that while the pre-event preparation for any event is busy, let alone for the Fuchs Winternationals, he always has time for the fans.
"It has been great to get into the heart of the city and connect with both existing fans and people who might not have known about our great sport before today," said Bishop.
"Things are certainly busy for us both at Wallace Bishop Jewellers and in the workshop preparing for this weekend's event, but I wouldn't have missed being a part of this event – hopefully we see plenty of today's faces out at Willowbank Raceway to see our machines in action late this week! The weather is looking great this weekend and those taking in all that Ipswich and Brisbane has to offer should make sure they include a visit to the track – they won't be disappointed!"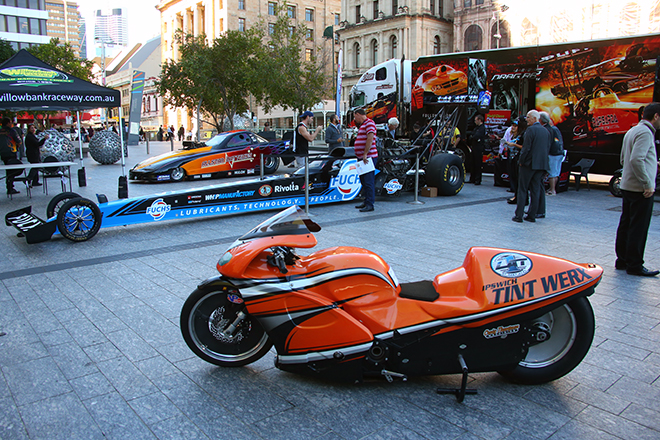 Top Alcohol racer Steve Reed and his Allstar Batteries Funny Car received plenty of attention across the day.
"It has been great to get out here into the Brisbane CBD today and chat to the fans and show them a taste of what they can see at this weekend's Fuchs Winternationals," said Reed.
"It is shaping up to be a great event, we have made some good ground recently in testing and are looking forward to putting on a good show for the fans as part of the 500-strong line-up of racers."
Willowbank Raceway CEO Tony Manson said the display at Reddacliff Place had been a rewarding day out for everyone involved.
"It has been really great today to chat to a whole range of people about the upcoming event, and to see their eyes widen in amazement when we have explained just what the machines we had on show are capable of achieving," said Manson.
"From 10,000 horsepower Top Fuel dragsters capable of running speeds in excess of 500 kilometres per hour and the fastest sedans on the planet through to Junior Dragsters driven by eight year olds, the Fuchs Winternationals represents the full gamut of Australian drag racing all competing for a prestigious event win.
"Hopefully by being able to see these amazing machines up close today we will have opened some new eyes to the sport we all love so much, and we hope to see plenty of familiar faces coming through the gates this Thursday through Sunday for the Fuchs Winternationals.
"Children 13 and under gain free entry and students with ID can access a discount, and there is plenty to see and do both on and off the track for everyone, so we really encourage everyone to come out to Willowbank Raceway and be a part of the largest championship drag racing event held outside of the US!"
Images courtesy: dragphotos.com.au