The 18/19 Summit Racing Equipment Sportsman Series title battle for the Supercharged Outlaws bracket will come down to the wire at the Perth Motorplex this weekend at the hotly anticipated ANDRA Grand Finals (April 6/7).
Heading to the final round of what has been an intensely competitive season for the bracket, Paul Stephen and Mark Hunt are sitting on maximum points (300) at the top of the leader board ahead of Mike Evans (290) and Jason Keily (280).
While both Stephen and Hunt are long-standing members of the Supercharged Outlaws scene, they are each yet to lay their hands on a Summit Racing Equipment Sportsman Series Australian Championship Trophy; despite having come tantalisingly close in the past.
With so much unfinished business, both racers are expected to be throwing everything at it in Perth this weekend.
"We should have won it back in 2011, the final at the last event of the season didn't get run due to rain and if they had run it we would have had the points to take it out but instead we ended up second," said Stephen, who thanks Atlantic Oils, Bob Reishel at Smart Fuels, Macarthur Garages, John Williard of Flatout Services, Craig's Automatics and his dedicated crew Dearne (his wife), Neil Webb, John Ward and Thad Stewart for their support this season.
"We have spent a lot of years in this sport and I don't even know how I could begin to explain what it would mean to us to take out the title.
"The season has gone really well so far, the car has been absolutely flawless all year and we have travelled a lot – we were thinking of going to Europe this year but we decided to commit to this Series instead and try and get that title. It has been a long and taxing and expensive season, but it is all worth it of course.
"Heading into the ANDRA Grand Final this weekend we are feeling a little bit apprehensive. The car is good and we have crossed all the Ts and dotted all the Is as much as we can, so we just have to go out there and do what we can – hopefully we get Mark in the first round and get it over and done with," he laughed, "there will no side stepping him that is for sure!"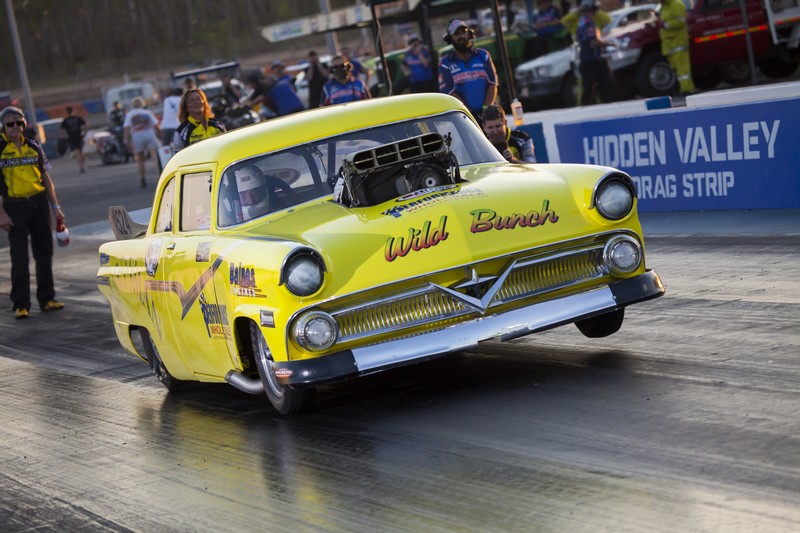 Like Stephen, there is a lot of unfinished business for Hunt who is hoping to send off his soon-to-be-retired 'Huntsman' Ford 56 Customline with a championship this weekend.
"We are very keen. We are ready to go and feeling fairly confident, we will just need to do what we normally do and I think we should be right," Hunt said, while thanking Hi-Tec Oils, Performance Wholesale Queensland, Dave Baines (engine builder) and his crew Maxine, Brenton, Dave and Carol for their support this season.
"There are a lot of other contenders there which will be the trouble, as there are a lot of cars in WA which could take us (Hunt and Stephen) out before we even get together. The way the field is playing out it looks like a really good field with some good players there and players that have the home track advantage, while Paul and I will be chasing the WA air.
"Even so, we are feeling confident, everything is ready, we are ready, the whole crew is heading over and we are looking for a good result!
"Two years ago I was the runner-up and I lost because I broke-out. We had a play around last year but this season we have been all over Australia chasing this title, so to win it would be absolutely fantastic.
"It would also be great to take it out this season as I want to retire the car this year and bring out my new one in August for Supercharged Outlaws next season!"
The ANDRA Grand Final will host the final battle for the 18/19 Summit Racing Equipment Sportsman Series at the Perth Motorplex across April 6 and 7. For more information, visit www.andra.com.au or www.motorplex.com.au/andra-sportsman-grand-finals/