Round three of the 2019/2020 Summit Racing Equipment Sportsman Series enjoyed a successful conclusion at Mildura's Sunset Strip on Sunday (September 22) with plenty of spectacular performances on show as 150 racers went to battle.
Particularly pleased with the weekend's results were the event winners who took home ANDRA Christmas Trees: Colin Griffin (Super Gas), Jake Berias (Summit Racing Equipment Junior Dragster), Gavin Dohnt (Modified Bike), Michael Jennings (Super Street), David Todd (Super Sedan), Adam Mundy (Modified), Christine Steffens (Supercharged Outlaws), Glenn Henley (Top Sportsman) and Craig Geddes (Super Comp).
Runners-up were Renee Cockerill (Super Gas), Tim Baker (Summit Racing Equipment Junior Dragster), Derryn McGregor (Modified Bike), Rodney Kerr (Super Street), Alex Gkroidis (Super Sedan), Chris Farrell (Modified), Warren Leonard (Supercharged Outlaws), Sam Cardinale (Top Sportsman) and Shane Baxter (Super Comp).
For full results from this weekend's Summit Racing Equipment Sportsman Series round at Mildura's Sunset Strip, please click here.
The fight for Super Street saw Rodney Kerr and Michael Jennings face off in the finale, with Jennings ultimately taking victory. On their way to their final stand-off in Mildura, Kerr had faced off against Peter Jephson, Matthew Smart, Luke 'Tex' Griffiths and Nikolas Karanovic while Jennings had taken wins from his and defending champion Paul Jennings, as well as John Kalantzis, Mark Jachmann ahead of a bye run in round four. DecoGlaze Glass Splashbacks Victoria Top qualifier medallion recipient Robyn Phillis was defeated in the second round by Cara Bertoli.
"I had a lucky day today," laughed Jennings. "I had five rounds made up of four red lights and a bye! But you have got to be in it to win it.
"This is basically the second meeting in the car and our first Summit Racing Equipment Sportsman Series round with it and we have come away with a win, so we are very happy.
"It was the first time I had faced off against Paul too as normally I race Super Sedan. We were both excited and when the helmet goes on it is all the same, it was good to race against each other – one of us was going to the second round either way!
"I would like to thank Graham Elliot – this car is a replica of the car he raced back in the 60s and 70s. He wanted to build a replica so a few people got together and pieced it together over a year. I would also like to thank my brother, Steve Hunt, my mum and dad and the whole racing family we have. Finally I would also like to thank the Sunraysia Drag Racing Association for putting on the meeting."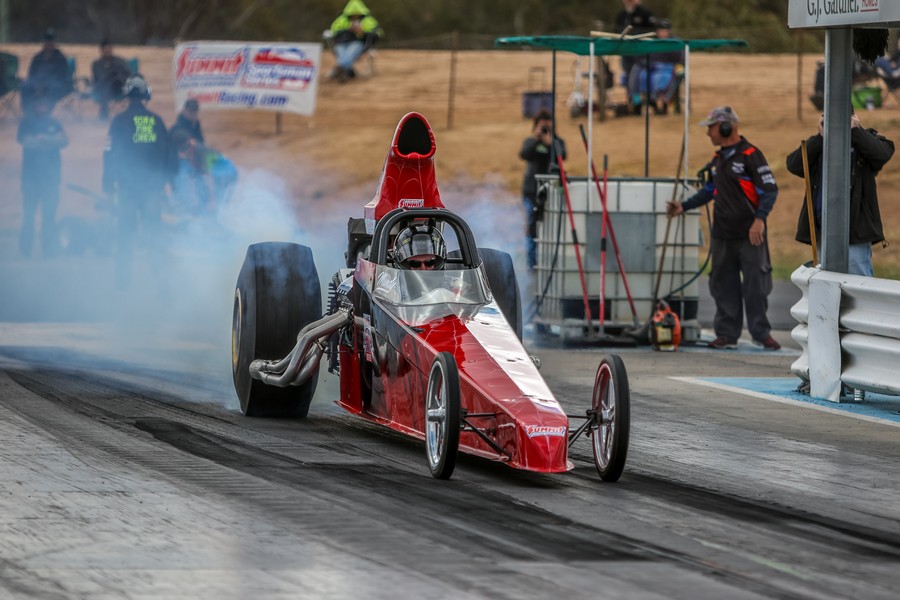 In the Modified ranks, defending champion and top qualifier Adam Mundy got his championship defence off to a strong start with a Sunset Strip Nationals event victory. Mundy was treated to two bye runs across the first round and the fourth round of racing today, defeating Matt Ponton and Stewart Johnston in rounds two and three. Chris Farrell meanwhile had earlier taken victories from Marino Gregoric (round one), Bradley Hicks (round two) and Josh Baker (round four) and enjoyed a bye run in round three.
"Today was fantastic it started off great and the track was super sticky and all the staff and crew very well organised," he said.
"It was the first time out for us on the new fuel so we weren't sure how the car was going to go, but it performed absolutely perfectly.
"We were hoping to race at Alice Springs but that didn't eventuate so we were a little bit nervous entering a field of 17 but we are absolutely stoked that I was able to back it up first time out. A huge thank you must go to my crew members Des Mundy, and Ron Beaucaris, and I also want to send shout outs to Leon and Lisa Davies as well as to Steve and Leanne Braggs for the awesome car they gave me. Finally, I have to say a big thank you to ANDRA – I am looking forward to the next meeting!"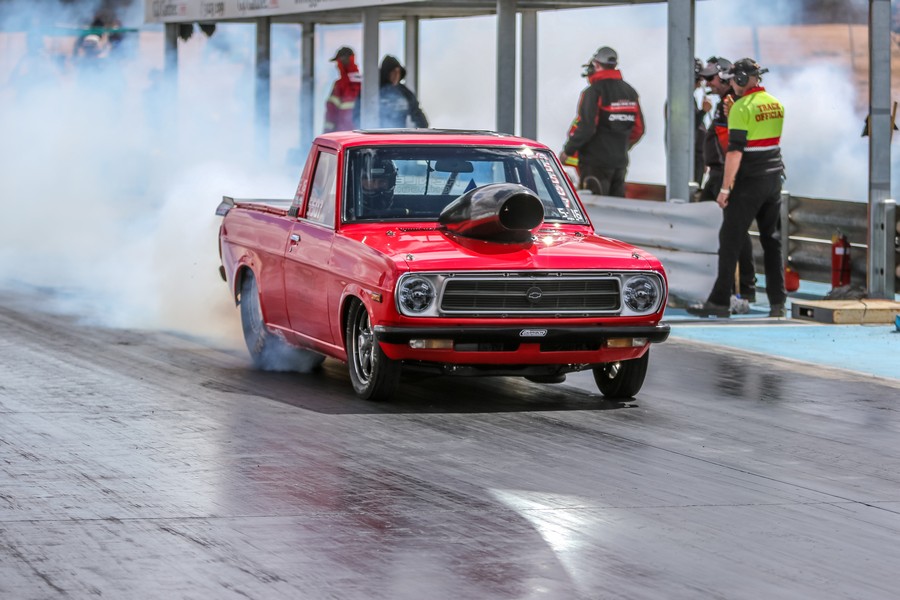 The Top Sportsman battle came down to Glenn Henley and top qualifier Sam Cardinale. On his way to the event victory, Henley faced off against Kevin McIvor (round one), Leon Davies and Vlado Turic while Cardinale enjoyed bye runs in round one and three while facing off against Rick Smith in round two.
"The car did not miss a beat all day – I didn't have to change any jets or anything on it all day. I put a dial in on the car that I knew I was going to break out with every time if I ran it through the line, and I got off it every time just before the line. The strategy paid off obviously," Henley explained.
"It was a real smooth event and the track was fine with no dust. I would like to thank Henley Chassis, Craig Carrison Race Engines and my crew: my wife Tracey and my brother Brett Henley as well as Dean Cleary, Dean's son Chad Cleary and also Lara."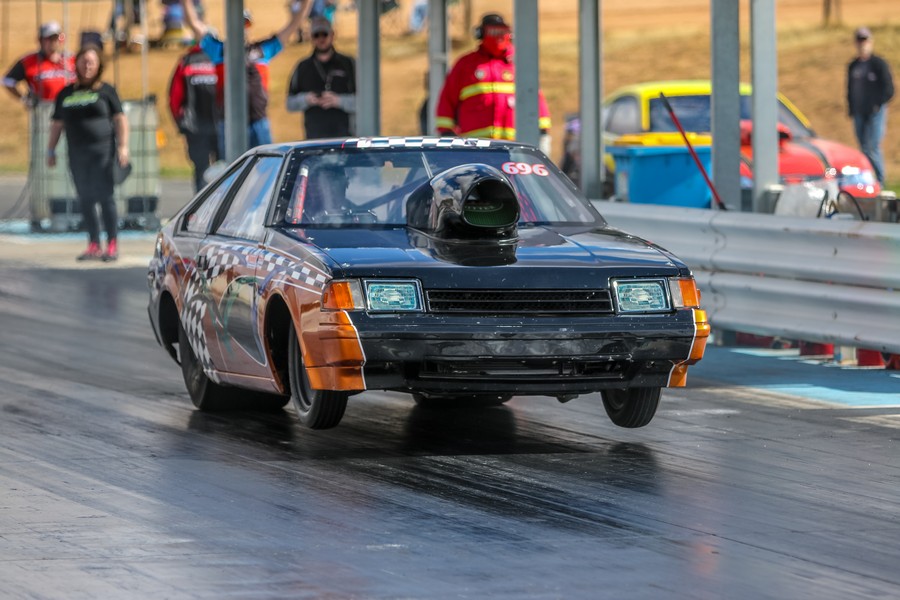 The pursuit for a Super Gas event trophy came down to last year's title runner-up Colin Griffin and Renee Cockerill, who has made a return to the series after a number of years away this weekend. Griffin would ultimately take the event victory and prior to facing off against Cockerill, did battle against Jason Wilson (round one) and Graeme Spencer while Cockerill had taken on Michael DeRose and Anton Krajina – who eliminated top qualifier Charlie Saraceno in the first round.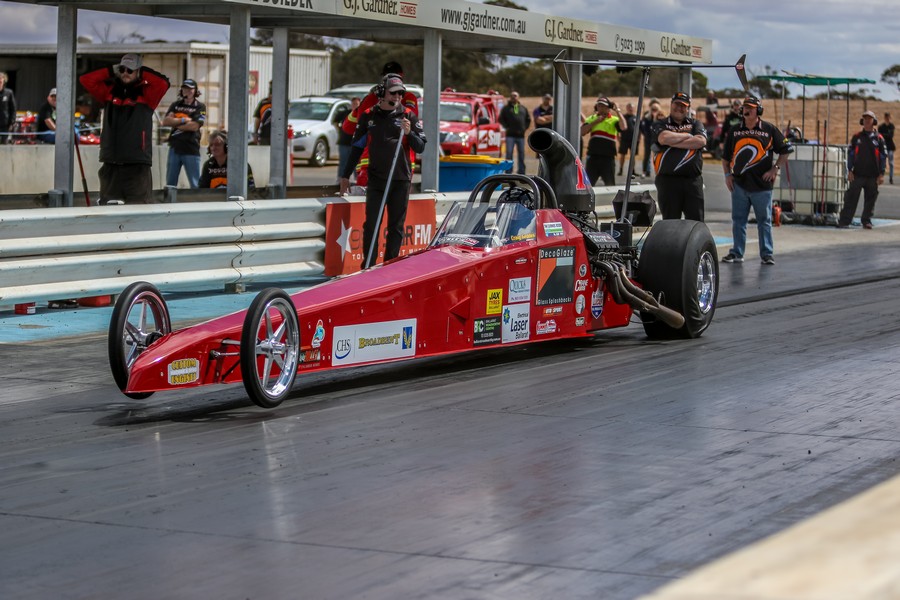 In SuperComp, Sunoco Race Fuels Evo 10 Top Qualifier and defending champion Craig Geddes went all the way to the big trophy, taking the win in the final against Shane Baxter. He earlier had a bye in the first round preceding victory over Matt Forbes in the semi-final. Baxter meanwhile had earlier done battle with David Roberts and Adrian Vella (semis).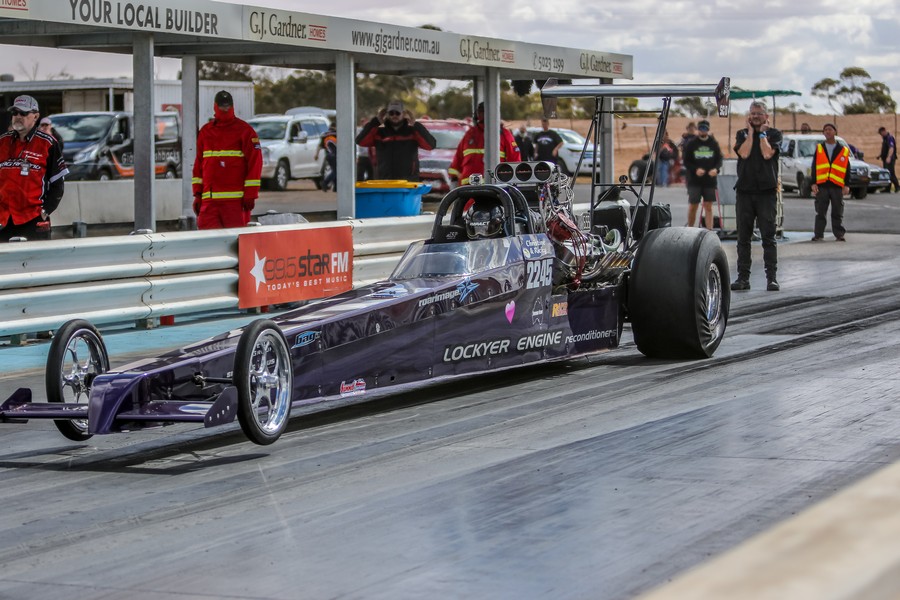 In Supercharged Outlaws, top qualifier Christine Steffens secured her spot in the final on her way to her second consecutive event win by taking victory against Mike Evans in the first round which earned her a bye in the semi-final. Runner-up Warren Leonard meanwhile had defeated Tim Stewart in the first round before successfully facing off against Justin Russell in the semis.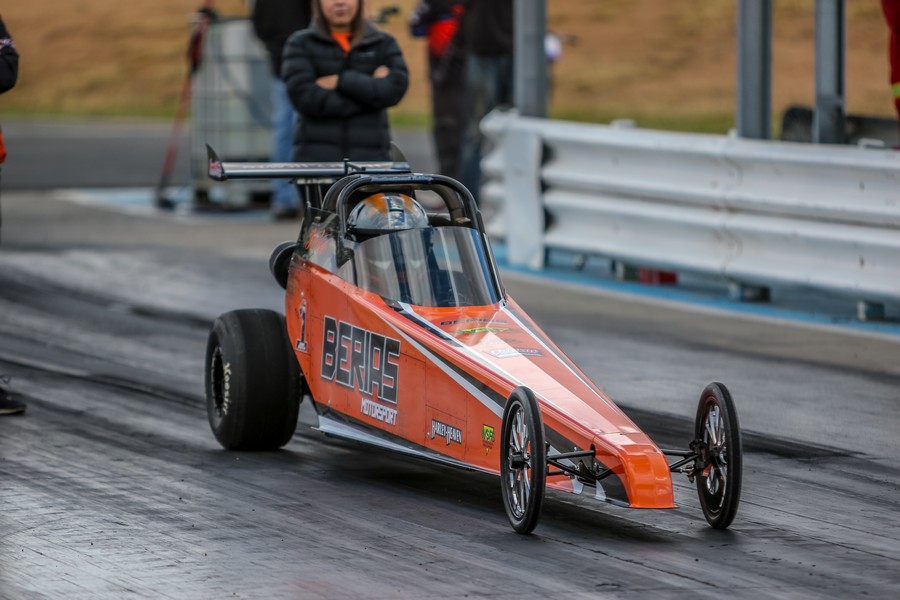 The Summit Racing Equipment Junior Dragster battle came down to Tim Baker and Jake Berias with the defending champion Berias ultimately taking out the event win. Baker had enjoyed a bye in the semi final after victories over Ayden Lanciana (round three), Holly Camilleri – who defeated Top Qualifier Ryan Russell in round one – and Brooke Camilleri while Berias had emerged victorious from races against Tommy Turic (round four), Baillie Ponton, Leroy Egan and George Limperis.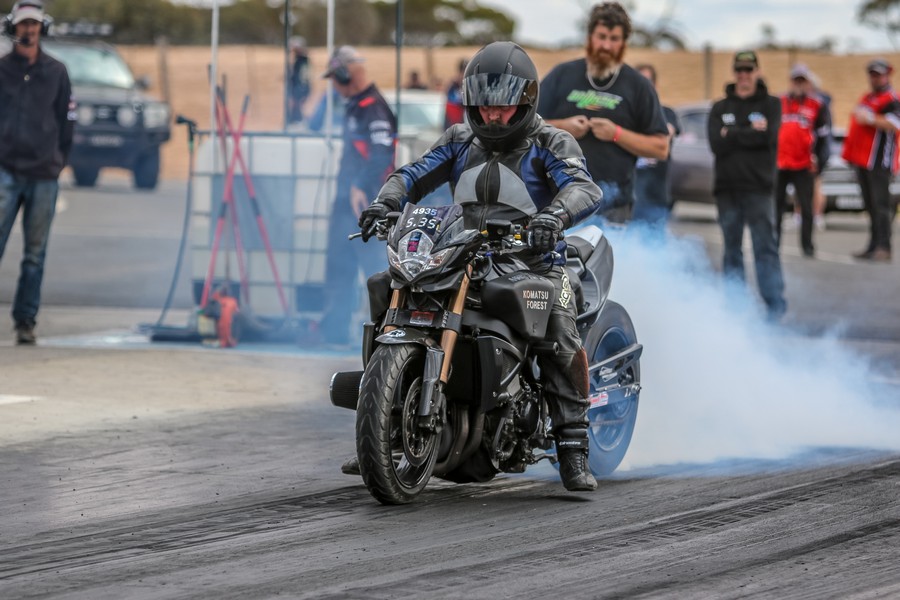 On two wheels, Modified Bike runner-up Derryn McGregor enjoyed a bye in the semi ahead of his final against Gavin Dohnt after earlier beating Shane Walker – who defeated top qualifier Rob Cassar in round two – Mark Habel (round three) and Nat McKay (round four). Event winner Dohnt meanwhile had taken on Matt Dare (round one), Mario Baker (round two) and Michael Cristoforo (round four) while having a bye run in round three.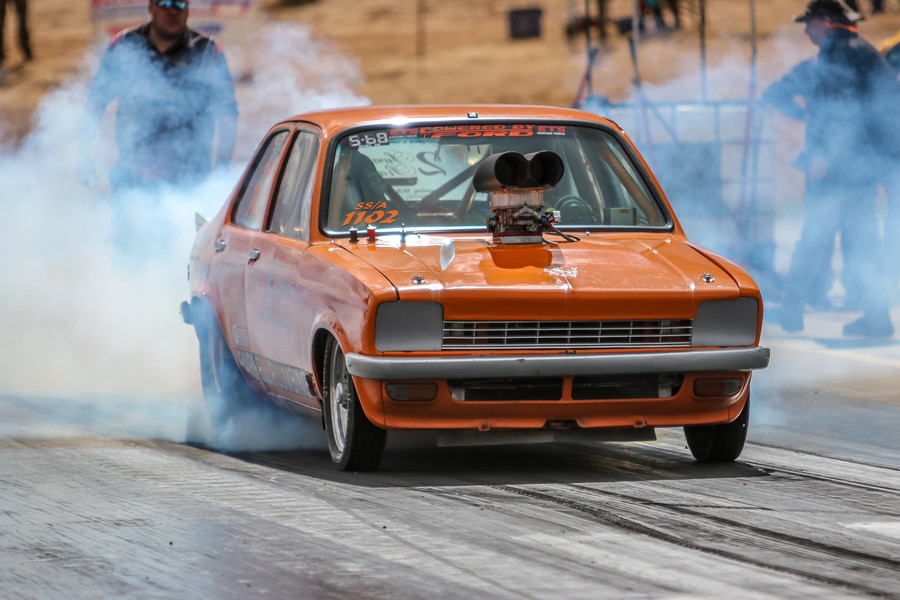 The Super Sedan battle came down to David Todd and Alex Gkroidis. Event winner Todd found himself in the final after wins over Peter Tzokas (round one), Chris Lioulios, Dennis Schwab and Kass Ward while Gkroidis earned his spot by bettering Joe Carboni (round one), Tony Tedesco and George Tipouikidis ahead of a bye run in round four. Top qualifier Rob Camilleri was unfortunately unable to progress past his round one solo pass.
ANDRA thanks the Sunraysia Drag Racing Association as well as all of the volunteers and sponsors for an outstanding race track and a well-run event.
Round four of the 19/20 Summit Racing Equipment Sportsman Series, the Goldenstates, will be held at the Perth Motorplex on November 9. For more information on that event, please visit www.andra.com.au or www.motorplex.com.au