Racers from around Australia have put on a show in Darwin as they have attempted to stake their claim for top qualifying honours across the Summit Racing Equipment Sportsman Series at the Hidden Valley Drag Strip's Top End Nationals this evening, ahead of Saturday's final qualifying and racing.
The Top End Nationals is the season-opening event for the 2021/2022 Summit Racing Equipment Sportsman Series, and is also hosting the opening round of the new Australian Drag Racing Series (click here for a wrap-up of today's ADRC festivities).
Brodie Zappia (Summit Racing Equipment Junior Dragster), Allan Henry (Modified Bike), Glenn Sterkenburg (Super Street), Craig McGregor (Super Sedan), Bradley Hicks (Modified) and Todd Knight (Top Sportsman) are all the front runners for the DecoGlaze Glass Splashback Victoria Top Qualifier Medallions thanks to their qualifying performances today – with several qualifying sessions remaining for Saturday.
Knight (pictured above), a Northern Territory local, had plenty of reasons to smile after his performance in Top Sportsman, turning in the quickest nitrous-assisted run in Australia for the new unleaded fuel era. Knight's run of 6.670 was over a second clear of the next quickest driver in the field, Vlado Turic.
"We are slowly creeping up on this new fuel and trying to get the tune sorted," Knight said. "You have to sneak up on it or else you risk hurting something.
"Apart from the last meeting where we only made one pass, this is the first time we have used this fuel and we are getting a handle on it. I am hoping by the end of the Top End Nationals we can be back into the 6.5s, or at least close to it."
Knight said he will experiment with adding more power to the motor for Saturday's final qualifying session before focusing on consistency for eliminations.
"These other guys are all cutting decent lights and when we have such a big gap in performance it can be hard as a driver for me to sit and wait for the tree while the other car is driving away. But it is good fun when you catch them!"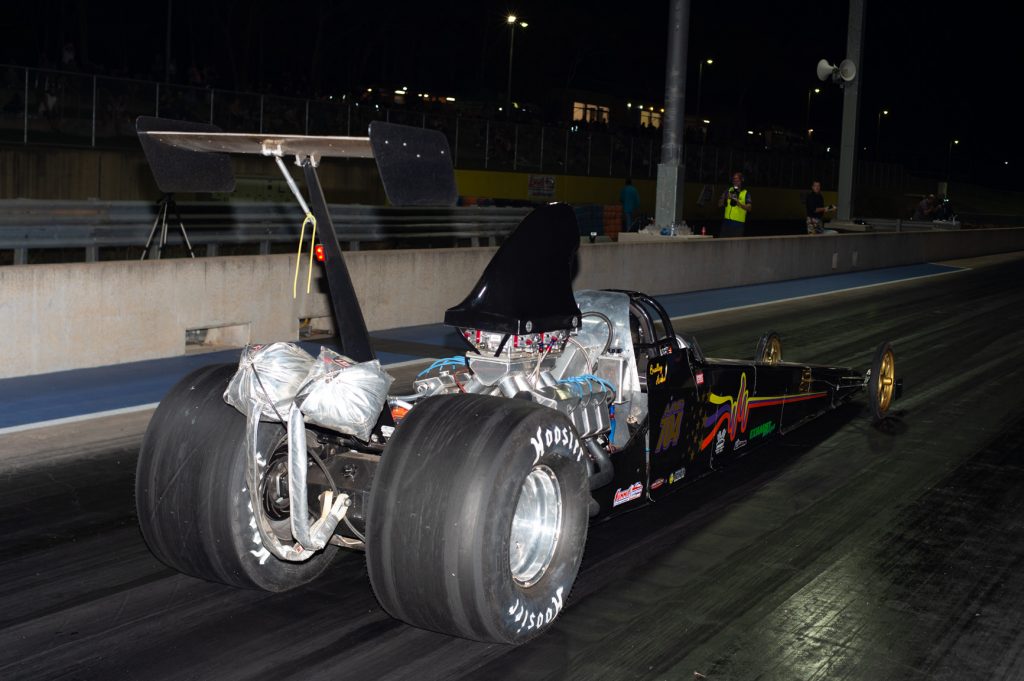 South Australia's Bradley Hicks has the top spot in Modified with a 7.402, holding off a 7.631 challenge from Dennis Baylis' supercharged altered. Hicks made the switch to a new dragster earlier this year and said he is still in the sorting stages.
"We debuted the car in March and even though it can go a little bit quicker I am happy," he said. "Everything went right, except the car was turning the tyres a little bit on the start line and then hooking up. I am going to juggle some tyre pressures and see what the track does tomorrow. We might see a 7.3 from the car.
"Once we are in racing it's all about being consistent and cutting good lights. (Former Australian Modified champion) Craig Baker is here and he is a demon on the lights. That is where a lot of races are won or lost."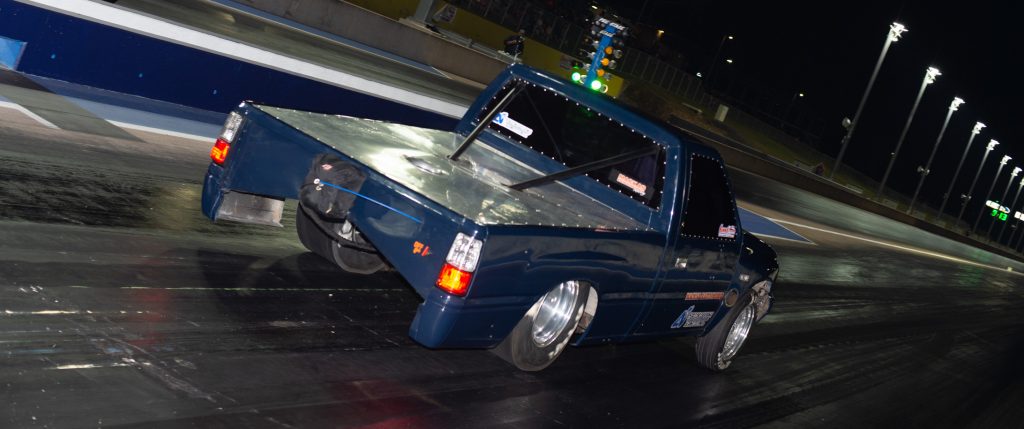 Super Sedan sees Craig McGregor's Holden Rodeo in charge of the qualifying sheets right now with an 8.730, though the Northern Territorian has South Australia's Peter Tzokas hot on his heels with an 8.936. Reigning Australian Super Sedan champion Martin Mirco has once again made the big tow from Western Australia, and he currently sits fifth with a 9.100.
McGregor's switch to a turbocharged combination paid off as he improved his personal best elapsed time by over four tenths of a second.
"We changed from nitrous to twin turbos," he said. "We had the car at Nitro Up North but it was a thrash just to make it function. Since then we have been able to put it on a dyno and tune it.
"It is a big change from nitrous. This gets a little hairy at the top end, and we are running almost 10mph faster than we were before. For tomorrow we need to get our heads around the bump box, which has a different staging procedure."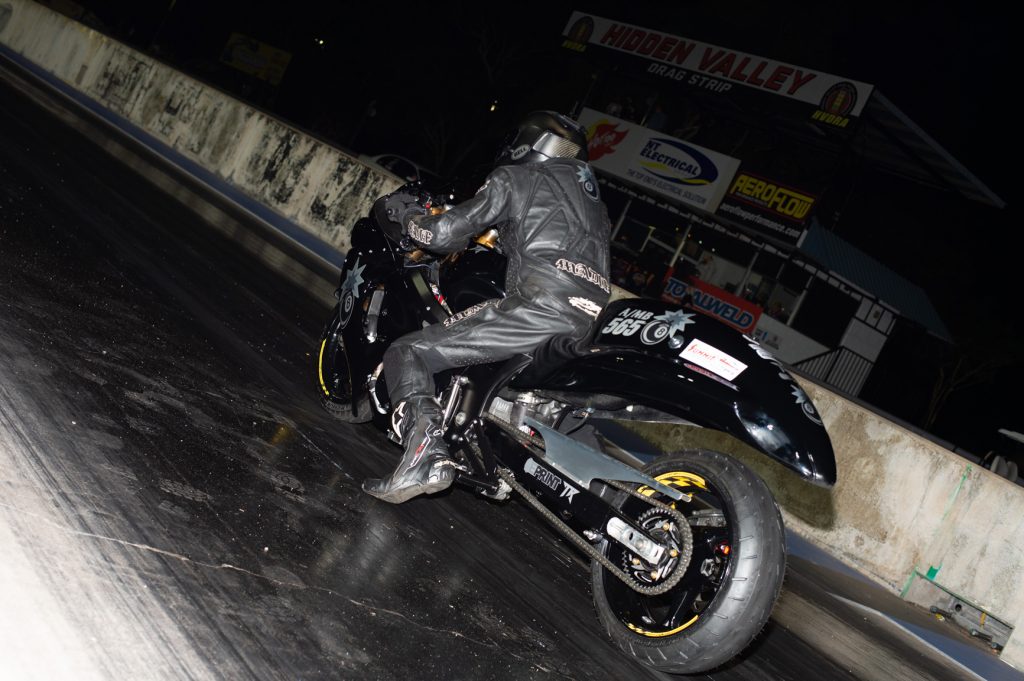 The Northern Territory's Allan Henry was loving life aboard his Suzuki Hayabusa following an 8.677 performance to lead Modified Bike.
"At my stage of life, how can I complain?" he said. "I am 65 so I have been around, and who knows how many more years you can cram yourself on a motorcycle for. I'd love to run a seven before I retire.
"This year has been pretty good to us. We haven't lost a pass all season so hopefully it carries over to tomorrow; one of those ANDRA Christmas Trees would be nice."
Henry's motorcycle uses a stock standard 1340cc Hayabusa engine, with a racing clutch, exhaust pipe and lengthened swingarm among the only changes.
"This engine has 32,000km on it. My crew chief Adam plays with it and I am pretty happy. I have got my eye in and the guys on the team did really well."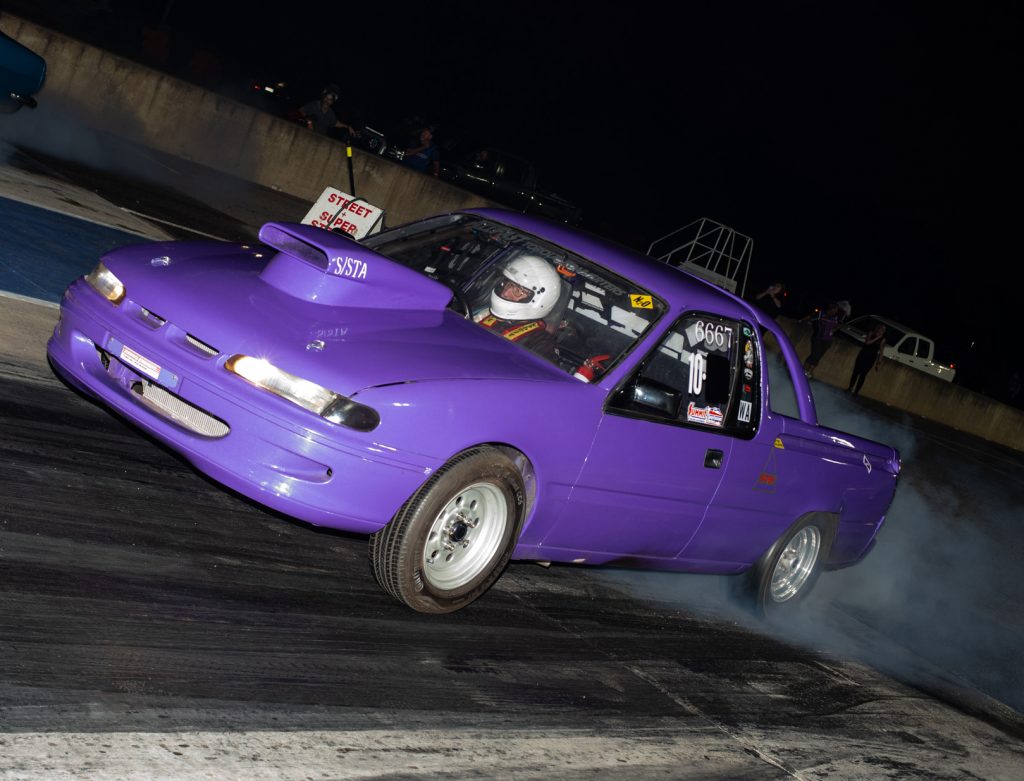 Western Australia's Glenn Sterkenburg has Super Street on lock right now with a 10.451 ET leading his nearest rival Sarah-Mae Bates by three tenths of a second.
Sterkenburg's Holden ute was coming to terms with the tropical weather, helped out by a spray of nitrous oxide.
"The tune is a bit different because of the difference in air density between Darwin and Perth," he said. "I was looking at the air fuel ratio gauge as I was hurtling down the track and we ended up making a jet change. I can feel and sense in the car it is not what it is used to.I run nitrous and that tends to help override a lot of the air problems that naturally aspirated engines suffer."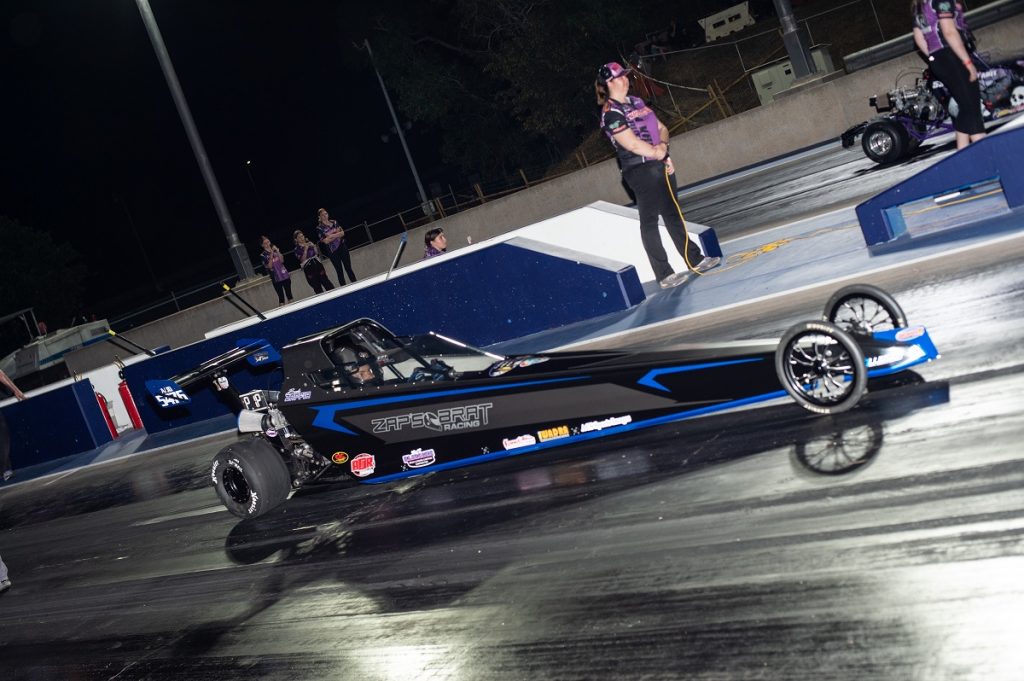 Brodie Zappia launched his Summit Racing Equipment Junior Dragster championship campaign in solid fashion with an 8.042 to currently hold top qualifying position. Zappia is entering his last years in the junior ranks and is hoping he can take a national title before he moves up.
"It's definitely a good start up here," he said. "I missed out on (the Darwin event in 2019) and that put me behind for the season, so this year it is all guns blazing to get the top spot.
"The car started off a little slow with the humidity and changing conditions. I have raced here almost every year since 2014. We love the track and this is the first time here with my new car.
"We are going to aim to get the car closer to the 8.00 index in our final qualifying runs so we can get right on the ball for eliminations."
The Top End Nationals will continue tomorrow (Saturday) at the Hidden Valley Drag Strip with final qualifying from 5.00pm, eliminations from 6.55pm and finals from approximately 9.40pm.
For further information, visit www.hiddenvalleydrags.com.au or www.andra.com.au.