The 47th annual Goldenstates delivered plenty of action-packed races on Saturday evening at the Perth Motorplex, with the Summit Racing Equipment Sportsman Series competitors putting on a great show in pursuit of ANDRA Christmas Trees.
When all was said and done, it was Jett Martin (Summit Racing Equipment Junior Dragster), Kirstie Wroe (Super Street), Simon Garbutt (Modified Bike), Kyle Higgins (Super Sedan), Kasey McClure (Modified), Alby Bakranich (Top Sportsman), Mark Hunt (Supercharged Outlaws), Ross Smith (Competition Bike), Graeme Simms (Super Stock) and Steven Martin (Competition) who took out the prestigious trophies.
Taking out the runner-up spots were Seth Jarvis (Summit Racing Equipment Junior Dragster), Mike Caridi (Super Street), Paul Nieuwhof (Modified Bike), Matt Gullotto (Super Sedan), Darryl Treasure (Modified), Paul Downe (Top Sportsman), Alan Mahnkoph (Supercharged Outlaws), Gordon Crawford (Competition Bike), Errol Quartermaine (Super Stock) and Moreno Gullotto (Competition).
Also taking to the track today were the Australian Drag Racing Championship's Top Doorslammer and Top Fuel Motorcycle brackets – for the wrap-up of their racing, please click here.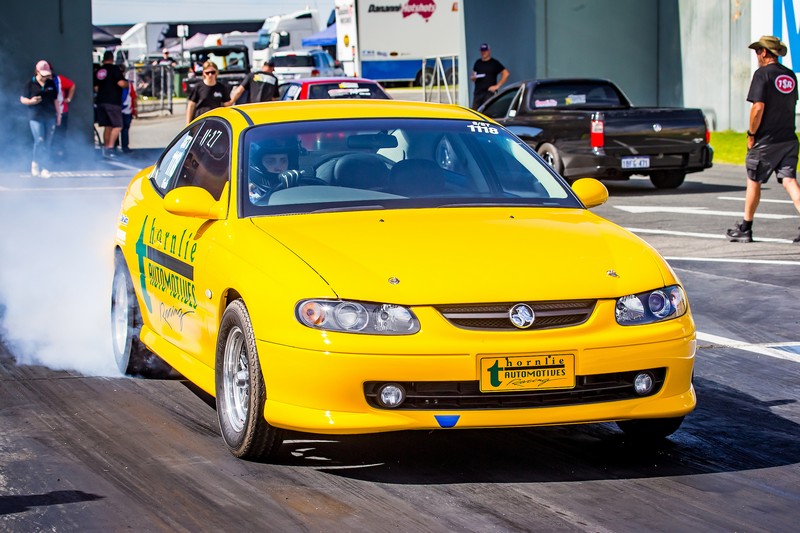 In Super Street, Kirstie Wroe took out an exceptionally close final against Mike Caridi following an equally intense semi-final against her twin sister, Ashleigh Wroe, which ended in a double break-out. Kirstie took on and defeated Glenn Sterkenburg (round one), national champion Paul Garbellini and Joel Trotman to make it to the semis and eventually, the final. Caridi meanwhile had taken on WA champion Andy Oorschot (round one), Peter Forward, Decoglaze Glass Splashbacks Top Qualifier Steph Gullotto, and Lisa Garbellini to take his spot in the final.
"It was a very close race and a very good race. Mike is such a tough racer and I was very lucky to have the opportunity to race against him. Crossing the line next to him, neither of us knew who had won, we were pretty much just waiting for the light to pop up on the side of the track! It was so close and a really, really good race," Wroe said.
"Speaking of close races, I also raced my sister in the semi-final and that was a really good race too. She is a tough competitor and neither of us were going to give up – hence the double breakout!" she laughed.
"I would like to thank my mum, dad, brother and sister, Thornlie Automotive, Dale Signs, Street Quick Performance, Black Magic Race Cars and also all of the Perth Motorplex track crew and staff for making this event what it is."
The Modified class was another which saw a very close finish, with Kasey McClure beating Darryl Treasure to the line by 0.017 of a foot in a nail-biting finale. McClure had earlier beaten Nicholas Wroe (round one) and Rachel Gannaway while Treasure had bettered Jeff Acton (round one) and Decoglaze Glass Splashbacks Top Qualifier Paul Ryan.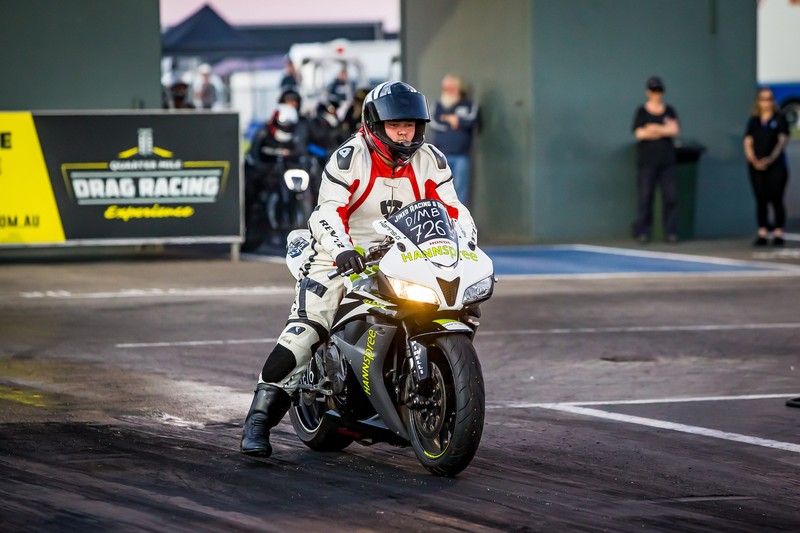 In the Modified Bike proceedings, Simon Garbutt took the victory on his daily driver over the Kawasaki of Paul Nieuwhof. Garbutt found himself in the final following victories over Jarrod Maclean (round one) and Luke Seaton before enjoying a bye in round three ahead of victory over Brett Allen in the semi-final. Meanwhile, Nieuwhof – the Decoglaze Glass Splashbacks Top Qualifier Medallion winner for the bracket – enjoyed byes in both the opening round and the semi-final, successfully taking on Natasha Hayden and Jack Wasley in rounds two and three.
"We have been working hard in the off-season on our Hayabusa, but unfortunately with the COVID delays on parts we faced some hefty delays in what we could achieve with that motor. Rather than not doing anything, we decided to pull out my daily driven street bike and put some parts on it we had in the shed, and bring it out to go racing," Garbutt said while thanking his wife, sister, sister-in-law, Chris, Paul, Luke, the whole Modified Bike field and Skippers Transport.
"It is a bike I drive daily, I rode it to my wedding, I took it to Albion, it has been on other trips all over the place, and now it is here having some fun in Modified Bike! It was pretty awesome to get the win, especially on that bike. I have had it for eight years and it is a real favourite.
"It was a very tough field to get through today with J-Mac and Luke and the others, racing those guys and coming out on top is a hard challenge and it is definitely great to come out on top."
Also on two wheels, the Competition Bike Chicago shootout format proved entertaining with Ross Smith taking on and defeating Troy Thompson in the final.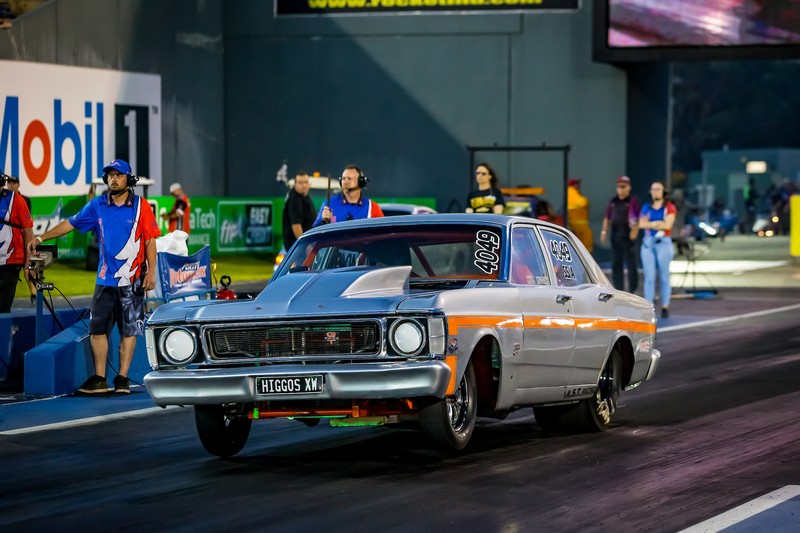 In the Super Sedan category, Kyle Higgins delivered his mother the perfect birthday present by taking out the ANDRA Christmas Tree trophy with a win over Matt Gullotto who unfortunately encountered issues on the start line. Higgins had previously taken on and won against Luke Guppy (round one) and national champion Martin Mirco before a bye in round three and a semi-final victory over Daniel Kojic. Gullotto meanwhile ensured he had a spot in the final by taking earlier wins from Steve Hunt, Decoglaze Glass Splashbacks Top Qualifier Rob Evans and Kathy Regan before benefitting from a bye run in the semi-final.
"I am pretty bloody excited and happy with this result," Higgins grinned.
"It has taken a lot of effort to get the car to where we have gotten it too now, and it was running pretty consistently all day despite the heat.
"With all the effort my family has put in to get me down here, I am just very happy.
"About four years ago it was my mum's birthday and she said she wanted a Christmas Tree. I won it then, and now today I have been able to win it again for her and I am pretty happy about that – she is pretty stoked about it too!
"Thank you to AST Mechanical, Midlands Sands and Soils, my mum and dad, and Beau for all of your support."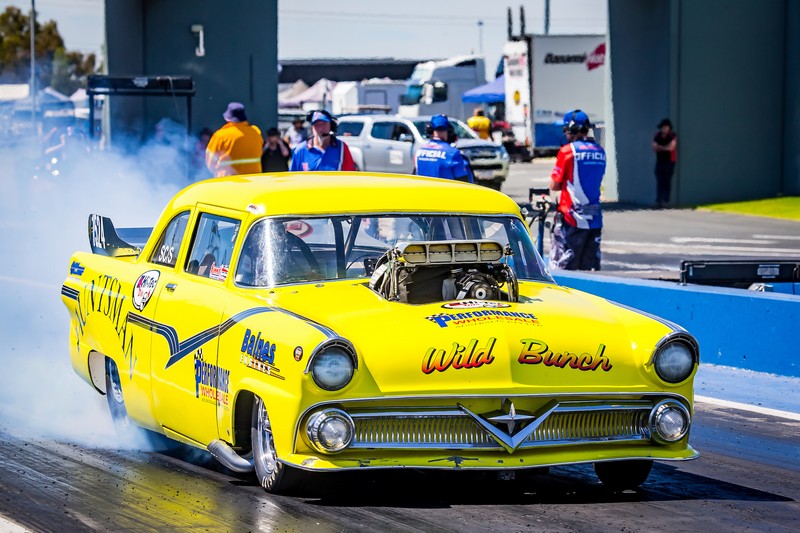 While there were plenty of very close races across the brackets, Supercharged Outlaws was not one such category. Instead, Mark Hunt was very surprised to take the win after breaking on the hit, after his rival Alan Mahnkoph red-lit. Hunt had previously defeated Peter Appleby and Decoglaze Glass Splashbacks Top Qualifier Vince Belladonna to go to the final, while Mahnkoph had taken on Ryan Van Dyk and Jessica Mullins.
"The weather wasn't very good to us in the first part of the day with it being so hot, so we were chasing the tune up, and then it stated cooling down and we were stepping it up and it was working. We had Vince in round two and he didn't make it to the end, and then we got Allan Mahnkoph in the final – I love racing him, he is a really top bloke," Hunt reflects.
"I went up to the line and he went in, I stood on it, and it went bang and blew a burst panel. I have no idea why Al thought oh I am going and red lit! They were pushing me off and someone gave me a thumbs up and opened the door and said congratulations and I was like, 'on what?' I had no idea I had gotten it and I just couldn't believe it.
"It is always worthwhile, even without a win, to come over here and race – we love coming over to Perth, it is a good track, and it is run really well. It is always good to get a win and points of course, we are happy to take it, don't you worry about that!
"I want to say a big thank you to the Perth Motorplex and all of their staff and management and crew, Ray Treasure and Sharpie, ANDRA, my sponsors David/Carol Baines Engines, my wife and family, my crew, my brother Kim who has just come into drag racing and who I am building a car for, and everyone involved. We absolutely love travelling here and they look after us great here, a big thank you again to everyone."
Super Stock was another class that saw an unfortunate breakage on the start-line, with Errol Quartermaine unable to make use of his finals berth against event winner Graeme Simms. Simms had earlier taken on and defeated Daniel Johnson (round one) and Jake Chaisty while Quartermaine had emerged victorious from battles against Jodi Racco (round one) and Decoglaze Glass Splashbacks Top Qualifier Steve Norman.
In the Summit Racing Equipment Junior Dragster ranks, it was Jett Martin who took the victory over a red-lighting Seth Jarvis, after having emerged victorious from earlier battles against Isaac Adamos (round one), Zara Board and Angel Bakranich ahead of a bye in the semi. Jarvis meanwhile had taken on and defeated Lachlan Taylor (round one), Brock Ferguson and Tyler James (who defeated Decoglaze Glass Splashbacks Top Qualifier Dylan Spadaro in round two) before also enjoying a bye in the semi.
It was a family affair for the Martins in the winners' circle, with Steve Martin also taking out an ANDRA Christmas Tree for the Competition bracket thanks to a win over Moreno Gullotto. Martin had previously successfully faced off against James Kemp while Moreno had won against Brett Glover to book his place in the final. Martin was also the Decoglaze Glass Splashbacks Top Qualifier for the Competition class.
The Top Sportsman class saw Alby Bakranich take the win over Paul Downe following earlier victories over Kevin McIvor (round one) and Yvette Gregg. Downe had booked his place in the final by defeating Decoglaze Glass Splashbacks Top Qualifier Colin Davis in the first round before facing off against Phil Rowles in the semi-final.
For results from today's action at the Perth Motorplex, please click here
ANDRA thanks the Perth Motorplex and all of its volunteers and sponsors for an outstanding racetrack and a well-run event.
The next round of the Summit Racing Equipment Sportsman Series will be held at Portland's South Coast Raceway across December 11 and 12. For event info, go to www.southcoastraceway.com.au
For more from ANDRA, visit www.andra.com.au