The Australian Drag Racing Championship proceedings as part of the Perth Motorplex's Goldenstates event at the weekend delivered plenty of great racing, upsets, and nail-biting runs.
When the dust settled from two big days and nights of action in WA, it was Stuart Moresby and Greg Durack who claimed their first ever ANDRA Christmas Tree trophies in the Top Doorslammer and Top Fuel Motorcycle brackets respectively.
Also taking to the track today was the Summit Racing Equipment Sportsman Series – for the wrap-up of their racing, please click here.
Moresby found himself in the final against fellow underdog Pino Priolo after a round one victory over a very loose Kelvin Lyle and a semi-final win against a wall-scraping Daniel Gregorini – who on Friday claimed the Crow Cams Top Qualifier Award presented by Decoglaze Glass Splashbacks for the bracket.
Priolo meanwhile emerged with a win over John Zappia in the very first round when Zappia crossed the centre line, and then went on to take victory against Steve Aldridge in the semi with Aldridge hampered by his chutes deploying at the 1000-foot mark.
The final had everyone holding their breath and while Priolo ran into trouble, Moresby streaked through for the victory with a 5.915 second performance. Making Moresby's victory over Priolo even more impressive is the fact that he came to the Motorplex this weekend with essentially no data to rely on.
"This is just awesome. I am so happy, especially for all of my crew and everyone that devotes their time and their life to get this car turned around and up and down the track. You can't run these cars by yourself, you are always relying on other people to help both at the track and in the workshop, so this is for them," Moresby said.
"We just put a new rear end in the car and we have had no data at all. We were just winging it to get through each round until essentially tonight when we put the 5.91 tune-up in it and that was good, so now we have something to work with and hopefully we can work on improving the car.
"This is my first ever win in Group One, my last one was back in my Comp Eliminator days, so it has been a bit of a dry spell and it is great to get the monkey off our backs. Hopefully now we can find some form – we are only scratching the surface with the performance of this car and of what we need to be doing to be competitive.
"Thank you to all of my crew, my old man John Moresby, Dananni Haulage, Armadale Mini Loads Group, Scruffy from BL and SG Lake Brick Cartage, K-Craft, Drive Straight Alignment Services, Race Max Performance, Applied Automotive, Black Magic Race Cars, Final Drive Engineering and Alky Pro for all of their support."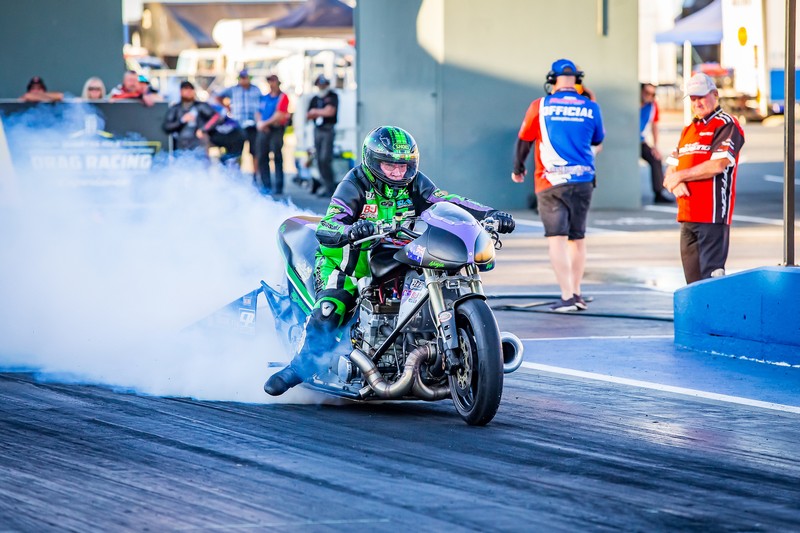 For Top Fuel Motorcycle victor Greg Durack, tonight's result has been 40 years in the making.
Durack's weekend got off to a great start on Friday when he set the times that would secure him the Crow Cams Top Qualifer Award presented by Decoglaze Glass Splashbacks, ensuring that issues in the fourth and final qualifier on Saturday would not affect his place on the time sheets. In the semi-final, he took on and defeated Les Holden, while eventual runner-up Ricky Wood emerged victorious from a battle against Wayne McGuinness – whose team was awarded the Vinyl Wraps and Graphics Best Presented Award.
When Wood was unable to front for the final, Durack was left to complete a solo pass to secure his claim on the prestigious ANDRA Christmas Tree trophy.
"In the fourth qualifier a regulator failed so I didn't have any air for the shift, so I missed that one, but we already had done enough to be the Top Qualifier, so we were happy with that," Durack explained.
"In the first eliminator we went out with Les Holden and managed pretty well, I got off the gas around the five-second mark as I was heading towards the cones.
"In the final it was unfortunate that Woodsy ended up having magnetos fail so his engine wouldn't start so I had a solo which was a bit disappointing. But he did have a PB over the weekend, so he still did pretty well.
"The final didn't go to plan for us either, it got bogged down, so we will have to look at the data for that. I just did what I could to ride it through and claim the win. All in all, the run wasn't as exciting as it could have been but that is how it goes sometimes and overall, the bike is going well and I am looking forward to continuing to improve it over the next few meetings.
"This is my first ANDRA Christmas Tree and it has taken me some 40 years to get one, so I am very happy to finally get one! I obviously would have liked to have had pace in that last run, but to walk away with the Christmas Tree, I am very happy with that!
"I would like to send my thanks to my family and crew, our bracket marshall Carol who always keeps us riders in line even though it must be like herding cats, and of course the Perth Motorplex's track staff and crew, as well as Clyde Carstairs from Bravo Resources, Gavin Forbes from FME, Grant Bojanjac from Per4manz Turbochargers, and Lou Cotter."
For results from today's action at the Perth Motorplex, please click here
ANDRA thanks the Perth Motorplex and all of its volunteers and sponsors for an outstanding racetrack and a well-run event.
For more from ANDRA, visit www.andra.com.au