The South Coast 660 played host to more than 170 racers for what was the largest ever meeting for South Coast Raceway, with plenty of action unfolding over January 20 and 21 for what was round seven of the Summit Racing Equipment Sportsman Series.
Anthony Panetta (Super Gas), Baillie Ponton (Summit Racing Equipment Junior Dragster), Mick Piscioneri (Denso Super Street), Gordon Crawford (Modified Bike), Chris Lioulios (Super Sedan), Craig Baker (Modified), Darren Nichele (Top Sportsman), Jason Keily (Supercharged Outlaws) and Jim Ioannidis (SuperComp) all took out victory in their respective classes.
Runners-up were Graeme Spencer (Super Gas), Tommy Turic (Summit Racing Equipment Junior Dragster), Des Jeffree (Denso Super Street), Jake Hamilton (Modified Bike), Steve Hunt (Super Sedan), Matt Czerny (Modified), Jason Arbery (Top Sportsman), Justin Russell (Supercharged Outlaws) and Shane Baxter (SuperComp).
For results from this weekend's Summit Racing Equipment Sportsman Series round at South Coast Raceway, please click here. The next round of the Summit Racing Equipment Sportsman Series will be held at the Perth Motorplex across March 3-4.
While all of the winners were proud to accept their accolades, two felt especially honoured in receiving perpetual awards introduced at the event – the Phil Parker Memorial Trophy in Modified Bike and the Chris Stewart Memorial Trophy in Supercharged Outlaws. Each year, the winner of Supercharged Outlaws will also have their name inscribed on a special Chris Stewart memorial shield housed at the Raceway's HQ.
"This is very special, because at this meeting two years ago I won my very first 'tree' and it was presented to me by Phil Parker," explained Crawford in accepting the Phil Parker Memorial Trophy.
"The bike was running like a dog all weekend, I had no shift lights and had been guessing all my gear changes, but all the other guys were making mistakes – I got out of jail so many times! And then in that last run, I ran a 0.01 light and ran within a hundredth of my dial-in – they were never going to beat me on that.
"With the way it went all weekend, I just couldn't believe it in that last run against Jake Hamilton that we were unbeatable – that was real special and I think there was a bit of Phil Parker sitting on my shoulder there for that one, I am sure of that.
"To all of the racers and the guys particular in Modified Bike I want to say thank you and to ANDRA for their professionalism, a lot of thanks has to go to them and to Summit – I just really appreciate what they do. I am looking forward to seeing everyone at the Westernationals and then in Adelaide!"
On his way to the win, Crawford defeated Greg Oberti, Jase MacFarlane, Danny Rickard, Dan Dycer and then Hamilton, while Hamilton faced off against Edgell Mallis, Chris Hosken, and Mario Baker before enjoying a bye run in the semi-finals.
Supercharged Outlaws winner Jason Keily may not have ever met Chris Stewart before he passed away last year, but was clearly moved to receive the trophy today.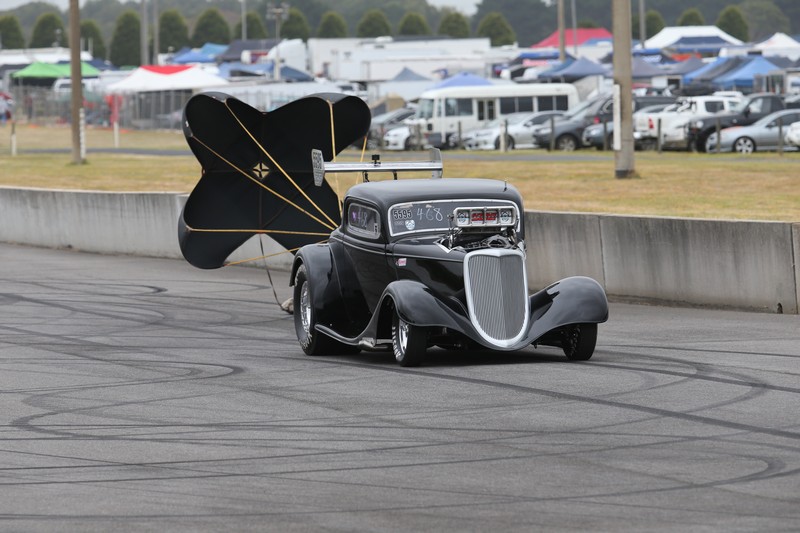 "I have only been racing for four years and I never knew Chris personally, but it is an honour to receive this trophy and I really appreciate it. I was here last year, but I never got to meet him, but from talking to a lot of people I realise just how much he did for the sport and how he touched a lot of people, so this means a lot," Keily said.
For Keily, the weekend started off with some difficulties but it all came together in time for race-day – where he took on and defeated Ryan Van Dyk before enjoying a bye run ahead of his final race against Justin Russell. Russell had earlier dispatched Shane Kramer after a bye in round done.
"We struggled a little bit in qualifying with the car moving around a bit, I don't think it liked the cooler weather! We persevered though and then today the temperatures were a bit higher and the car loved it – we were able to get a lot of good traction and get some good runs in," Keily explained.
"I have to thank Johnny Marshall from Marshall Cams, he has been so unbelievable since I rebuilt the motor and put one of his cams in it, he has helped me a lot with the fuel system. Also, Graeme Cooper who has been helping us fine-tune my dial-in and Tim Stewart and his wife for showing me that I needed to do that and helping me with it as well – these people are my rivals and they are helping me and that is just fantastic, it is what is so great about Sportsman racing! I also need to give a big should out to my crew Paul, Jen and Courtney – without them, we can't do what we do."
In SuperComp, it was a clean sweep for Jim Ioannidis who now leads the way in the points standings for the competitive bracket.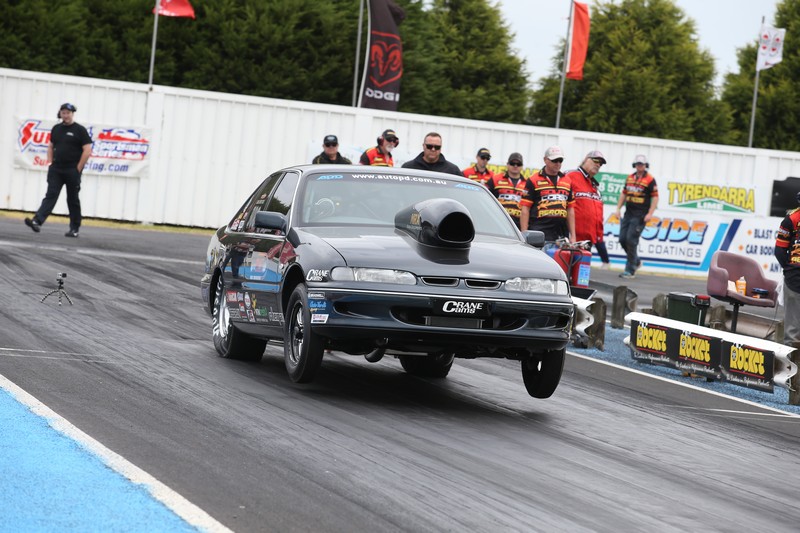 On his way to the victory, Ioannidis did battle with Mick Simic in round one before having a bye into his semi-final against Alex Panagiotidis. Taking victory from that semi, he went on to win the final against Shane Baxter, who had earlier taken victory over Daniel Camilleri and Tom Dimitropoulos before enjoying a bye run in his semi-final.
"I am really happy with the weekend's results, and with the car's performance. The car did everything it was supposed to do and we still have a bit in reserve which is just great," Ioannidis said.
"Also to take the clean sweep with top qualifying, taking the round win and both ends of the record while maxxing out on the points which puts us in the championship lead – it is just great and we will see now what the future holds!"
"I have to thank my crew – they are amazing and without them we don't race, we race as a team – I drive it, but it is a team effort."
In the Summit Racing Equipment Junior Dragster ranks, Ponton's victory was a break-through for the Melbourne-based teenager who has been racing for just over a year. On her way to her final against Turic, she was victorious over Josh Baker, Madi Sparrow, Chelsea Sammut and championship leader Bradley Bishop. Turic had secured his place in the final by taking victories over Amber Young, Adrian Saliba and Brooke Camilleri before enjoying a bye in his semi-final.
Another breakthrough win was hosted in the Top Sportsman ranks, with Nichele turning his Top Qualifying Medallion – sponsored by The Tile Co-The Shower People, KC Tools and Summit Racing – of yesterday into a maiden event win today. On his way to his first ANDRA Christmas Tree, he took on Ricky Smith, Andrew Sanders, Greg Damiani and Jason Arbery after starting his day with a bye in round one. Runner-up Arbery had faced off against Andrew Chessells, Daniel Jones and Vlado Turic before a bye run in his semi-final.
The DENSO Super Street bracket played host to plenty of great battles over the weekend, with Piscioneri and his Holden VB Commodore eventually taking the victory over Des Jeffree in the final. Piscioneri had earlier raced Daniel Stubbs, Mark Sienczwski, Nickolas Karonovick and Harry Harris, while Jeffress had taken victories from Michael Bridges, Jason Cavallaro, Cosi Puccini and Matthew Smart on his way to the final.
Baker's win in the Modified bracket followed some intense racing where the defending bracket champion raced to wins against Shane Wynd and Matt Forbes ahead of a bye in round three, before facing Simon Barlow in the semi-final. Czerny was his opponent in the finals, but was denied a maiden win of his own in the category when Baker took the victory. Czerny had earlier taken on and beaten Adam Munday, Kenny Stewart and Neil Dyson before a bye in his semi-final.
Super Gas saw Panetta take the win over category stalwart Graeme Spencer, after earlier dispatching defending category champion Colin Griffin (round one) and Warren Bull. Spencer had pulled off a win against Michael De Rose (round one) before taking a bye run into the finals.
Lioulios' win in Super Sedan followed successful battles against Enio Marrocco, Michael Milasiewicz and defending champ George Tipouikidis. After a bye in the semi-final, he and his Holden Torana faced off against Steve Hunt, who had earlier raced Phillip Busbridge and Peter Tzokas (rounds one and two respectively) and Alex Gkroidis in the semi-final, while taking a bye run in round three.
ANDRA thanks The South Coast Drag Racing Association as well as all of the volunteers and sponsors for an outstanding race track and a well-run event.
Round eight of the Summit Racing Equipment Sportsman Series will be held at the Perth Motorplex across March 3-4. For more information, visit www.andra.com.au and www.themotorplex.com.au
For results from this weekend's Summit Racing Equipment Sportsman Series round at South Coast Raceway, please click here
IMAGES FROM TOP: Gordon Crawford, Jason Keily and Jim Ioannidis – all images by Outlaw Images