For many drag racers the Australian Nationals is the one they all want to win. And for Pro Stock Motorcycle rider Scott White it's no different.
The Darwin resident has certainly paid his dues when it comes to his drag racing career. He knows first hand that it's a tough sport which involves hard work, money, and sacrifice.
His passion for drag racing can't be questioned and the desire to win one of those gold ANDRA Christmas Trees has forever been the carrot that kept him in the chase.
Having finished third in the Pro Stock Motorcycle championship two years in a row, White could taste victory. His Suzuki was on the pace and he knew that a gold tree wasn't far away.
White achieved that dream last year at the East Coast Nationals at Sydney Dragway.
"Coming to Sydney for the East Coast Nationals was special for myself and the team", said White. "We did it with the support of not only our sponsors, but also with a little help from some very special people.
"We were not sure if we would make the trip but thanks to the crowd-funding TeamBus campaign we put together, I was determined to do well for all the people who supported me."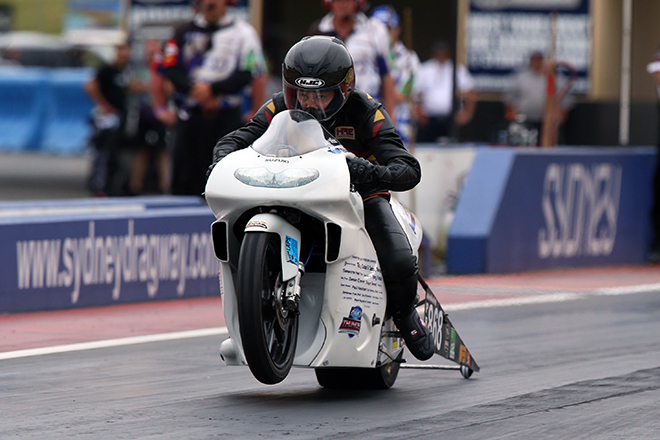 In qualifying White finished in second spot with a 7.28. In round one of eliminations White took out No.5 qualifier Locky Ireland with a 7.38 elapsed-time. In the semi-finals White defeated Glen Wooster with a strong 7.25 pass. For the final White faced Pro bike rookie Cory Buttigieg and crossed the finish line first with a 7.29 ET. Finally a gold ANDRA Christmas Tree was his!
Now this weekend at Calder Park, White is looking to keep the momentum going.
"I was very pleased to get one of those gold ANDRA Christmas Tree at last – it's been a long time coming. And for the first time ever I am leading the championship!
"Having achieved what I've chased all along I'm now focused on the Nationals", said White. "When I started racing in 1986 everyone talked about the Big Go. I'd read all about it and it's long history in the sport. It's the one every racer wants to win.
"My first Pro Stock Motorcycle event was in 1990 when the Nationals was held at Willowbank and while I was knocked out in the first round, the desire to win that event has never stopped. It's the event I want to win because it's THE Nationals, an event I've been in awe with forever.
"The bike is ready to go, it's in good shape and I'm feeling relaxed and looking forward to absorbing the event, especially now the Nationals is back home in Melbourne.
You can follow Scott White Racing on:
Facebook – Scott White – Pro Stock Motorcycle 868
Twitter – @ScottWhite868
Instagram – scottwhite868
Images: Grant Stephens / Drag News Australia