You could say that Supercharged Outlaw racer Rodger Weste is feeling like a bull at the gate having been ready to go in his new racecar since last October.
His three previous attempts had been cancelled; so all going well, Weste is raring to get some runs on the boards at this Sunday's Supercharged Shootout at Round 10 of the Summit Racing Equipment Sportsman Series.
Weste is most defiantly a Ford man as his previous ride was a Mustang, however the car had reached its limits as far as performance was concerned so an upgrade was in order to go to the next level.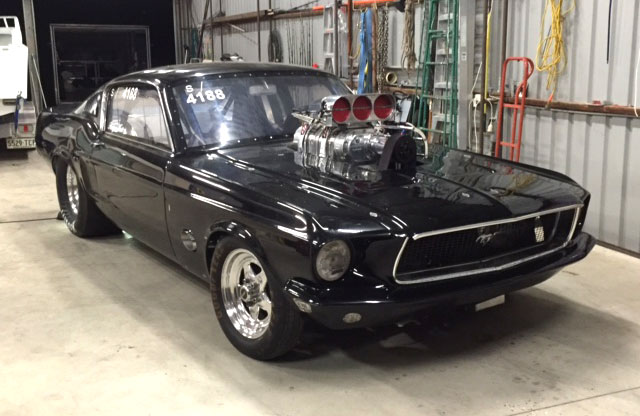 "I purchased the ex-Alf Sorbello Commodore and while it's basically the same car, with new duco it looks completely different", said Weste
"We modernized a few things and transplanted the motor out of my Mustang as it had reached its limitations. It wasn't a chrome moly chassis car or strong enough to take what we were trying to do, hence the reason for the upgrade.
"The car was purchased about two years ago and in that time we spent a bit of time making some modifications especially with the engine and gearbox and other bits and pieces.
"The engine is a 400 cube Ford with a small 8/71 supercharger on it. It's not a massive set up, but runs pretty sweet. Being a Ford man as you would expect I have copped a fair bit of flack from this deal, such as which side are you on", laughed Weste.
"It's been really frustrating with three cancellations in row so fingers crossed we can get in some runs and data this Sunday. I must clarify all cancellations were well justified, with Portland being extremely tough on every person there. I already have my licence but I've requested my first run be a solo with the new set up. I can tell you right now I am about the most ready person you have ever seen", laughed Weste.
Rodger would like to thank his sponsors RMB Engineering, Hi-Tec Oils & Valspar Paints.
A special thank you must go to one of the most dedicated crew members one has even known Steve Moss, who helped set up the Outlaw for the second time after the initial work on the Mustang.
He would also like to thank all the crew members who have helped in many ways including traveling thousands of kilometers already this year without a run – Thanks guys – hopefully Sunday!
Gates open at 9am with qualifying starting at 10am
Spectator Ticket Prices
Adults – $20
Kids – (12-15) – $10
Kids Under 12 Free when accompanied by an Adult
Full canteen and beer booth available and NO BYO
Head to www.steelcitydrags.com for more info