Rob Martin has been a part of five Summit Racing Equipment Sportsman Series Championships, but he has never personally faced the starting tree.
Martin has been part of Craig Geddes' racing since 2000, playing a core role in his 2019, 2018, 2017, 2016 and 2005 Competition national championships and 2014 John Storm Memorial Trophy win.
At the same time, he has also partnered with Geddes away from the track as part of the Decoglaze Glass Splashbacks Central Victoria business which sponsors the SRESS Top Qualifier award.
"My involvement with drag racing began back in the eighties when drag racing was run at Calder Park on a regular basis. I used to watch Craig Geddes from up on the spectator mound along with around 20,000 other people and in 2000 I started sponsoring him," Martin explained.
"At the start it was a smaller sponsorship of around $1,500 a season as one of five or six partners, and I then went on start towing the race car to the track and helping on the crew. Today I own the car Craig races along with four motors, one of which Matt Forbes uses in his race car.
"I have never raced a car, but I am very happy to be involved the way that I am. My wife Michelle and I usually now get the car to the track and set up before the rest of the crew comes along later and we really enjoy being a part of the team."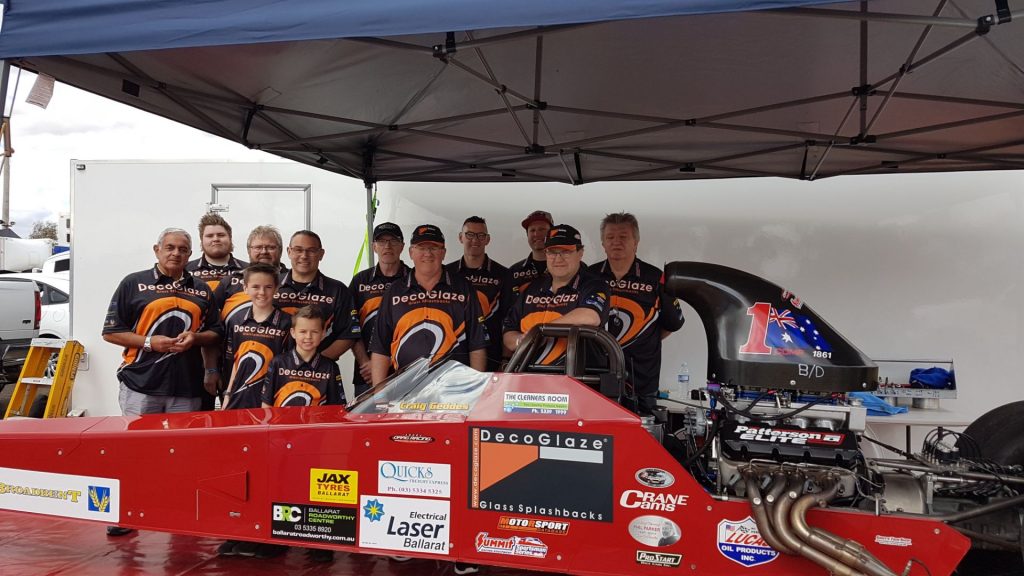 With such a long involvement, it is no surprise to hear that Martin has plenty of positive things to say about ANDRA drag racing.
"The people of ANDRA drag racing are a real drawcard for us – from our team to all of the other teams, everyone is happy to help one another if it means the racing goes on," he said.
"We have met some great people from all over the country and all have been happy to help if we need it and we are always happy to do the same.
"Over the years we have had plenty of highlights, and being a part of Craig winning five championships including four in a row definitely has been incredibly special. Of course we have been disappointed by the challenges the sport has faced in recent years, but hopefully a healthier future is ahead.
"I would really like to thank all of the people who have helped us across our journey including all of our friends, the volunteers and ANDRA staff. We are very much looking forward to the day when we can all get back to racing together as a united sport under ANDRA."
Away from the race track, Martin keeps busy as a Project Manager in the grain industry four days a week and is also a partner in Geddes' Decoglaze business.
"My role in the grain industry is very rewarding while at the same time it is a lot less work than running the electrical contracting business which I owned before which required a 24/7 commitment," Martin said.
"I am also pleased to help Craig with Decoglaze where I can as a financial partner – it offers a great product which can really make a big difference to the way a house is presented. Decoglaze can put just about anything on the glass and is the only one to offer a product warranty on this service.
"Of course Craig and I have been supporters of ANDRA for a long time through racing so when the opportunity came along for us to give something back to the sport by sponsoring the Top Qualifier Medallion we jumped at it."
Craig Geddes is currently second in the points tally for the Competition bracket on 185 points, just five points shy of current points leader Wayne Keys with only the ANDRA Grand Final remaining to be run for the 2019/2020 Summit Racing Equipment Sportsman Series. To view the current points tally, please click here.
The ANDRA Grand Final is currently postponed due to COVID-19 restrictions. ANDRA hopes to host the event later this year on dates to be confirmed. For more information, visit www.andra.com.au