Day one of the 2022 Twilight Nationals at Mildura's Sunset Strip has hosted three action-packed qualifying rounds in hot conditions on Friday for what is the penultimate round of the 2021/2022 Summit Racing Equipment Sportsman Series, with one more round to be held Saturday ahead of what is expected to be a thrilling evening of racing.
At the close of Friday's proceedings, Rob Bergamin (Super Gas), Brodie Zappia (Summit Racing Equipment Junior Dragster), Tex Griffiths (Super Street), Shane Walker (Modified Bike), Sean McClelland (Super Sedan), Kenny Stewart (Modified), Stuart McBain (Top Sportsman), Tim Stewart (Supercharged Outlaws), Phill Paton (Competition Bike) and Matt Forbes (Super Comp) are topping the time sheets and the chase for the Decoglaze Glass Splashbacks Top Qualifier medallions in their respective classes.
Summit Racing Equipment Junior Dragster's Brodie Zappia made the last-minute decision to travel across the Nullarbor from WA to compete this weekend as part of his pursuit of a national title.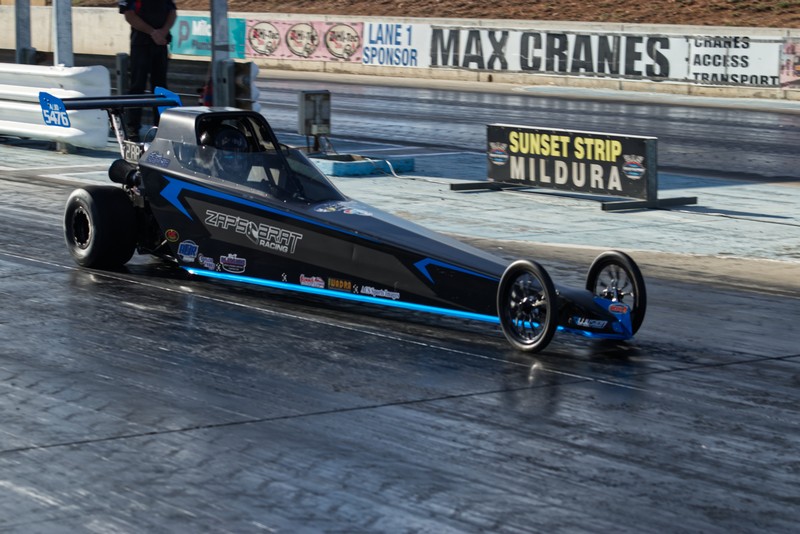 "I am feeling quite confident tonight – the car ran within a few thousandths for the first two rounds and then when the weather dropped off it went a bit quicker, I missed out on the perfect run by about four thousandths of a second. But we are still confident that we are on top of the tune, and we will see how it goes in the slightly warmer conditions Saturday afternoon," said Zappia, who is currently leading the championship points standings for his bracket.
"After the Westernationals where I had a third-round loss and only gained 40 points we made the last-minute decision to come over to Mildura as (second-placed in the title chase) Cooper Plummer is only 30 points behind us so we thought we had better show up and see if we can gain some more points ahead of the ANDRA Grand Finals.
"It was a bit of a different trip as normally we would hitch a ride and fly, but this time we left on Tuesday and got here two hours before racing started with me driving across the Nullarbor with my parents on my Ls with the bus and trailer," he smiled.
"I have to send a big shout out to my mum and dad for saying yes to the trip, and also to my sponsors CIC Coatings, ADR Race Engines, Taylor Tyres, BL and SG Lake Brick Cartage (Scruffy), ACS Sport Images and the Western Australian Drag Racing Association. I also have to say thank you to my boss Joe from Pro West Engineering for allowing me to have the time off to come and race."
Tex Griffiths is another who has been burning up the gasoline to compete this weekend – driving his race car from his home in Sydney to Mildura to take part.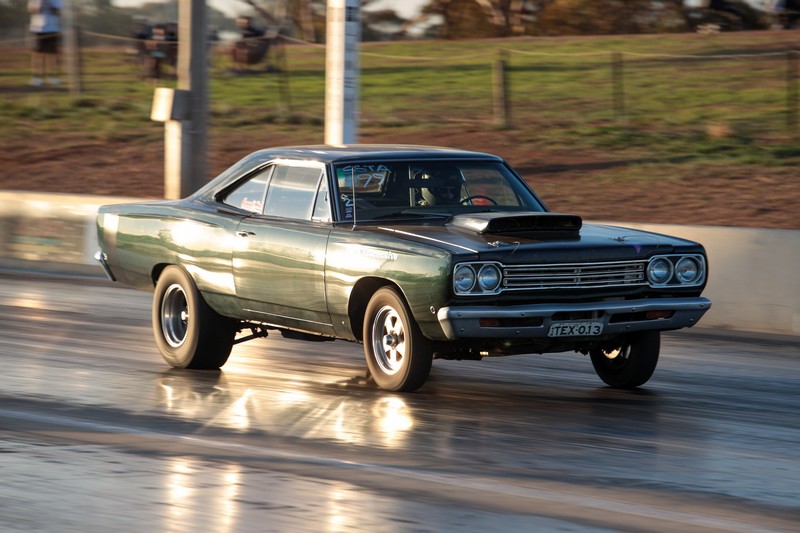 "It has been a good day but by golly, it is hot! There is nothing in the weather that is assisting anyone in racing, it has just been a day where you have to go out on the track and suffer for it, a really horrible and miserable hot day," Griffiths lamented.
"But the car is running well, and the track is really good! The track guys have done a magnificent job, it is just great, and I am really enjoying myself. I have been here once before and every time I come here the track is great and it is a great place to race – I wish more people would step out of their comfort zones and come out to these eighth mile track events and realise it is just as much if not more fun than running the quarter mile.
"It is going to be bloody hot tomorrow, but I am looking forward to it because every day I am racing, and it isn't raining I am ahead of the game. I would like to thank my family, my wife and son, for letting me come out there and burn up a vast amount of gasoline to come here. I also would like to thank Tex's Automotive for all the prep on the vehicle, St Mary's Engines for the motor and all my fellow racers for turning up today as without them it is not racing – but everyone get out of my way because I am coming through!" he laughed.
Rob Bergamin has gotten his first ever Super Gas event off to a great start today, after having previously raced in Super Sedan.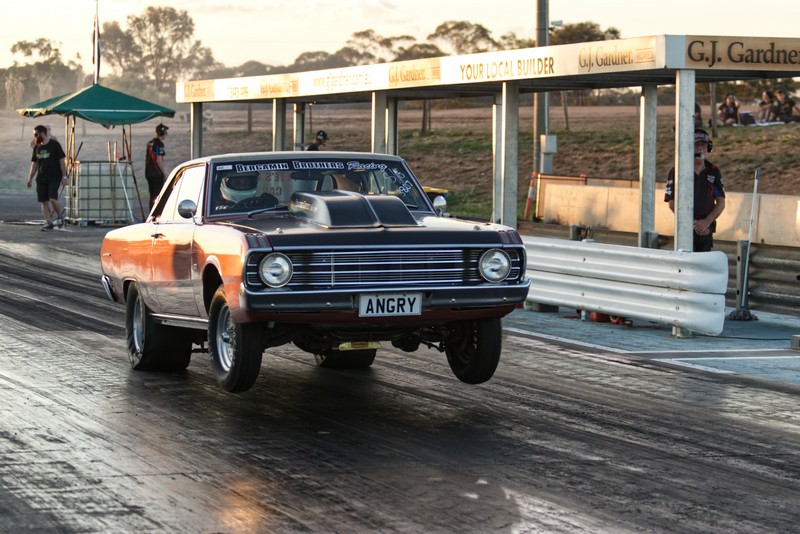 "I chose this class as I have always wanted to run it. My car always runs on the eight mile in the six-threes and coming out this weekend with the weather being really hot I knew when my first pass was a 6.38 that I could fix it and bring those numbers down, I knew exactly what I had to do to run a 6.300," said the Adelaide racer who took out the Whyalla Track Championship in Super Sedan in 2020.
"It has run very smoothly; the track has been getting stickier as the day went on. Tomorrow is going to be warm again   so things will change again but I am feeling pretty confident that I will do okay. It was really great too as the other Super Gas guys came up and asked if I had run the class before and they were very friendly and made me feel very welcome and comfortable. I am really happy with how everything has gone, and the officials are doing a great job of running the meeting, it is running very smoothly, and it is great.
"I am proud to have my son Nicholas here who is 14 and really loves the drags so he is learning the ropes. I want to thank him for his support and also our team, Bergamin Brothers Racing – my brother Frank has always been supportive of me but he couldn't be here this weekend – as well as Peter Costa of Pete's Classic Cars, Peter from South West Automatics, and the rest of my crew, Tony Antonio, Billy Pappas, and my friend Bill Hondros who is in Adelaide at the moment but always gives me full support. I also want to thank the officials for how they are running hits meeting this weekend, they are doing a fantastic job and it is running great."
For results from today's action at the Sunset Strip, please click here
The Twilight Nationals will continue in Mildura tomorrow (Saturday 19 March), with the fourth and final round of qualifying commencing from 3.30pm local time ahead of eliminations racing from 5.30pm. For venue information, visit www.sunsetstrip.org.au
For more information, visit www.andra.com.au[/vc_column_text]
[/vc_column][/vc_row]