Early wet weather could not put a dampener on the spirits of more than 165 racers as they chased glory at South Coast Raceway's 2019 South Coast Nationals this weekend.
The December 14 and 15 event marked round six of the 2019/2020 Summit Racing Equipment Sportsman Series.
Zack Knezevic (Summit Racing Equipment Junior Dragster), Gavin Dohnt (Modified Bike), Tony Barbara (Super Street), Michael Hanrahan (Super Sedan), Bradley Hicks (Modified), Glenn Henley (Top Sportsman), Tony Frost (Competition Bike), Matt Forbes (Super Comp), Christine Steffens (Supercharged Outlaws) and Colin Griffin (Super Gas) would ultimately hoist Silver ANDRA Christmas Trees at the conclusion of Sunday's proceedings.
Also celebrated at the presentations were the event runners-up: Dylan Knezevic (Summit Racing Equipment Junior Dragster), Bryan Finn (Modified Bike), Andrew Shirley (Super Street), Chris Lioulios (Super Sedan), Josh Baker (Modified), Greg Damiani (Top Sportsman), Rob Cassar (Competition Bike), Terry Waterman (Super Comp), Tim Stewart (Supercharged Outlaws) and Michael DeRose (Super Gas).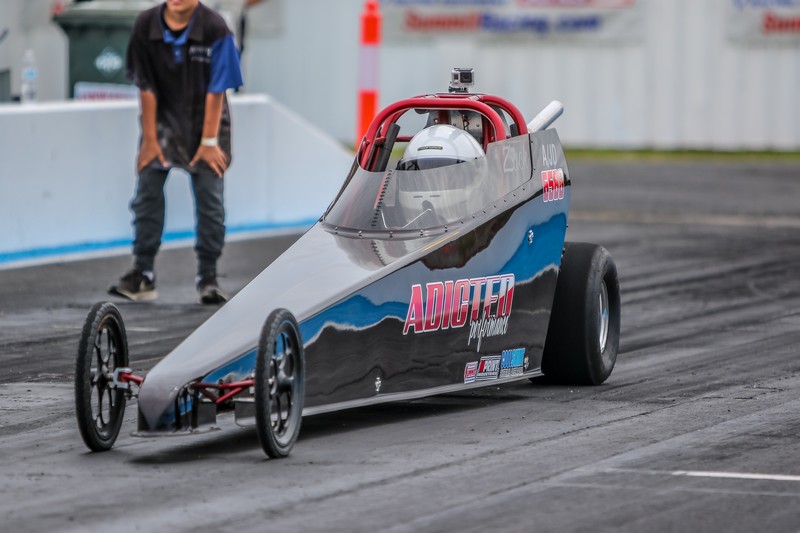 The Summit Racing Equipment Junior Dragster final was an all-Knezevic affair, with Narre Warren South (Victoria) brothers Dylan and Zack Knezevic – sons of Super Sedan racer Danko Knezevic who was also racing this weekend – facing off in the final round.
Ultimately it was Zack who took out the victory over Dylan, however he says that his younger brother – who earlier dispatched DecoGlaze Glass Splashbacks Victoria Top Qualifier Medallion recipient Daniel Carranza in the third round – will be reminding him of how he got his victory for a long time.
"It felt insane to get to the final and to verse my brother – especially at a national event and in my first finals," 16-year-old Zack exclaimed.
"It was a good race and he beat me! He beat me on the line, I only won because he broke-out. He thrashed me, so I am very lucky. I am never going to hear the end of it," he laughed.
"I want to thank Addicted Performance, my dad, my mum, my uncle, my brothers, my cousin and my girlfriend for all of their support."
While he didn't take the victory, Dylan was still very excited with the result.
"It was pretty exciting to get to the final – I wasn't that nervous, it felt good and I am proud of Zack. It has been a good day!" said the 13 year old.
"This is my first national series event and my first final and I have been racing for about six months. I want to thank my dad and my brothers, my uncle, my cousin and my mum."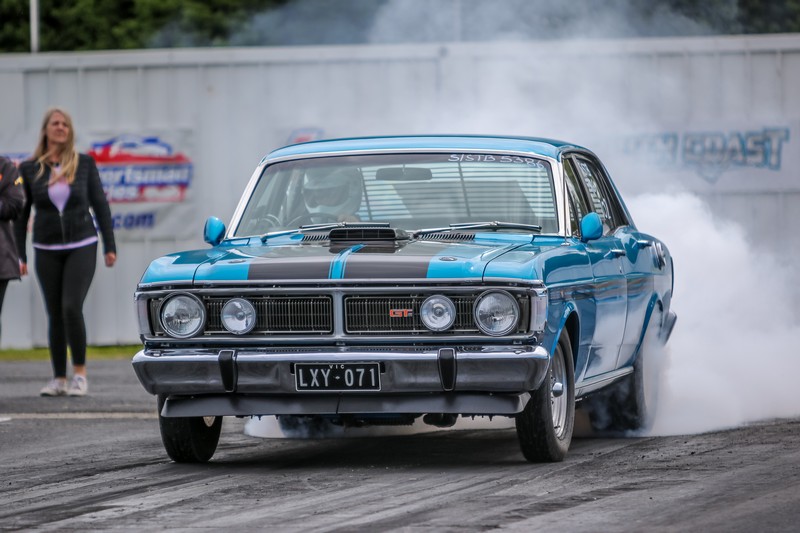 When it came to the Super Street ranks, a big day of racing all boiled down to a finale between Taylors Hill (Victoria) racer Tony Barbara and Adelaide's Andrew Shirley.
Barbara was ecstatic to take out his first ANDRA Christmas Tree with his win over Shirley, which followed earlier race victories today from Michael Giannaros (round one), Michael Bridges, Ollie Welden, and Nikolas Karanovic. Shirley meanwhile had emerged as the victor from battles against Eric Goudswaard (round one), Andrew Waight, Top Qualifier Robyn Phillis and Robbie Forsaith on his way to the final.
"Today was awesome. It was such a good day – the weather was a bit on the cold side but who cares when you get a win!" he declared while thanking ETS Race Fuels and S&S Racing for their support.
"The day couldn't have gone any better, I can't complain about a single thing. I was happy with everything, the whole organisation of the event, my crew, everything!
"This is my first ANDRA Christmas tree win – I have won other ANDRA events but never a Christmas Tree, so I am pretty excited."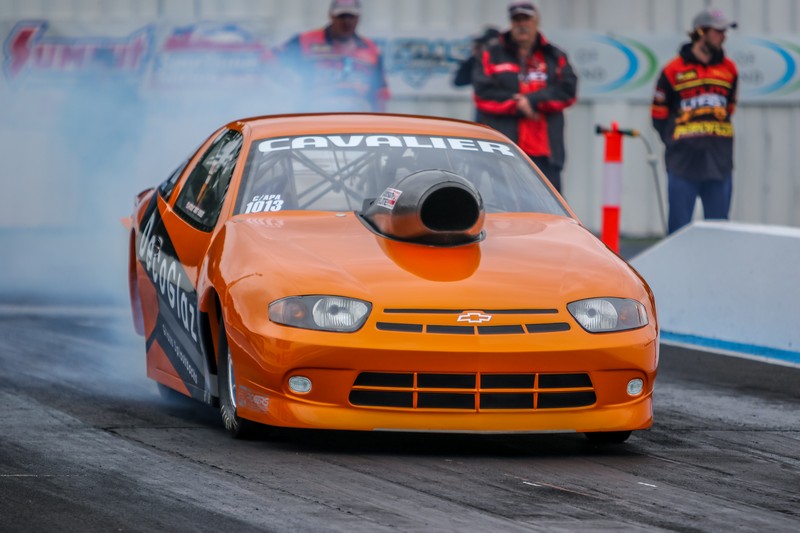 In SuperComp, it all came down to Matt Forbes and Top Qualifier Terry Waterman with Forbes taking out the silverware in his Chevy Cavalier over Waterman's Mazda RX2. On their way to the final stand for the bracket, Forbes defeated Marcus Pepe (round one) and Louis Svingos while Waterman took a round one win from Dave Clark to earn a bye run in the semi-finals.
The Sliver ANDRA Christmas Tree for SuperComp wasn't all Forbes picked up at the presentations either, with his team also receiving the Vinyl Wraps and Graphics Best Presented Team Award.
"We are absolutely over the moon! We are reasonably fresh into Super Stock, coming from Modified, Super Gas and Top Sportsman. This is only our third event in the bracket including Mildura and Adelaide, and now here we are! We have good people and good equipment around us and we are just thrilled," he enthused.
"It was a trying day for everyone on Saturday with the weather, but we came out today and the guys on the track put in a huge effort; the track was fantastic and the car ran like clockwork.
"I have to thank my crew and my major sponsors DecoGlaze Glass Splashbacks Victoria and Paul Rogers Performance Transmission as well as Summit Racing Equipment, ANDRA and the South Coast Raceway staff and officials.
"We will be doing all of the Summit Racing Equipment Sportsman Series rounds this season aside from Perth, so we will be back here in January for the South Coast 660 and we will just keep building.
"We are currently running the C/APA class but in the New Year we want to move to the new E/APA class introduced by ANDRA and we are building a motor for that which should be ready in January or February. We want to support the new classes and to encourage more competitors to do so.
"I am so pumped with this result – I have looked at Super Stock for 20 years, for me it is the pinnacle of sportsman racing and to have a ANDRA Christmas Tree with my name on it in this class is just so special to me. I am not one for statistics but I am pretty sure no one has won national-level events in three classes and definitely not in four and that is what we have now done – and we aren't finished yet!"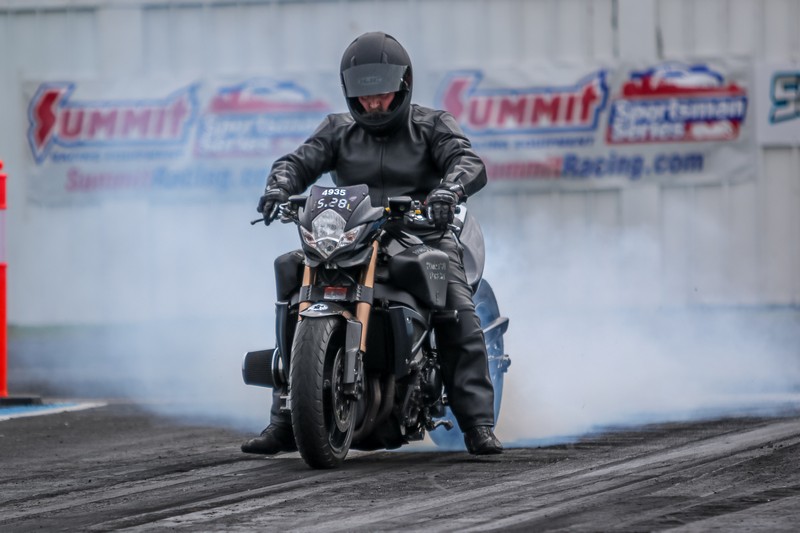 In Modified Bike, Top Qualifier Gavin Dohnt took his third event victory of the season with a win over Bryan Finn.
The Henty (Victoria) competitor's victory in his 2007 Suzuki B-King over Finn's Honda followed earlier triumphs over Levi Addison (round one) and Don Baird (round two) ahead of a bye run in the semi-final. Finn meanwhile had defeated Andrew Sellears, Michael Cristoforo and Shane Walker on his way to the final.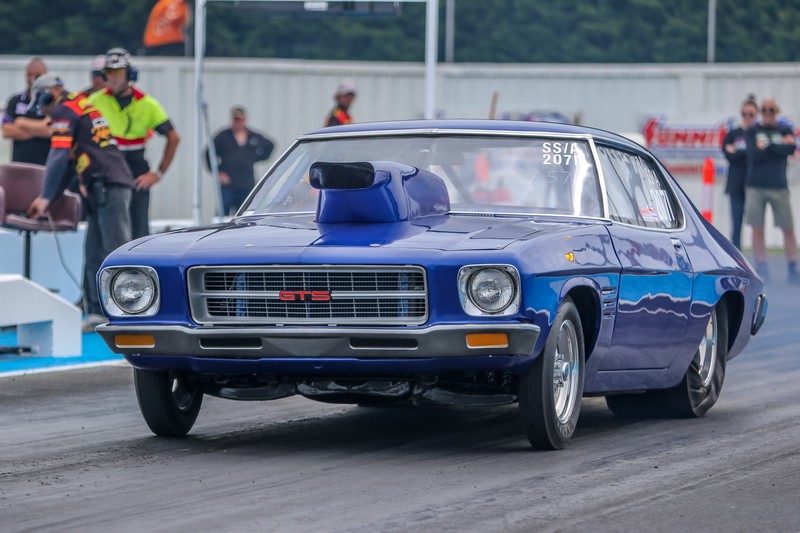 In Super Sedan, Roxby Downs (SA) racer Chris Lioulios was denied his fourth consecutive South Coast Raceway Summit Racing Equipment Sportsman Series event victory by Michael Hanrahan when the Haddon (Victoria) racer bested him in the finale aboard his Holden HQ Monaro Coupe.
On his way to the final, Hanrahan successfully faced off against Tony Lamanna (round one), Dave Sultana, Top Qualifier Stephen Crook and Lance Larcombe while Lioulios had taken on Tony Miskelly (round one), Alex Gkroidis, Alex Blias and David Todd.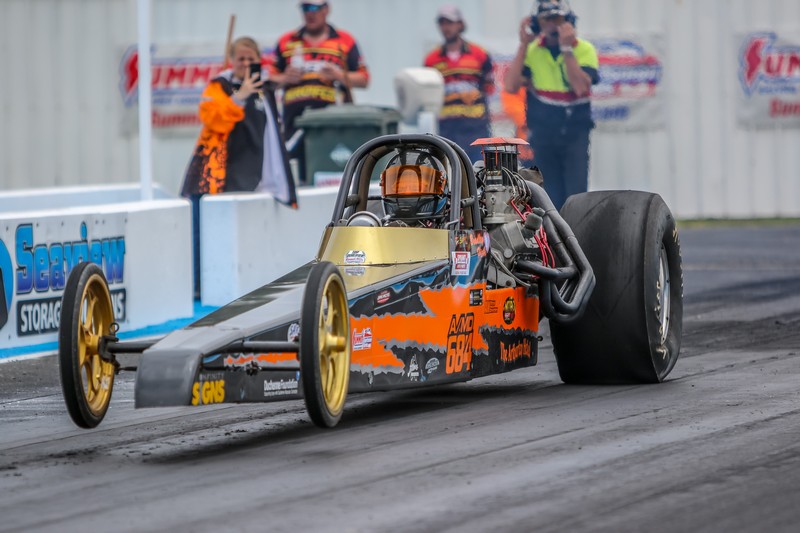 In the Modified Eliminator bracket, Bradley Hicks took out the event win in his Brogie/Elsworthy Dragster from Josh Baker to claim the silver ANDRA Christmas Tree for their bracket.
Hicks had earlier taken victories from Derek Wills (round one), Kenny Stewart and Rob McKay – who had defeated Top Qualifier Simon Barlow in round two. Baker had meanwhile taken on Chris Farrell, Ashley Johnson and Wade Kisyma to secure his spot in his first ever final in the bracket after stepping up to the Modified ranks in the Team Baker rear engine dragster earlier this year.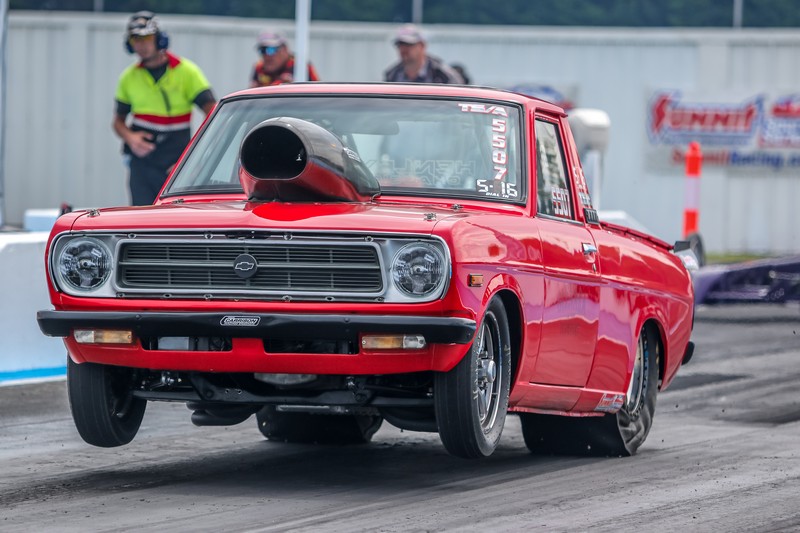 In Top Sportsman, Glenn Henley picked up his second event win of the season by defeating Greg Damiani in the final.
The Mount Gambier (SA) racer had earlier taken wins from Kevin McIvor (round one), Rick Smith and Top Qualifier Darren Nichele in his Datsun 1200 Ute while Damiani had successfully battled against Chris Theo, Tim Parker and reigning champion Jason Arbery on his way to the final in his HG Monaro.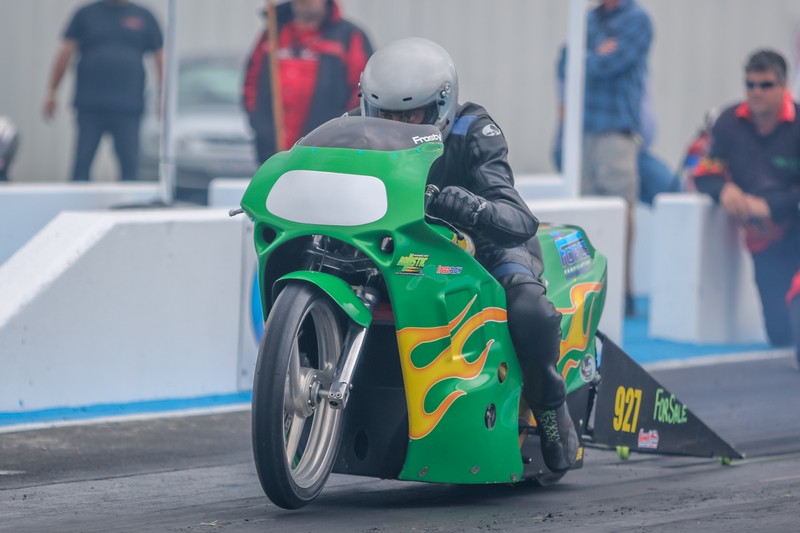 In the Competition Bike ranks, three rounds of round-robin style racing saw the final come down to Top Qualifier and defending national champion Rob Cassar and former champion Tony Frost. When all was said and done, it was Frost who would take the victory aboard his recently revamped Suzuki machine from Cassar's Kawasaki ZX14.
On their way to the final, both racers also reset national records, with Frost resetting the B/CB mile per hour record to 138.75 miles per hour while Cassar reset both ends of the AA/CBN record to 4.568 seconds and 148.44 miles per hour.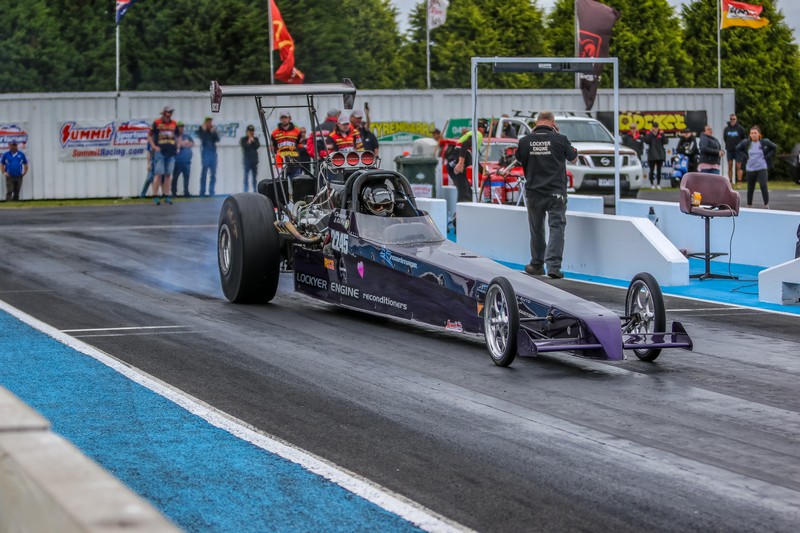 In Supercharged Outlaws, Top Qualifier Christine Steffens continued her dominating form by securing her third win and fourth finals appearance of the season with victory over Tim Stewart and his 'The Stang' Mustang Funny Car.
On her way to the big trophy, Steffens took on Greg Angus (round one) and Mike Evans while Stewart faced off against Craig Gerdes and Justin Russell to secure his spot in the final.  With this result, Steffens has been to every Supercharged Outlaws final run so far this season.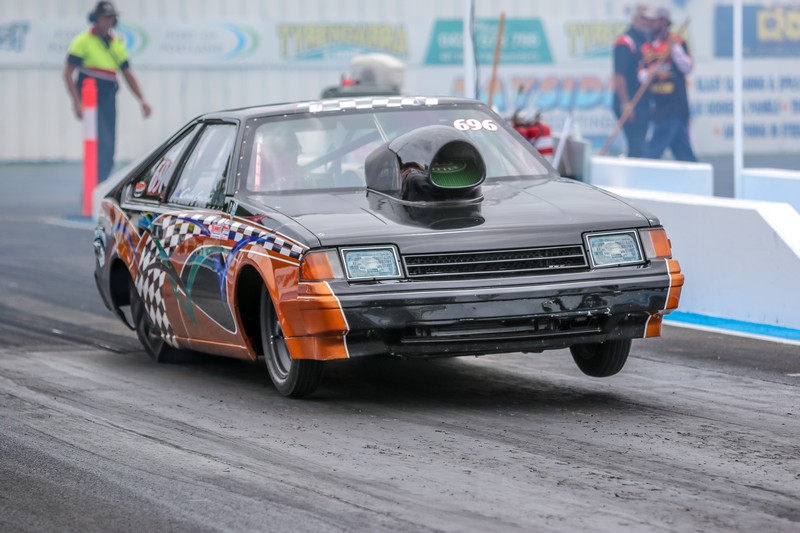 In Super Gas, last year's title runner-up Colin Griffin took out the big trophy with victory over Top Qualifier Michael DeRose in the final.
Griffin and his Toyota Celica had earlier taken wins from last year's champion Adrian McGrotty (round one) and Renee Cockerill on his way to the final while DeRose had emerged victorious from contests against Anton Krajina and Jason Wilson aboard his Don Ness Oldsmobile Chevy Cutlass.
For full results from this weekend's Summit Racing Equipment Sportsman Series round, please click here.
ANDRA thanks South Coast Raceway and all of its volunteers and sponsors for an outstanding race track and a well-run event.
Round seven of the 2019/2020 Summit Racing Equipment Sportsman Series will also be held at Portland's South Coast Raceway, with the 2020 South Coast 660 event to be hosted by the venue across January 11 and 12, 2020. For event information, visit www.southcoastraceway.com.au or www.andra.com.au