Grant O'Rourke has kept his slim ANDRA Top Doorslammer title hopes alive by top qualifying and advancing to the final before the action was called to a halt at Calder Park Raceway.
The 2015/2016 ANDRA Top Doorslammer Championship will be decided at the ANDRA Championship Grand Final next month following a charge by O'Rourke and a sensational first round exit of eight-time champ John Zappia.
The event ended in a no contest with O'Rourke and Mark Belleri set to square off in the final but delays, including drizzle, prevented the race from taking place. Gvien the conditions, both participants chose not to compete and took their decision to race officials.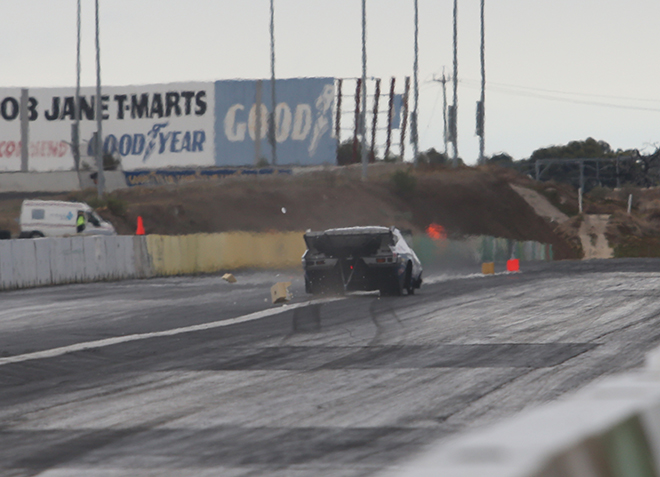 "We were really happy running 5.11 off the trailer," said O'Rourke. "We tried to go a bit faster in the second qualifier but I rolled the beams. I was stoked to get the number one and take that into eliminations.
"First round against Peter Kapiris was a good solid run where we ran 5.05 at 223.25 mph. The car rattled and moved around a bit but I did what I had to do and the car went well. In the second round Defelice left the line that early I saw the red light but we still went 5.09 at 223 mph.
"Preparing for the final it was precipitating. There were dots on windscreens and even though we were due to race at 8pm, there was an oil down creating more of a delay.
"Mark Belleri came over and asked what I thought, we deliberated and half an hour later the bracket marshal said the track still wasn't ready. It had been an hour and conditions hadn't improved so we decided not to run."
Earlier O'Rourke had set the pace by top qualifying over the 1000 feet distance for this event in 5.115 seconds at 221.34 mph. He wasn't to be caught with Rob Taylor occupying second on a 5.148 second pass followed by Geoff Gradden and Tony Defelice. John Zappia qualified a lowly fifth with a 5.356 and the trio of Mark Belleri, Paul Cannuli and Peter Kapiris occupied six through eight.
O'Rourke dispatched Kapiris in Round 1 while Zappia clipped the timing blocks against Defelice on a run that looked on course for low ET and top speed of the meet to that point. Cannuli and Belleri came through their match ups with Taylor and Gradden respectively to set up a blockbuster semi final.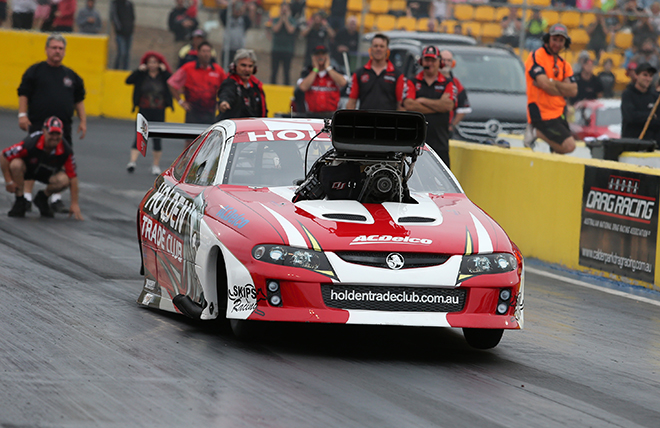 Belleri dipped into the 4's recording a 4.973 second pass at 207.05 mph against Cannuli to surge into the final while O'Rourke posted a 5.093 at 223.88 mph on a solo when Defelice red lighted.
Despite a no contest final, O'Rourke has dramatically gained ground on Zappia going into the season ending ANDRA Grand Final at Adelaide International Raceway April 9-10. The Queenslander will have it all to do in his attempt to end Zappia's dominance but as proved tonight at Calder Park Raceway, anything can happen.
For full Top Doorslammer results from Calder Park Raceway please click here.
Image credits: Outlaw Images