The action came thick and fast at the Fuchs Winternationals on day three as the six-second show continued in Pro Stock, eight Top Doorslammers recorded five second qualifying passes and Phil Lamattina put down a 4.56 Top Fuel pass.
Six-second times were the order of the day again in Pro Stock as Lee Bektash, Tyronne Tremayne and Nino Cavallo hit the magic mark.
Lee Bektash was the first to set the track alight with a final qualifying pass of 6.964 at 196.67 to jump to the top of the field and break the National Pro Stock record for the umpteenth time in 24 hours.
Having watched Nino Cavallo equal that ET in a defeat of Bill Perdikaris during round one eliminations, Bektash would lower the record even further by running a 6.960 in a first round win over Ian Brown.
"I am pretty speechless to be honest, which is surprising because I was yelling my head off down at the end," said Bektash soon after the record setting run.
"This is just fantastic and a real testament to the hard work of the team."
In other action Australian Champion Jason Grima was eliminated on a holeshot from John Barbagallo while Wayne Daley defeated Grace Howell and Emilio Spinozzi was sent packing when he got loose shortly after leaving the startline allowing Paul Beauchamp to take the win.
For only the second time in Australia Top Doorslammer has been expanded to a 16-car field and the teams did not disappoint with Gary Phillips recording a 5.884 to take second place while Peter Kapiris, Grant O'Rourke, Martyn Dack, Daniel Gregorini, Andrew Sutton and Ben Bray all qualified in the 5.90s.
Unfortunately for Phillips he could not get the Studebaker started ahead of his elimination run while Dack could not front for his eliminator against Victor Bray.
However, Peter Kapiris and Maurice Fabietti entertained the crowd in the pass of the day with Fabietti recording a personal best to defeat Kapiris on a 5.823 from a 5.904.
John Zappia maintained his dominance with a third successive a 5.76 to ensure he top qualified before recording low ET of the round on a solo 5.809 in round one.
Ben Bray was unable to take his place in the field after a serious accident in the exhibition Factory Xtreme bracket. Bray walked to the ambulance, and was later transferred to hospital where he is in a stable condition.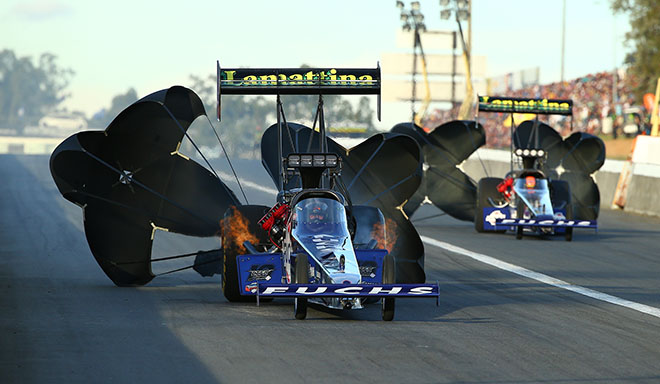 Perhaps the best of the day was saved until last when Phil Lamattina put down a pulsating 4.560 at 327.27 mph to seal the top qualifier in a personal best run.
"That was freaking awesome, after struggling for a couple of meetings we always knew we had the car and that our team had it in us, we just had to find it," said Lamattina.
"I can't say enough about Aaron (Hambridge, Lamattina's crew chief), he thought he had lost his way but we are back now and what a way to do it at the Fuchs Winternationals in one of the Fuchs dragsters, to be number one qualifier is great."
Phil Read qualified second on a 4.655 from Allan Dobson with a 4.657 and his teammate Damien Harris with a 4.774 followed John Lamattina on a 4.790.
Gary Phillips chose to focus his attention on Top Doorslammer but no one could get close to his 5.457 yesterday leaving Steven Ham, Steven Reed, Darren Fry and John Cannuli pushing hard into the 5.50s.
Phillips will be the man to beat on race day having found a successful set up that looks certain to go all the way but anything can happen once eliminations kick into gear.
Mark Drew was the only rider in Top Fuel Motorcycle to make a representative pass in the second and third qualifiers maintaining his advantage over the field by recording a 6.421 and a 6.372 while Australian Champion Chris Porter will miss race day due to mechanical problems throughout the weekend.
Luke Crowley leads the Pro Stock Motorcycle field thanks to a 7.285 though he and Maurice Allen had a tense moment in their third qualifier. Crowley crossed the centerline coming within a meter of Allen as the timing blocks scattered while both riders did well to avoid each other.
The fourth and final day of the Fuchs Winternationals commences tomorrow from 8am with eliminations in each of the Aeroflow Sportsman Drag Racing Championship and ANDRA Drag Racing Series categories.
To follow the day's action with ANDRA and Drag News Australia, please click here. For full results from day three, please click here.
Images courtesy: Dragphotos.com.au