Six race cars and twenty drag racing enthusiasts will arrive in Darwin today for this weekend's Nitro Up North event (July 13/14) at the Hidden Valley Drag Strip as part of a month-long road trip which started in Tamworth earlier this month.
David Hutchen heads up the group of Tamworth Drag Racing Club members and associates who are undertaking their third bi-annual drag racing road trip this year, which will also include next weekend's Desert Nationals at Alice Springs Inland Dragway (July 21/22).
Already the group have travelled over 3,700 kilometres to arrive in Darwin for this weekend's event. By the time they return to Tamworth via Benaraby Raceway, Ipswich and Warwick, they will have travelled more than 9,000kms and taken in plenty of sightseeing at locations such as Uluru, the Stockman's Hall of Fame, the Dinosaur Museum and more.
"Nitro Up North and the Desert Nationals are brilliant events, so of course we had to come back again after having so much fun there as part of our 2016 road trip," Hutchen said.
"Almost all of our group set Personal Bests in Darwin in 2016, so most of us are trying again to make sure we go even better this time around. Although some of us are already pretty much on the limit already!" he laughed.
"Last time I got knocked out in the first round but still had a fantastic time – this time around we have made some modifications to the car, so I am looking forward to seeing what we can do.
"No matter what happens we are bound to have a blast, both the Hidden Valley Drag Strip and the Alice Springs Inland Dragway are brilliant places to race – the venues are great and the people really look after you."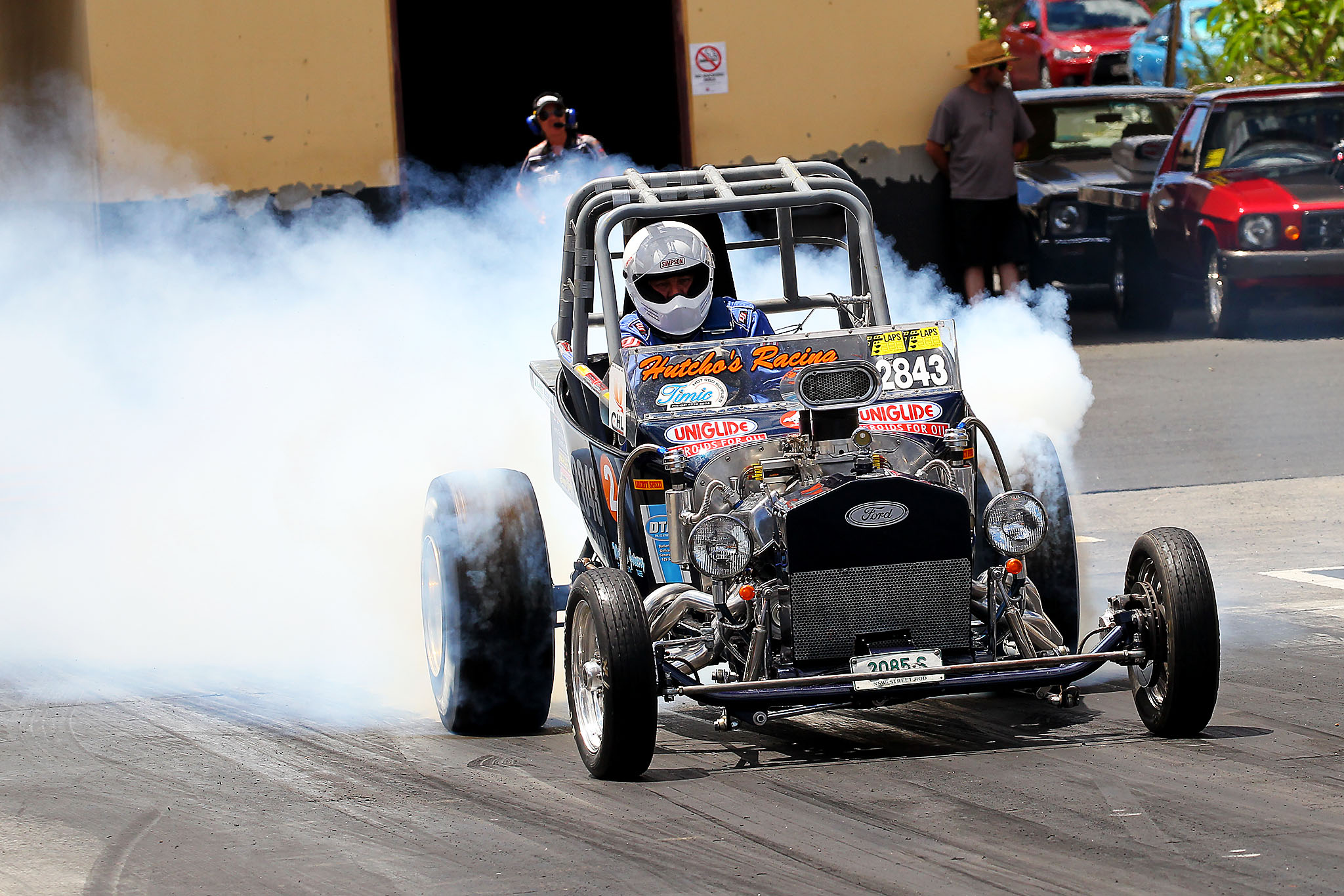 While the 2018 trip is in full-swing, the group is already making plans for the next instalment in their road trip series.
"We want to try and take in as many drag strips as we can and see Australia before we find ourselves in our 90s," laughed Hutchen.
"We are already planning our next road-trip for 2020 which will see us head down south to take in as many strips in Victoria as possible.
"It is a great way to see Australia and the racing is a great bonus as well."
Round one of the 2018/2019 Summit Racing Equipment Sportsman Series, Nitro Up North, will be hosted at the Hidden Valley Drag Strip across the 13th and 14th of July, 2018. Round one will be quickly followed by round two, the Desert Nationals, at Alice Springs Inland Dragway across July 21 and 22.
For full event information, visit www.andra.com.au or www.hiddenvalleydrags.com.au (Nitro Up North) and www.cadra.com.au (Desert Nationals).
CAR IMAGE: DAVID HUTCHEN IN ACTION, PIC BY GRANT STEPHENS, CACKLING PIPES PHOTOGRAPHY