Following a dominating performance in Super Stock across the 2017/2018 Summit Racing Equipment Sportsman Series season, Jim Ioannidis and his MRX Racing Commodore claimed the Australian Title for the bracket last month.
"We can comfortably say the 308-powered MRX Racing Holden VS Commodore dominated Super Stock this season," Ioannidis said.
"We top qualified at all of the rounds we contested except for one, where we qualified second fastest. We also won three rounds and set multiple national ET and MPH records along the way.
"At the end of the day, I don't think anyone can take away from what we have achieved this season, we are very proud and extremely pleased."
Unsurprisingly, Jim recounts being presented with the championship trophy in Adelaide as a fantastic moment.
"It was great to hold up the championship trophy as reward for the endless hours of preparation, homework, maintenance and planning that is required to run consistently quick at the front of the field with today's tough competition," Ioannidis reflected.
"We might make it look easy, but I can assure you there is always a lot going on! I'm not only proud of myself, but also proud of my team as a whole and of the success we have achieved in what has been a relatively short time in the bracket.
"There were many doubters in the early days, but our on-track results speak for themselves."
Ioannidis' championship-winning campaign started with a freshen up for the MRX Racing weapon.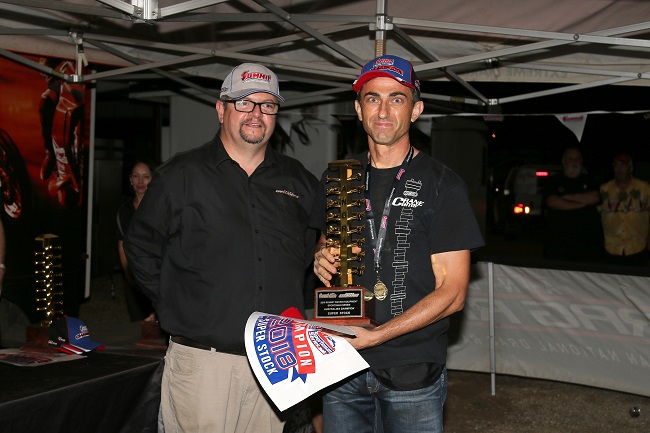 "At the start of the season we freshened the current 312-cui engine and it hasn't missed a beat, allowing us to focus on tuning to the conditions and race track on the day," Ioannidis explained.
"The numbers show we are making plenty of horsepower which is very impressive for an Australian-built and developed engine, and it makes it all the more rewarding.
"Running competitively in group two is always a challenge, and that's why we do it. Every time we run, we learn something new and keep moving forwards…it keeps me motivated as I set the bar higher and higher."
When it comes to reflecting on the season, Ioannidis says that while there was a lot of work, there was also a lot of fun.
"Looking back at the season I have to say we had a lot of fun along the way, although one event stands out from the rest," Ioannidis explained.
"That event was the Westernationals – it was an awesome event for us with a clean sweep of the points and the hospitality we enjoyed from Sandro and the team at SCM was unbelievable, they went over and above to look after us and it made the weekend one to remember.
"Hopefully one day they will travel over East and we can do the same for them."
While plenty of fun was had, the pressure was also felt heading to the final round with a championship on the line and no less than three racers in the box seat to take it out.
"Coming into the last round the pressure was on to complete the job we had started. All was looking good until the change back to the eighth mile racing distance," Ioannidis said, referring to the change from 1000ft to 660ft racing in light of very windy conditions on race day.
"This put us on the back foot to win the event, but I was comfortable we could still sew up the championship and that we did. We now have another championship trophy to add to the collection!
"Now that the dust has settled (literally!) our plans for the off-season are to implement the new updates we have been working on, do some more R&D, and then charge the batteries and come out for another play……who knows what surprises that will include?!" Ioannidis teased.
In the meantime, Ioannidis has a long list of sponsors and supporters he wishes to thank.
"I want to say thank you to my team partners: Crane Cams for the invaluable camshaft R&D and for grinding the 'special MRX' custom cams; Automotive Performance Distributors for their continued support and supply of high performance parts; Bullet Race Engineering for the countless hours Marcus has spent on cylinder head and manifold development along with all of the custom billet engine accessories they have made for me; Rhemac Automotive for the precision engine machining, detailed block preparation and balancing; and Speedflow Performance Hose Fittings for the best quality 'Australian made' fittings and hoses," Ioannidis said.
"I also need to thank my sponsors, Light Vehicle Solutions, NTM Fresh, Mogas Golden Grove, Sprint Auto Parts Salisbury, SCM Performance, OZI Pawn Shop, Centreline Building Consultants and Infinity Signs. Without their contributions I wouldn't have been able to follow the series and chase the championship points.
"The championship-winning race parts and technical support I received from Autoverdi Racing Oil Pumps, Braswell Carburetion, Coan Engineering, JE Pistons and Total Seal Rings also needs to be recognised.
"My team members cannot be forgotten either – a very special thank you goes to my crew Joe Fontanelli, Jason Gregorace and Zvon Vujcic. These boys have been with me from the start, they have stood by me through the highs and the lows and tipped in plenty of support when needed. The special bond we have has withstood the test of time along with the many thousands of kms we have travelled on the road together. That team consistency is a key element to our continued success and words simply can't thank them enough.
"Thanks also goes to the ANDRA staff for all of their help – especially Colin Brassington for the many late nights spent in my shed inspecting my car and checking and sealing my engine!
"Finally, I have to say thank you to my wife and kids – they support what I do and I know they are always cheering for me when I'm away racing."
For more on the results from the ANDRA Grand Finals and the 2017/2018 Summit Racing Equipment Sportsman Series Championship, please click here.
IMAGES BY MARK CUFFE, DRAGSSA.COM