Darren Morgan, Steven Reed, John Zappia, Mark Drew, Lee Bektash and Brad Lemberg all occupy the number one qualifying positions at the East Coast Nationals in Sydney with one qualifier remaining due to weather on Saturday night.
A light shower threatened to dampen the enthusiasm during the first session Saturday afternoon as teams faced up to changing conditions from the earlier warmth and humidity.
Only a handful of representative passes were made across all brackets but by the second qualifier the cream rose to the top.
In Top Fuel most cars spun the tyres and shut off around half-track but the returning Darren Morgan pedalled the throttle in his second outing to run a 4.872 ET at 280.84 mph.
"It was alright, I was actually under instructions not to do anything," said Morgan. "The car turned the tyres late in the pass but I pedalled it and it went through alright. The engine is mint everything is perfect.
"(Tomorrow) is all about what the track is doing so we'll test it out a little bit more where the other guys don't know how to get to the other end yet so I guess we've got the upper hand for the minute.
"There are some of the best tuners in the world here and some of the best drivers. They've flown all these people over from America which is a bit of compliment for us – if they've got to do that to beat us that's pretty cool."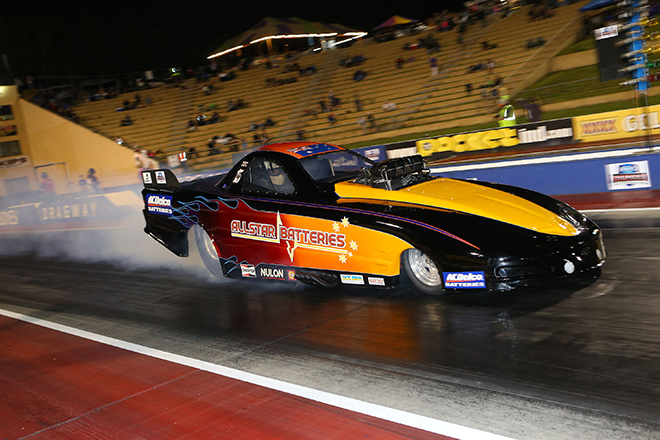 Tyre shake and wheel spin in Top Alcohol was a common theme but Steven Reed and Wayne Price both came out swinging with 5.659-second pass at 252.28 mph and 5.657 at 257.19 mph respectively.
Unfortunately for Price he would experience a big engine detonation in the second qualifier while Peter Zelow and Scott MacLean entered the 5.8-second zone to take third and fourth.
Robert Ambruosi, Gary Phillips, Russel Mills and Mark Davison complete the field for now as Rick Gauci, John Cannuli, Jason Maggs and Terry Sainty look to make up ground in the rescheduled third qualifier Sunday morning.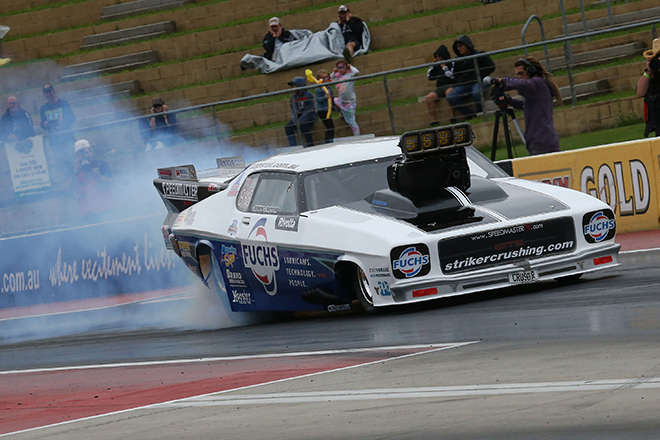 The three quickest Top Doorslammer drivers in the country – John Zappia, Grant O'Rourke and Peter Kapiris – lead the field after two sessions with Mark Belleri, Geoff Gradden, Robin Taylor, Andrew Searle and Pino Priolo currently occupying fourth to eighth.
Zappia, O'Rourke and Kapiris are all members of the sub-5.8 second club and were the only drivers to go under six seconds in their two attempts. Bill Goonan, Charlie Micali, Jeff Wilson, Frank Mamone, Paul Cannuli and Ben Bray are all on the outside of the field looking in with one last shot left to qualify.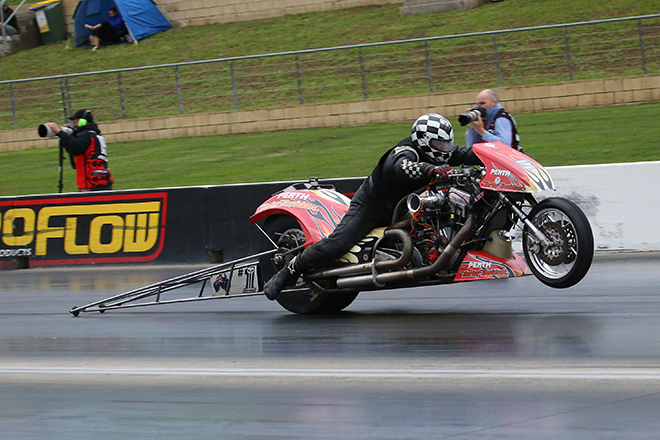 Mark Drew yet again put on a master class in Top Fuel Motorcycle first producing a 6.462 ET at 219.65 mph in session one before a 6.442 second pass at 212.90 mph cemented his place at the top.
Chris Porter is currently second with a 7.139 ET at 164.77 mph from Steve Badcock and Michael Gregg. Chris Matheson will attempt to make the field in his last qualifier when action resumes on Sunday.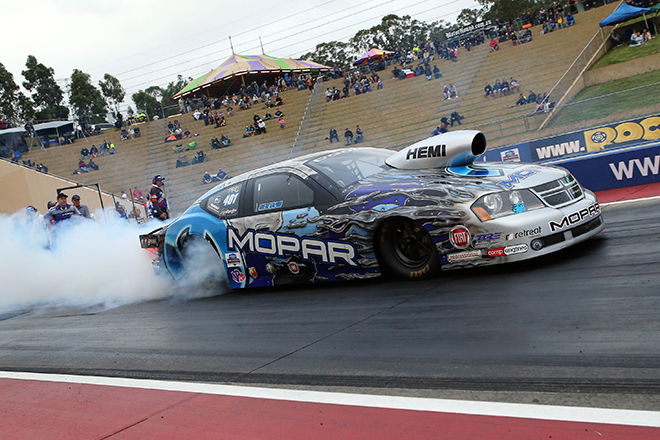 While everyone juggled with the weather in Pro Stock, Lee Bektash still managed to record a 6.978 second pass at 196.36 mph to lead the pack. Although Bektash has run much quicker in the past, it was an impressive feat given the weather with the rest of the field going seven seconds or above.
Tyronne Tremayne ran a seven-flat at 192.55 mph followed by Rick Chilton with a 7.016 and five-time Champion Aaron Tremayne with a 7.020. Bill Perdikaris' 7.041 puts him in fifth and Emilio Spinozzi's 7.061 currently has him sixth. Bruce Leake and Nino Cavallo are currently seventh and eighth.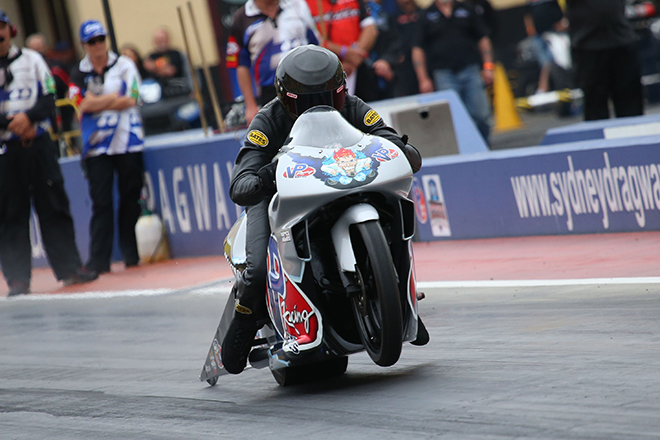 Conditions were also tough for Pro Stock Motorcycle but Brad Lemberg continued his Winternationals dominance with a 7.238 ET at 180.72 mph for first place. On the same pass Scott White recorded a 7.286 at 176.26 to hold onto second while defending Champion Maurice Allen ran a 7.361 at 177.63 mph.
Unfortunately as the third qualifying sessions were due to commence the weather turned again and the session was pushed to Sunday.
The final qualifier will take place in the morning with eliminations to get underway early to mid afternoon.
For more information and to check for an updated race schedule please visit www.sydneydragway.com.au
Images: Grant Stephens / Drag News Australia