Racing a damaged Camaro following his touch up with the wall in Sydney at the X-Champs in May, Perth young gun Daniel Gregorini has a new look for his Adelaide International Raceway debut at this weekend's Fuchs Spring Nationals.
Gregorini has performed admirably in his first full season following the national Top Doorslammer circuit bringing some old school style and flash back to the startline to compliment his on track performances.
"We had to continue the rounds after the crash as I committed myself to do," he said. "The Fuchs Winternationals was a great comeback to make the finals against 6-time champ John Zappia, it was unbelievable. Then a first round loss at Hidden Valley was a bit of a blow, but that's racing."
Thanks to some down time since July, the Scratch & Match team embarked on an overhaul of their Gforce built Scratch & Match Motorsport 68 Camaro from top to bottom with the new green machine set to debut in Adelaide.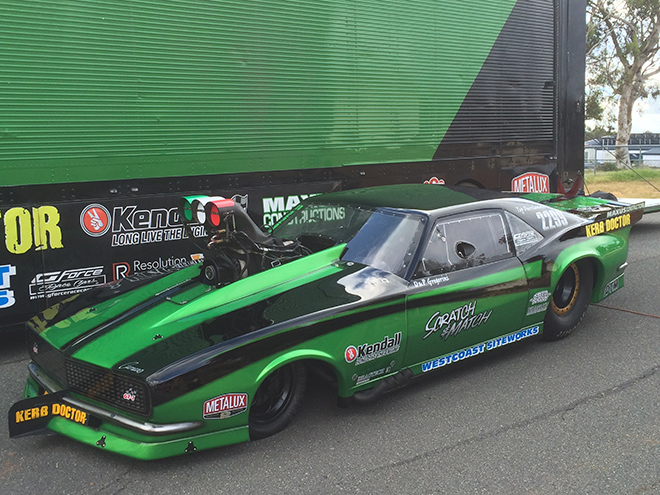 "We had to rebuild the car from the ground up, new body panels new components and new paint.
"We have had the good and the bad this season, the highlights being two finals appearances; one win, one runner up. It's an emotional roller coaster."
Eleven Top Doorslammer teams will contest the Fuchs Spring Nationals and Gregorini hopes to make his sponsors and crew proud with a big finish to his season on his last appearance in the ANDRA Drag Racing Series for 2014.
"I'd like to finish the 2014 ANDRA Drag Racing season on a high. 1000 feet racing is something we haven't done yet and we're looking forward to it. AIR promoter Rino D'Alfonso has put a huge effort into promotion and we would like to thank him by putting on a great show!"
The Fuchs Spring Nationals will be two days of high-octane Championship Drag Racing action featuring Top Fuel, Top Doorslammer, Pro Stock Motorcycle and the Aeroflow Sportsman Drag Racing Championship this Saturday and Sunday October 4-5, 2014 at Adelaide International Raceway.
For more information and ticketing details please click here.
Images courtesy: Scratch & Match Motorsport