It was a Lamattina one-two while Stuart Bishop and Luke Crowley stole the top qualifying position on their final passes to take the momentum into eliminations on Sunday.
John, not Phil Lamattina, currently occupies first place with one Top Fuel qualifier to come before eliminations Sunday afternoon.
Running over the 1000 feet race distance instead of the usual quarter mile, Lamattina improved from a 4.207 as the sun was setting to a 4.136 at 290.04 mph as the conditions cooled.
The younger Lamattina said he was happy to finally find some consistency and even get one over his brother Phil in the process.
"My first two passes I was really excited because it's the first time I beat my brother Phil down the track either in qualifying or eliminations," he said.
"The last one he got me just in the holeshot so I'm a bit disappointed in myself there but really happy overall and really happy with the consistency of both cars.
"To keep consistency is probably most important at the moment to stay where we are and just keep going down the track."
Phil Lamattina recovered from a strange first qualifier where the steering wheel dislodged as he left the start line. But that wasn't enough to sop him from securing second place going into the fourth and final qualifier with 4.165 at 242.49 mph.
Rapisarda's Allan Dobson is currently third with a 4.173 at 260.49 mph and Damien Harris fourth with a pass of 4.225 at 241.61 mph in the second RAI entry.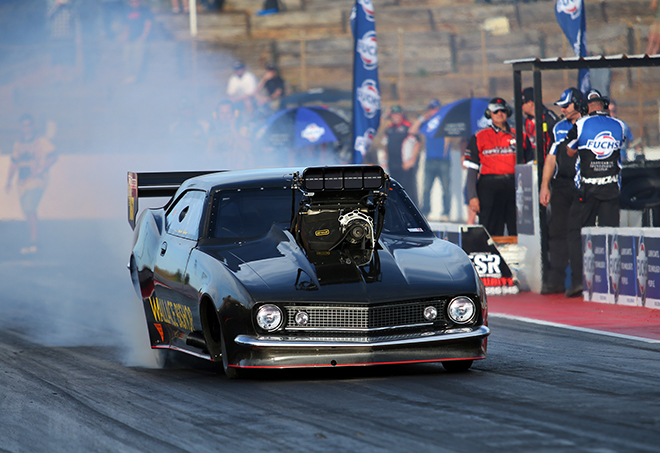 Stuart Bishop saved the best until last sneaking top spot from under the nose of John Zappia while going side by side with the 6-time Top Doorslammer Champion in the final qualifier.
It couldn't have been much closer as Bishop went eight thousandths quicker than Zappia's 5.099 at 222.11 mph set in Q1 with a 5.091 at 218.49 mph.
"It was pretty close, it was amazing," said Bishop. " I actually thought he might have got me as he came up to the top end. I know I got him on the tree, which I usually do.
"The car had some good legs in it. Daniel (Reed, crew chief) pushed a bit harder and we were a bit nervous about that with the temperature changes as the track might have cooled off and be a bit slippery."
Having secured top spot, Bishop has a great opportunity to keep his Championship hopes alive however he insists he isn't thinking about it.
"We're just taking it one run at a time otherwise we'll get caught up and step on our own toes!"
Names to miss out on the eight car field include Peter Kapiris who just couldn't get the numbers, Pat Carbone and Daniel Gregorini who suffered damage in his first pass, missed the second and shut down before staging the third.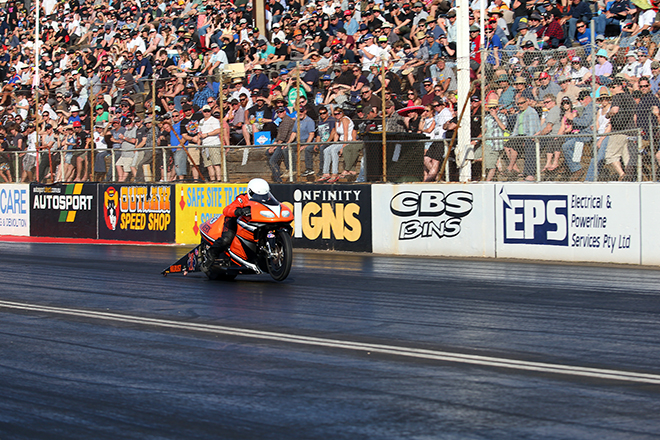 Much like his fellow Queenslander in Doorslammer, Luke Crowley pulled the rug from under Maurice Allen when it looked as though he was dead and buried to take the number one in Pro Stock Motorcycle.
Allen had posted a 7.383 at 180.43 mph in his final qualifier to all but secure the first seed. But after forgoing his second qualifier to swap an engine, the defending Champion showed his class by running a 7.329 at 181.92 mph.
Crowley lamented the fact that he doesn't seem able to get more than one pass out of his newer engine and clutch combination, dropping an exhaust valve on a troublesome opening to his Fuchs Spring Nationals campaign.
"It was a big thrash to get old faithful back in the chassis again, it's been in there for 12 months," he said.
"Every time we bolt the other one in, it's only in there for one run. Then we put this thing back in there and it seems to do the business.
"At the end of the day the other engine has it's own clutch combination we were attempting to run. This engine has it's own clutch as well so it's exactly how it ran at the Winternationals in the final.
"We know it's got a low 7.20 in it, we just need to tune her up a bit tomorrow."
The Fuchs Spring Nationals continues with eliminations commencing from 9am on Sunday at Adelaide International Raceway.
For full qualifying results from day one, please click here.
Images courtesy: Outlaw Images