Peter Kapiris has gone from not qualifying at the opening round of the ANDRA Drag Racing Series Top Doorslammer Championship to being top of the pile in round two, as Gary Phillips laid down a surprisingly quick run to lead Top Alcohol on day one of the 44th Westernationals at Perth Motorplex.
Kapiris' 5.87 just edged a 5.89 from John Zappia and for the energetic Victorian it was a case of going back to what he knew.
"We've got the old mojo back," Kapiris said. "Going back to what we know will get us down the track, even if it doesn't move our times ahead.
"Testing in qualifying kicked us in the butt at the last event, so we have decided now to test when we can and if it doesn't work go back to what we know."
With delays for clean ups during the night, Top Doorslammer's third and final qualifying session was held over to 11am on Saturday morning, meaning Kapiris may not go into eliminations as the qualifying leader.
"I don't think we will do that qualifying session in the heat of the day, we tested in those conditions and the track is not there," he said.
"We're not that familiar with the track to go out and better our 5.87 in the heat, we are better off sitting back and doing our maintenance and doing what we've got to do."
Kapiris said consistency is one thing but the evident pace of the field means a constant chase to improve times.
"Everyone can run 5.80s on a good day, so you need to be running constant 5.80s and occasionally 5.70s to be in with a shot," he said. "5.90s will get you in the field but are not enough if you want to be a heavy hitter."
The current bump spot in Top Doorslammer is a 6.15, held by a nervous Stuart Bishop.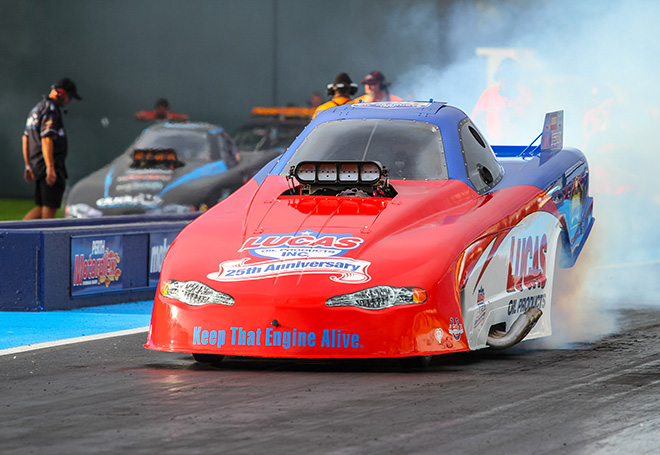 Meanwhile Queensland's Gary Phillips, a 16-time champion in Top Alcohol, scorched down Perth Motorplex in 5.47 seconds in the opening session of qualifying, showing disregard for the hot and humid conditions.
"We had a Darwin tune up where it went 5.46 so we used that, here the air was a little bit worse but it was pretty close," he said.
Phillips admitted to being a little taken aback by the quick time from the Lucas Oil Funny Car and explained his decision not to come out for the final qualifying session.
"Did we want to go that fast first run? Probably not," he said. "But just as long as we are in the top eight for race day we are happy."
An interested observer in Phillips' pit area was NHRA Top Alcohol Funny Car champion Steve Harker, returning the favour of Phillips who visited him in the USA.
Top qualifiers in the ANDRA Drag Racing Series receive a prize pack thanks to ANDRA partner Snap-on Tools. Qualifying continues on Saturday.
ANDRA Drag Racing Series eliminations begin at 6pm on Saturday night.
Images courtesy: Luke Nieuwhof