John Zappia and Chris Matheson earned early season points as the opening round of the ANDRA Drag Racing Series rounded out at Perth Motorplex on Saturday.
Zappia was unable to back up his stunning 5.68 pass from qualifying but took home the win regardless with a close 5.86 win in the final.
Opponent and number two qualifier Maurice Fabietti put a holeshot on Zappia and was leading past the 1000 feet marker until the motor in the Holden Trade Club Monaro went away, blowing a burst panel and allowing Zappia to sneak past for victory.
"It was pretty even early, as soon as mine rattled (shook the tyres) Maurice pulled a car length ahead," Zappia recalled. "I started to run him in but I don't know if I would have had enough track if he didn't pop the burst panel. I'd say he probably would have had me."
Zappia's course to the final saw him take out Pino Priolo in round one and Marty Dack in the semi finals.
Zappia said the team are struggling with a car that is on the edge.
"For the final we put a lazier gearbox in it to try and get through the tyre shake area and it shook worse," he said. "It wants to be on kill, every time I try to back it down it shakes.
"We haven't got the answer, we don't have the consistency we are looking for at that power level."
Zappia will leave with the full set of points including for the win, top qualifying, low elapsed time and top speed of the event.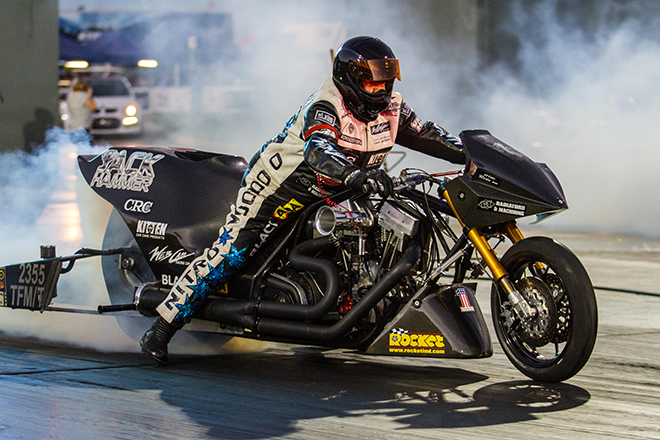 Chris Matheson might be a three times ANDRA Top Fuel Motorcycle champion but he was the unlikely winner of the final when Mark Drew mowed down the timing boxes at the finish line, disqualifying him from the race.
Drew had the clear performance advantage following a quick 6.39 second pass in the semi final but was unable to bring the bike back from the centre line in the final.
"We were lucky Mark crossed the line but you have to be there to be lucky," Matheson said. "For the final we turned it up a little bit and it took off. It got a bit out of shape down the other end but we got through."
Matheson was riding his new bike 'Jackhammer', a nitro v-twin that is a completely different ride to his four cylinder 'Nitro Voodoo' machine.
The ease of maintenance left Matheson very relaxed for the event.
"It's refreshing not throwing a whole heap of stuff at it," he said. "It is more enjoyable."
Matheson is planning to continue to use 'Jackhammer' for the 2015 season.
"We will try and keep all these other blokes honest and have a bit of fun," he said.
Matheson's road to the final took him past two riders making their pro race day debut. He eliminated Wayne McGuinness in round one in a race decided by less than one tenth of a second, followed by a defeat of Ben Stevens.
"Perth has been very welcoming to us and it is great to see a big field," Matheson said. "In particular young blokes coming out and having a go on these big bikes gives me a bit of ticker for the future of the sport."
Top Doorslammer has a three-week wait until round two of the championship at the 44th Westernationals, also being held at Perth Motorplex.
Meanwhile Top Fuel Motorcycle will wait until February 28-March 1 for Nitro Max also at Perth Motorplex, with rounds two and three of the championship being held on two consecutive nights.
For full results from Home Group WA Nitro Slam please click here.
Images courtesy: Luke Nieuwhof