Photo by Michelle Porobic
---
Perth Modified Bike racer Ian Read was lucky to take part in his first trek up north for back-to-back Summit Racing Equipment Sportsman Series rounds in Darwin and Alice Springs.
While the prime purpose was to gain some momentum in the championship, Read was also able to enjoy the scenery and experience the raw beauty of the Northern Territory.
"Nitro Up North was a big show, said Read. The venue is huge, the track is smooth and the fans on the hill really added to the buzz of the event."
Read arrived on the Thursday by plane (along with many other WA racers) as his Suzuki had travelled on board Gordon Crawford's "Moving Man" drag racing express transporter.
"There was plenty of pit space and seated shaded areas in the staging lanes. I had three qualifiers in weather conditions that were very different to Perth, making it difficult to nominate a dial-in," said Read.
Race day saw Read pair up against former ANDRA Champ Gavin Dohnt. This was the first time the two had faced off together and Read was very aware of how consistent he had been in qualifying. With Read's qualifying times considerably slower than Perth, he nominated below his quickest time in Darwin, but unfortunately, he crossed the stripe first and broke out.
"A positive for me was a new personal best ET," said Read, and also seeing Gordon (Crawford) go on to take the win.
"I can also tell you I will return because I really want to win one of those prized crocodile skull trophies. I went wow when I first saw them on display at the presentations. It was a real nice touch and very unique to the Nitro Up North event."
On Sunday Read was in the "Moving Man" cab alongside Crawford – destination Alice Springs. The pair stopped off at the well-known Matatanka Homestead for a couple of days and checked out some live entertainment, decent meals and the hot springs.
"The long drive to Alice was a colourful one," said Read, with sightings of wildlife, including plenty of wedge tail eagles, natural wonders like Devil's Marbles and the old classic car wrecks at Wauchope!"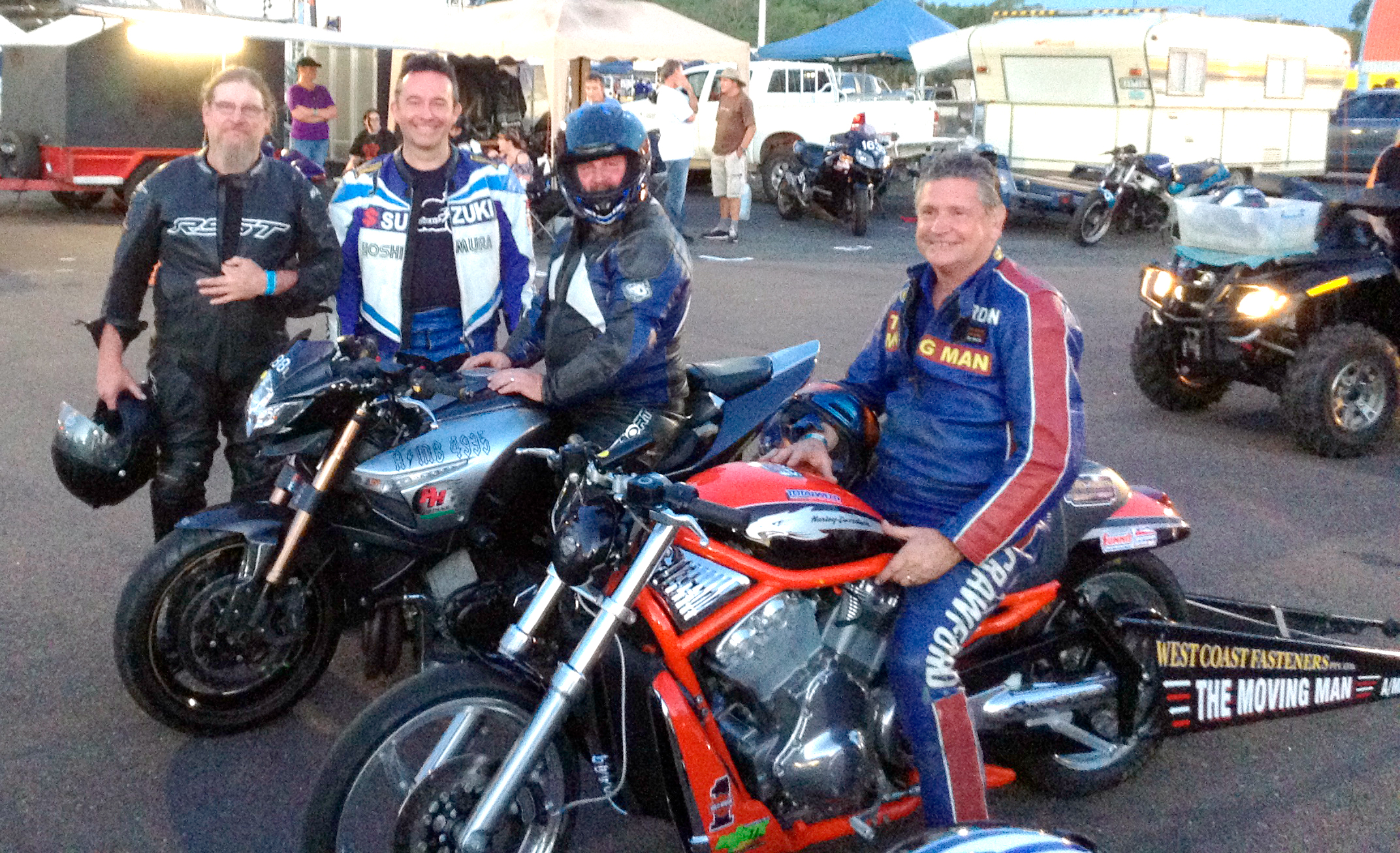 From L-R: Bryan Finn, Ian Read, Gavin Dohnt and Gordon Crawford
---
Prior to the trip Read had been told that Alice Springs would be his favourite track. Upon arriving Read could see why.
"Racers were pitted closer together and we had four qualifying sessions on Day 1 as well as the fifth one on Sunday morning. How good was that! The racing was over by 5 pm and we had plenty of time to socialize with the other racers," said Read. "The track also has the longest braking area I've ever experienced."
"The weather conditions were even trickier than Darwin with the wind moving 360 degrees over the two days, and the density altitude was close to 4000 feet!"
In the first round, Read lined up beside Bryan Finn, taking the win when the 2 x ANDRA Champ red lighted. In the next round Read cut his best reaction time of 0.005, but followed that up with a number of mistakes resulting in a loss to Johnny Ireland by 0.0018 of a second!
"My weekend was done and congrats to Gavin Dohnt on winning the final over Johnny."
"As I had been told earlier, Alice Springs is a great track," said Read. Track officials Tim Reidy, Daniel Sawyer, our bracket marshal Brian Moore, along with the hard working ASID team kept the action flowing for the racers and the fans. The racing surface was good and this was backed up with new track records from Kelly Bettes and John Zappia.
"The Desert Nationals provided plenty of relaxed conversation between the racers and the local community who came out to support the event. Also hats off to MotorSports NT minister Grant Hamon, who is very supportive of our great sport and is very easy to talk to."
"I would also like to thank Stephen and Katelyn for their help in Darwin, Lee Watson at Alice Springs, and Gordon Crawford, and the rest of the competitors and crew onboard the "Moving Man" truck for such an enjoyable trip and experience.
"Personally this trip was full of memorable highlights," Read said. " However the invite from the track to unwind and enjoy a three-course meal in the new Grant Hamon Scrutineering Shed was the perfect way to wrap-up my first NT experience."
The next round of the 2017/18 Summit Racing Equipment Sportsman Series is on September 23-24 at Victoria's Sunset Strip in Mildura. For more info head to www.sunsetstrip.org.au

For current ANDRA Summit Sportsman Points CLICK HERE
END