Photos by Dave Reid
---
Mark Hunt is certainly one of the real characters in our sport. He's a big man and can look quite intimidating, he drives a bright yellow Supercharged Outlaw Ford Customine, and his passion for drag racing is 110 percent.
But underneath that rough and tough exterior is a man with a big heart and a desire to see drag racing become great again. If he's not strapped into his race car, he can be seen on the start line helping out other racers including the Junior Dragster kids.
He is the go-to-guy that makes things happen and is never afraid of getting his hands dirty.
Whether he's actively promoting drag racing or helping out race tracks behind the scene, Hunt loves to put on a show for the crowd with his half-track burnouts.
But he also has a strong desire to win a Championship.
In the 2016/2017 Summit Racing Equipment Sportsman Championship Series, Hunt loaded up his big yellow bus and hit the road, travelling to all the tracks, including Perth. He started the season off on a high with a well-deserved win at the Desert Nationals in Alice Springs, taking home a silver ANDRA Christmas Tree.
It was a hard-fought battle facing off against three of the strongest contenders in his bracket, Doina Day, Adam Murrihy and Justin Russell.
At the season ending Summit Racing Grand Finals in Adelaide, Hunt went through to the semi-finals, but broke-out against Mick Mahoney.
"I was still over the moon," said Hunt. "Finishing second in the championship and picking up another trophy was a fantastic effort, but it just made me more determined to go one step further this season.
Huntsman Racing travelled up North for the second year and was looking for a strong finish.
"I love racing in Darwin," said Hunt, and this year was no exception.
"I run a business 24 hrs a day, 7 days a week in Adelaide so it's always good to be able to take this opportunity and travel to Darwin and Alice Springs. We make it a three-week road trip holiday. The stops on the way up and back are some of the best you will ever see in the world, and as for myself, it's really relaxing. We are always meeting and making new friends on the way."
During eliminations, Hunt defeated Bronte Henning, then dropped a .088 light on Alan Mahnkoph in Rd 2 before picking up a solo in the semi-finals. However, it wasn't the easy run it should have been. While sitting in full stage waiting for the tree to count down – the transmission blew covering the start line with flames and smoke. Hunt was ok but he was not able to return for the final.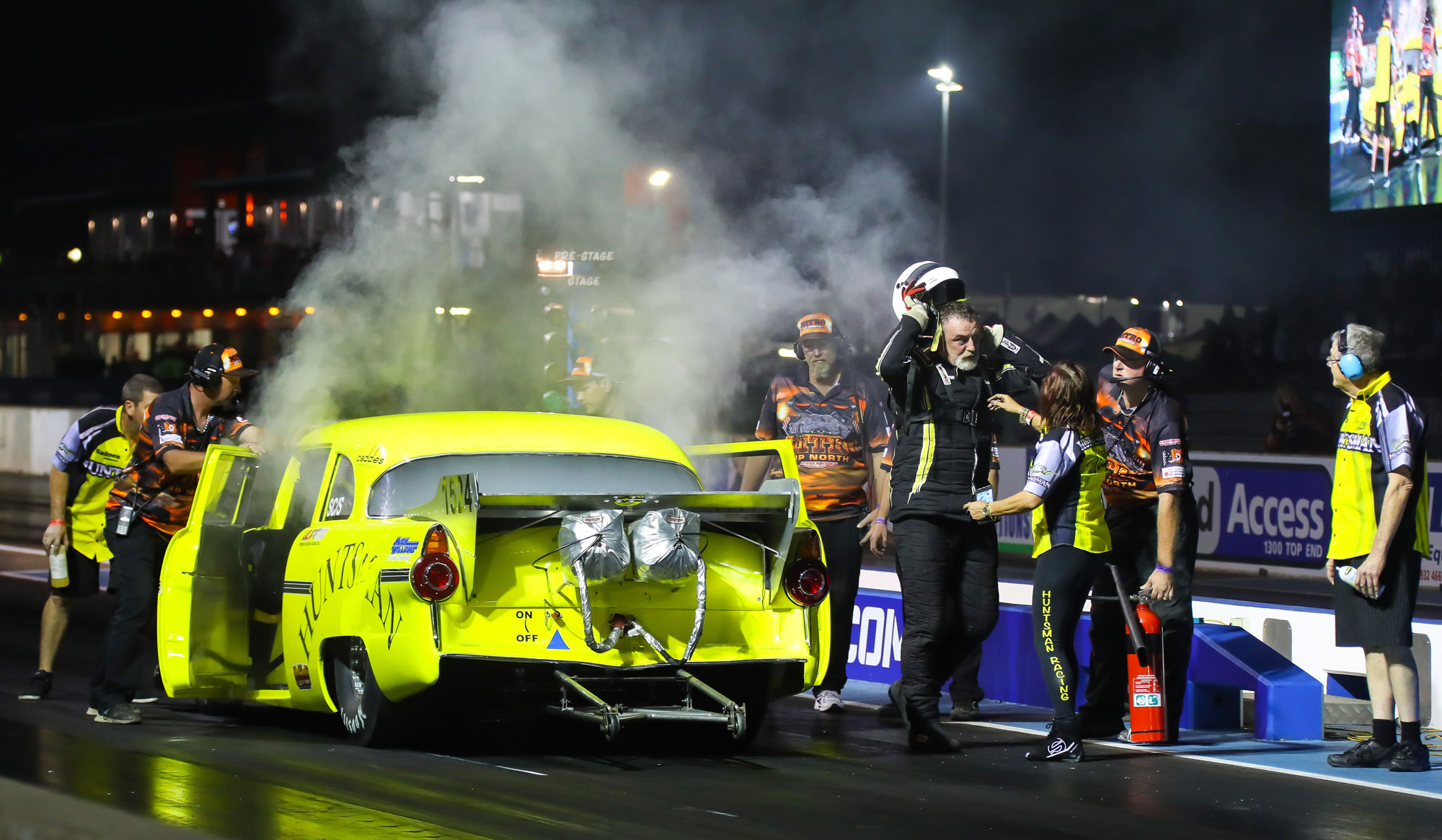 ---
With runner-up points on the bag, Huntsman Racing hit the road to Alice Springs for the Desert Nationals. Undeterred and not knowing what was wrong with his Customline, he was still positive about racing in Alice Springs.
Hunt and his crew stayed back in Darwin and repaired the transmission so they could have a fresh start in Alice.
"Going to Alice Springs is the same buzz as Darwin," said Hunt. "Yak, his crew and volunteers always make sure the track is prepped correctly. They also go out of their way to look after all the racers and teams.
"The facilities are always very well organised and we all enjoy the bonfires and celebrations after the meeting. It's a chance for everyone to get together and relax.
"The Desert Nationals will always be one of my favourite events, especially after winning there last season.
"I had the Cusso and crew all sorted and everything was running well. We were nice and relaxed and looking forward to performing well.
"Unfortunately, I was too excited and anxious, ending up with a big red light against Justin Russell in Round 1.
"Of course I was disappointed, especially for my awesome crew, but at the same time it gave me the opportunity to enjoy watching all the other racing, and participate in the festivities of the Desert Nationals."
The next stop is Round 3 of the Summit Racing Sportsman Championship at Sunset Strip at Mildura on September 23 & 24.
"Really looking forward to this race. It's shaping up to be a huge event with record entries," said Hunt.
"For me, the pressure is on to perform. I need to pick up as many points as I can if I want to remain in contention for the Championship. We are taking some weight out of the car, spinning the blower a little harder and getting my crew chief David Baines to tune her up," grinned Hunt.
Huntsman Racing currently sit in the third spot on the ladder with 140 points, behind Murrihy and Mahnkoph, who are both on 190 points.
Make sure you drop in to see Mark and his team and don't forget to ask for a hero card and a signature.
Hunt wished to thank his sponsors – David Baines, ULX Oils and Performance Wholesale Australia
Follow and Like Huntsman Racing on FACEBOOK
---
Sunset Nationals Info
What: Artworx presents the Sunset Strip Nationals – Rd 3 Summit Racing Equipment Sportsman Championship Series
Where: Mildura, Victoria
When: September 23 & 24
Brackets – Top Sportsman, Supercharged Outlaws, Supercomp, Modified, Super Sedan, Super Street, Modified Bike, Junior Dragster and Super Gas
Times: Saturday and Sunday 10am to 5pm
Cost: Adults $10.00. Kids under 16 Gold Coin
Website – Sunset Strip CLICK HERE
Facebook – Sunraysia Drag Racing Association Facebook CLICK HERE
Facebook Event Page – CLICK HERE
Summit Racing Equipment – CLICK HERE
END