At Round 3 of the Summit Racing Equipment Sportsman Series at Mildura Sunset Strip, Holly Camilleri secured her first ever National event win in Summit Racing Equipment Junior Dragster. It was a win she never expected…
Camilleri defeated Tegan Roach, Andrew Shirley, Jordan Spencer and finally Sarah Donnelly to claim the ANDRA Christmas Tree.
Identical reaction times in the final made for a tense race to the finish with Camilleri coming out on top in 9.760 seconds at 63.60 mph on a 9.74 dial in to Donnelly's 8.448 at 72.77 mph on an 8.45 dial in.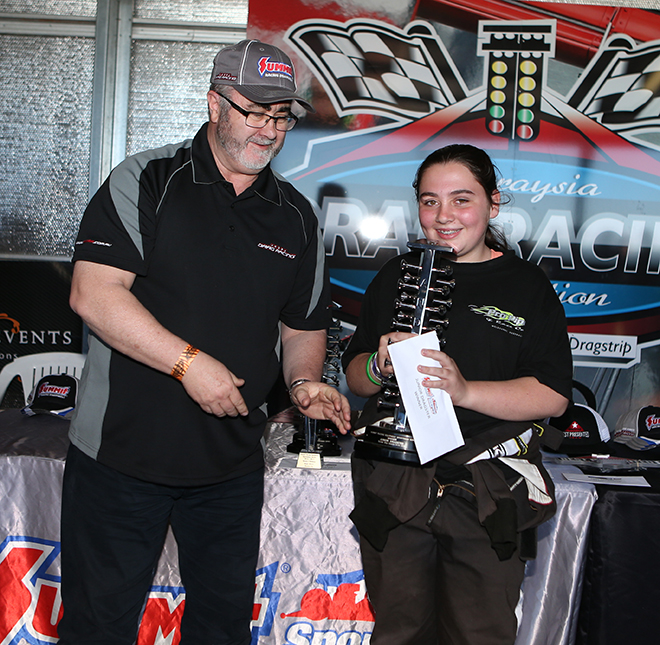 Following the historic win, Holly shares her thoughts and feelings on breaking through for that first ever victory:
"Every time I get in my car I am nervous right up till I am at the line ready to stage.
"I'm racing in B/JD for the first time, I can go faster and I was hoping to have a chance in beating who I raced.
"Coming into my first round I was just hoping not to lose just so I could go home happy that I won one race. But then I won the next and the next and then I was in the finals. Never did I imagine I would be there and my heart was beating really fast, I was shaking,
"Coming up to the finals I didn't think I had any hope in beating Sarah as she is an experienced driver. I was nervous, scared, worried I would red light because of my nerves, then I won, I couldn't believe it.
"I wanted to cry, jump up and down and scream all at the same time. What an awesome feeling."
Image credits: Outlaw Images