Damien Harris has made good progress on his promise of making this his championship season with a win in a spectacular opening round of the ANDRA Top Fuel Championship at Perth Motorplex.
The Western Australian driver defeated reigning national champion Phil Lamattina in the final, taking the finish line stripe for Rapisarda Autosport International by just over two hundredths of a second, with a .047 to .064 reaction time advantage followed up by a 4.770 to a 4.775.
It looked as though the Victorian Lamattina had the win in the bag until his motor began to burn up, and that allowed Harris to come by at a scorching 506.41kmh to Lamattina's fading 413.81kmh.
Harris said that it was the ideal way to start the team's championship hunt.
"It's all about grabbing as many points as you can and to walk away with all the points today was really nice," he said.
"I didn't see Phil until half track where he went blazing past me and I sat there crying. Then next thing I went straight past him and the cries changed to cheers.
"The car moved around heaps, but I had my foot buried (on the throttle), I really wanted to put Phil on his back so we were lucky he had problems and we got to drive around him."
Harris qualified second with a 4.701, then had a bye run in the elimination round where he carded a 4.838 to earn his place in the final.
With one out of the weekend's two championship rounds now complete, Harris said he would love a carbon copy for Sunday.
"I'll take the page home and photocopy it. Hopefully one of the Rapisarda Autosport International cars can repeat tomorrow and we leave here in the one and two positions in the points," he said.
First round jitters were apparently non-existent in Top Fuel, with every car running into the four second zone during the single qualifying shootout.
Wayne Newby's top qualifying pass of 4.589, only marginally off the 4.582 track record, stood for low elapsed time of the event, while Phil Lamattina at least claimed top speed points for his qualifying blast of 520.99kmh.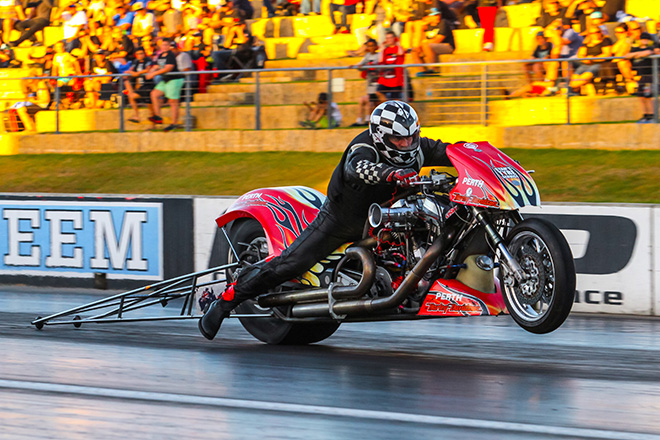 Top Fuel Motorcycle performances were no less impressive in the second round of their ANDRA championship, with Western Australian Mark Drew resetting both the time and speed national records for twin cylinder machines on his way to a win.
The final was an anti-climax when opponent Chris Porter had a fuel issue on start up, meaning he had to shut down his bike and watch as Drew took a solo pass for the win.
Drew's elimination round pass of 6.341, backed up by his top qualifying pass of 6.350, was enough to wrap up the elapsed time end of the national record, while his 371.36kmh speed also had the record books burning up.
"I left the same tune up in it that I ran last meeting for the final, only I put a little bit more on the clutch for the top end for our second pass where we went a little bit quicker," Drew said.
With improved national records, Drew said he is targeting a world mark soon.
"We will get it into the high 6.20s pretty easily I reckon," he said. "Then we are only a tenth off the world record.
"I need this year to get it into the 20s, then do a bit more homework and talk to a few contacts overseas and show them what I've got and get their opinion on where to tidy it up.
"I think we have track here as good as anywhere in the world so it is not out of the question."
The second round of the ANDRA Top Fuel Championship and the fourth round of the ANDRA Top Fuel Motorcycle Championship takes place Sunday, March 1 at Perth Motorplex from 6pm.
Images courtesy: Luke Nieuwhof/dragnews.com.au