Current Top Fuel championship leader Damien Harris has thrown down the gauntlet to closest rival Phil Lamattina ahead of the upcoming Fuchs Winternationals – the championship finale and the biggest show in Australian drag racing (June 4-7).
The defending event winner Harris – who drives for Santo Rapisarda's Rapisarda Autosport International team – is just 26 points ahead of two-time champion Lamattina and will be looking to claim his first Top Fuel national title this Queen's birthday long weekend. One hundred points are on offer for an event win, however the 42 year old says it is Phil who should be worried about being under pressure.
"The championship will be decided at the event and I want nothing more than to be able to hand the championship trophy to the Rapisarda family, but the focus will be on ourselves and what we need to do to go back to back at the Fuchs Winternationals," said the West Australian.
"Top fuel has a big field of cars and we need to make the most of the points in qualifying – every point will help make it hard for Phil.
"I'm very relaxed at this stage and I know the pressure is on Phil – he wants to retain the number one on his car."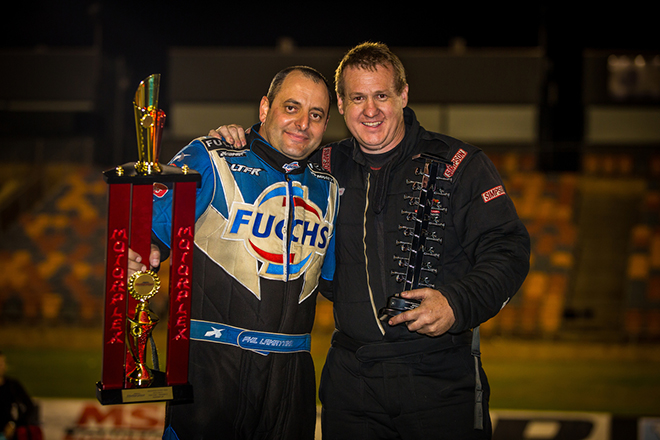 Harris impressed last year with an emphatic performance in front of more than 30,000 fans over the event's four days.
"The win last year was great, it was a win that I had been chasing for a long time from back in the Top Alcohol days. It's the win that everyone wants, but what also made the win so special was Santo Jnr and the crew. It was a long fiery road to get the win and it was the crew's hard work and Jnr's work ethic that made it possible.
"I'm relaxed at this stage, and we just need to focus on ourselves and the conditions we are presented with on the day.
"Santo Jnr will be packing his 'big boy' tuning pants as we both know that Willowbank's track surface will be killer and will require a few bold tuning calls. A weak motor is only going to end in tears for the crew and a headache for me.
"I believe the team is in a great place. Some of them have had the chance to turn spanners at the NHRA race in Las Vegas and Santo Jnr and Santino have both been able to run a car between Perth and the Winters as well as being able to rub shoulders with some of the sports best."
Tickets are on sale online now. Looking to bring the family? Don't forget that children aged 13 and under gain free admission, while students with ID and Concession Card Holders can access discounted entry (terms and conditions apply).
For full event information, please click here.
Images courtesy: High Octane Photos