Summer Nationals at Adelaide International Raceway with multiple National Records under threat on race day.
Super Comp
Five racers, Jamie Chaisty (H/MSA), Michael Caroscio (C/MSA), Craig Geddes (B/D), Darren Parker (B/APA) and Daniel Camilleri (DD/GA) are under their respective classes 1000 foot National Records in Super Comp – this weekend made up of Competition, Super Stock and Super Compact.
Chaisty top qualified going a whopping .579 seconds under his H/MSA index to jump from third to first in his final run.
Carsocio pushed hard in his last outing going .522 seconds under the C/MSA index but as conditions cooled Chaisty had the benefit of the penultimate Super Comp pass and it played into his hands perfectly.
"We knew the conditions and track would get better at night," said Chaisty. "We didn't think we'd take Geddes off but that's pretty good, it puts us in a good position tomorrow and hopefully we have a good day.
"It's pretty tough this weekend. You have Parker, Daniel (Camilleri) and all these guys so it's a really good field and it's good to come and race these guys. So with 16 cars tomorrow it should be good, it won't be easy."
Geddes .521 seconds under the B/D index in third, while Darren Parker is .438 seconds under the B/APA index in fourth and Daniel Camilleri .417 seconds under the DD/GA index.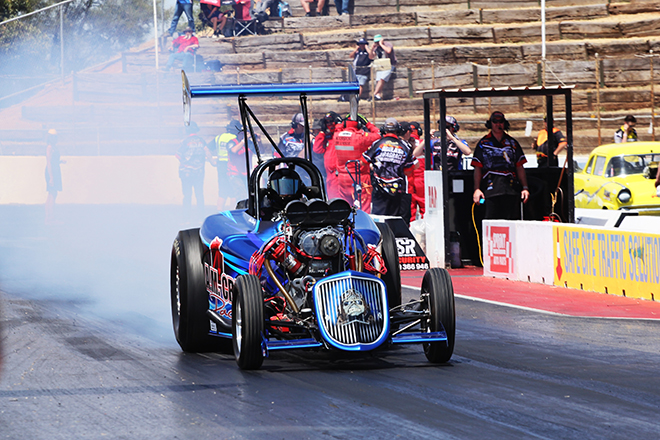 Supercharged Outlaws
Reigning Supercharged Outlaws Champion Adam Murrihy picked up where he left off in Adelaide when he secured the title at the Grand Final last season.
Murrihy recorded three five second passes over the 1000 feet race distance, all within hundredths of a second of each other, to take top spot with a 5.552 second pass and dial his A.M Cranes Altered right in for race day.
"I'm wrapped we've top qualified again," said Murrihy. "We had a couple of guys, Alan and Patrick come down from Darwin to give us a hand so we've got our normal crew with us.
"We went out there and ran three times within three one hundredths of themselves. We've got a bit of an idea of what we're going to run (tomorrow). The car is on song, the track is good for us and we're just doing our thing at the moment."
Justin Russell secured second place from Shane Kramer, Doina Day and Darren Astle dipping into the five-second zone with positions 6-11 all above six seconds.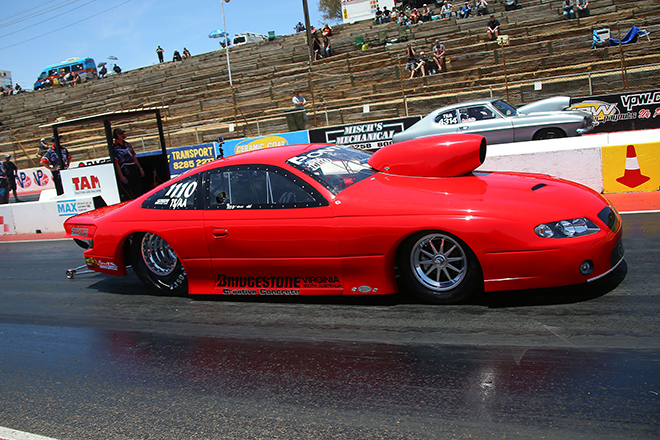 Top Sportsman
The man they call "Salad Bar" Darren Saliba secured yet another top qualifying position in Top Sportsman with a 7.247 from Rowe Memorial winner Paul Russo in second with a 7.526.
Matt Forbes qualified third from Michael Braggs, Bruno Romeo, Graham Hargrave and Julian Carafa – all in the seven-second zone. Jason Arbery, Roc Puccini and Greg Damiani close out the field.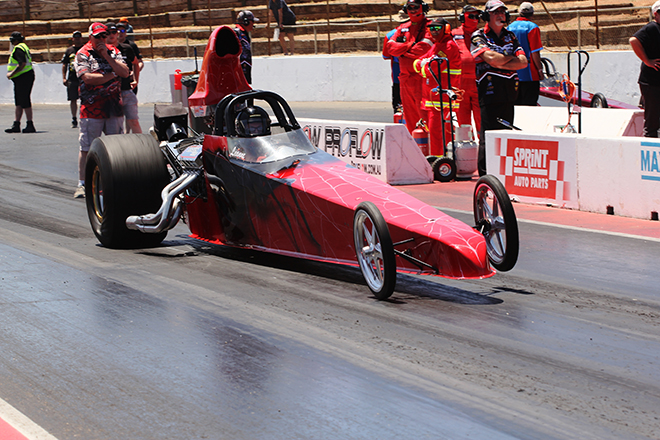 Modified
Leanne Braggs recorded a perfect .000 light in her last qualifier propelling her dragster to a 7.162 second pass to top qualify and steal the number #1 from Jess Turner who led the field in the second and third sessions.
Turner ended the day in second from Cory Dyson who set the early going in Q1. Kenny Stewart, David Bonetti and Bradley Hicks rounded out the top six – all running under eight seconds.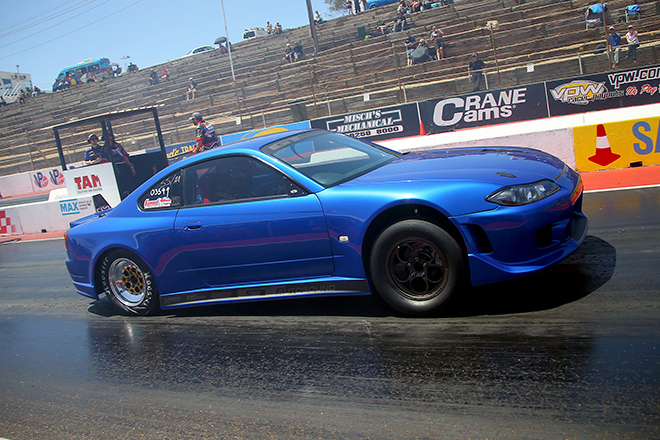 Super Sedan
Theo Spartalis set the stall in Q1 in his Nissan and never looked back, occupying top position all day with an 8.579.
Spartalis couldn't improve on that time without running quicker than the Super Sedan cut off but no one could match him with Vlado Turic the closest in second place on an 8.646.
Scott Cohen was third, Rob Evans fourth and Phillip Bennet fifth in a 35 car field.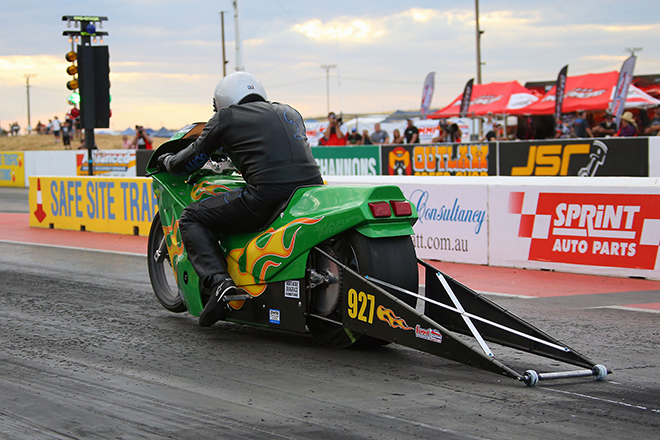 Modified Bike
Tony Frost led Modified Bike all day improving on his earlier qualifiers in Q3 to record an 8.085 and then finally an 8.075 in Q4.
That was good enough to take top spot from Gavin Dohnt who occupied second place through all four qualifiers.
Danny Rickard, Rob Cassar and Gordon Crawford completed the top five while the in form Matt Lisle sits in sixth place.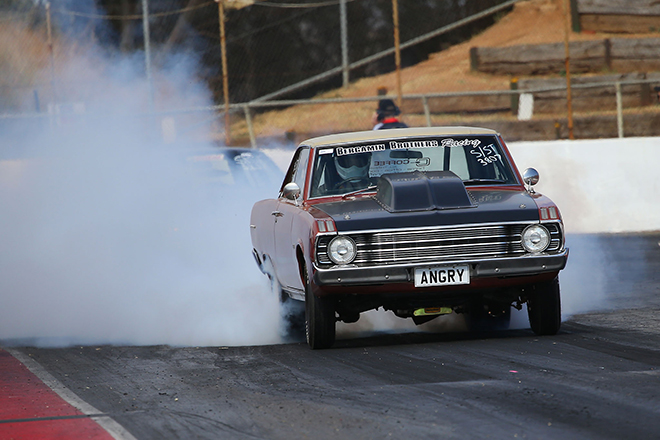 Super Street
Robert Bergamin and Graeme Cooper remained the only drivers to go under 11 seconds to lead the field – Bergamin in first place with a 10.518 while "The Bricklayer" wasn't far behind with a 10.836.
Tony Barbara was the lowest into the 11s with an 11.007 to claim third placing as positions 3 to 23 are all separated by less than one second with just two drivers above 12 seconds.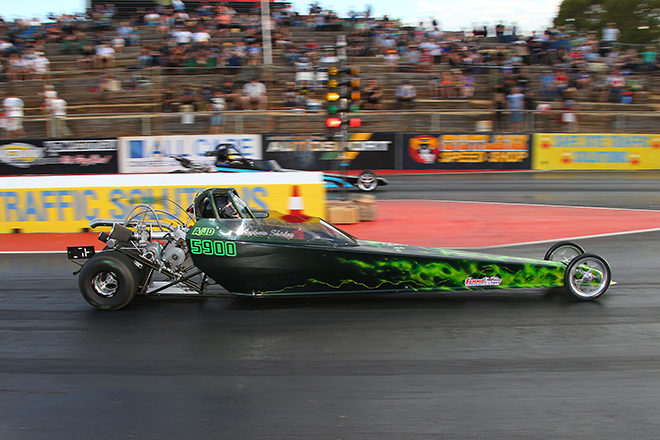 Summit Racing Equipment Junior Dragster
Andrew Shirley posted an 8.015 in his first hit out for the day and was never bested as Brooke Camilleri and Luke Veersma came closest with identical 8.026 second passes.
Kelly Donnelly was just one thousandth behind in fourth with an 8.027 and the ever-consistent Bradley Bishop just behind in fifth.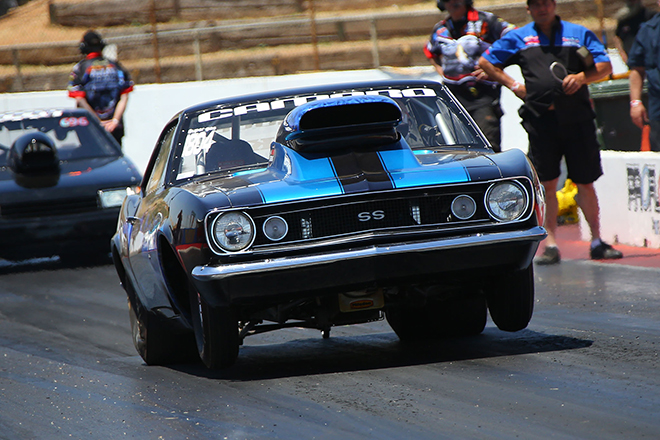 Super Gas
Coming off his Rowe Memorial victory, Colin Griffin looked to have top qualified with a 9.909 in his second qualifier of the 9.90-fixed index class. That was until Warren Bull recorded a perfect 9.900 in the third session to take the number #1 overnight with a fourth and final qualifier to come.
Griffin was relegated to second with Graeme Spencer, Johnny Ienco and Matt Forbes all in the low 9.90s with Jeff Romeo, Peter Datsun, Dylan Argent and Warren Smith all above 10 seconds. Unfortunately Domenic Tiani has pulled out.
Racing gets underway from 10am on Sunday. For more information please visit: www.adelaidedragracepromotions.com.au
Full qualifying results can be viewed HERE and final qualifying orders HERE.
Image credits: Grant Stephens / Drag News Australia (1st, 3rd, 5th, 6th, 7th, 8th, 9th), David Hope (2nd, 4th)