Just one day of racing is all that remains for the 18/19 Summit Racing Equipment Sportsman Series, following the conclusion of day one of the ANDRA Grand Finals event at the Perth Motorplex this evening.
Come Sunday night, nine well-deserving competitors will join previously announced title winners Adrian McGrotty (Super Gas) and Jake Berias (Summit Racing Equipment Junior Dragster) in being celebrated as ANDRA Champions following an intensely competitive season of racing.
Following today's on-track action, Kyle Putland (Competition), Todd Stacy (Sunoco 260GT Plus Top Qualifier for Super Stock), Brett Ghedina (Competition Bike) and Jack Bowden (Supercharged Outlaws) have secured the Top Qualifiers Medallions – thanks to TileCo-TheShowerPeople and KC Tools – for their respective brackets.
For the Super Street, Modified Bike, Super Sedan, Modified and Top Sportsman brackets qualifying will conclude Sunday morning before the eliminations for all brackets kicks off from 11.00am local time. Lee Watson (Super Street), Trent Anthony (Modified Bike), Dean Dawes (Super Sedan), Adam Mundy (Modified) and Amanda Martin (Top Sportsman) are currently leading the way in these brackets.
While a number of racers will have their eyes on a championship tomorrow, for Putland it is all about chasing a national record, and maybe an event win while he is at it.
"We have real mixed emotions from today. We came off the trailer and went 6.79 which wasn't a PB but still very fast and seven and a half tenths under the index, so we were very happy with that," Putland said, while thanking Quarter Mile Drag Racing Experience, Hydraulic Technical Solutions and all of his crew for their support.
"In the second qualifier we burnt a battery out so we had to drive 45 minutes home to get another battery and come back and fit that.
"In the third qualifier, the track was 24 degrees or 75 Fahrenheit and we just got a little bit out of the groove and didn't really go too far then.
"Overall we are happy with the result. We have been sorting out the automatic over the last two seasons and we have finally got there, but all the extra track time with the Quarter Mile Drag Racing Experience three-seater dragsters has also proved invaluable," grinned the racer from Maida Vale (WA).
"This car loves a hot race track so as soon as I found out all the eliminations tomorrow will be held during the day I knew it suited me to the ground straight away. The car loves it so I think we are going to be in a good spot tomorrow.
"We will definitely want to give the national record a good touch up. We have talked a bit of a plan out as to how we can do that and still win the event – with us being seven and a half tenths under the index and the car having a bucket load left in it, I think we can do both!"
The Super Stock bracket is shaping up to be fast and furious this weekend with the top six qualifiers all running under the national records for their respective classes today.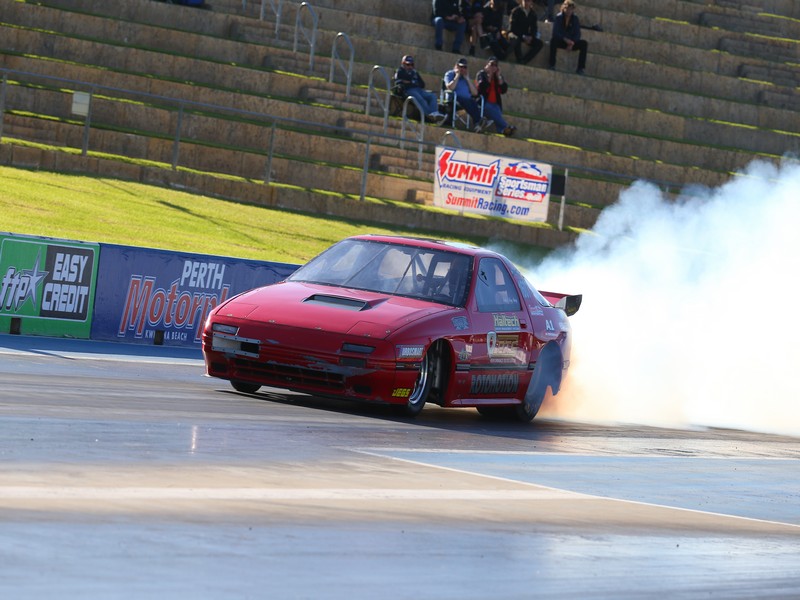 Stacy's Sunoco 260GT Plus Top Qualifying effort in his Mazda RX7 saw him run a full second under his index and 0.586 seconds under the national record for his class – despite the fact he was in the middle of re-learning his car. Meanwhile, the four racers who remain in contention for the Super Stock championship – Alex Panagiotidis, Steve Norma, Rob Dekert and Jake Chaisty – are qualified in positions two through five and are all under the national record for their respective classes.
"It was a different kind of day for us. We hadn't run this for six months so it was a bit of a learning curve, having to work out where the fuel system needed to be and so on; and then the air got better and then we were 1.1 seconds under the index which was a bit further than I expected!," said the Byford (WA) racer, while thanking his dad Terry as well as Trevor Woolley, Mark Tucker, Renee Benns, Rotomotion, PTS Seals, Envisage Accounting Services, A1 High Performance and Haltech for their support.
"It has been a pleasantly surprising day – I normally run EFI not mechanical fuel injection so I have changed classes and it has gone pretty good!
"Tomorrow I would like to go well but not totally destroy the record," he laughed, "destroying it a little bit would be all right, I wouldn't mind a little bit, but not six tenths of a second! We will just go out and race tomorrow, and see what happens."
On his way to taking out the Competition Bike Top Qualifier Medallion thanks to TileCo-TheShowerPeople and KC Tools this evening, Ghedina ran under the current CC/CB national record of 7.446s with his top qualifying 7.192 second pass. Meanwhile the number two qualifier, Justin Townson, ran under the current CC/CBN record (7.500s) with his 7.472s effort.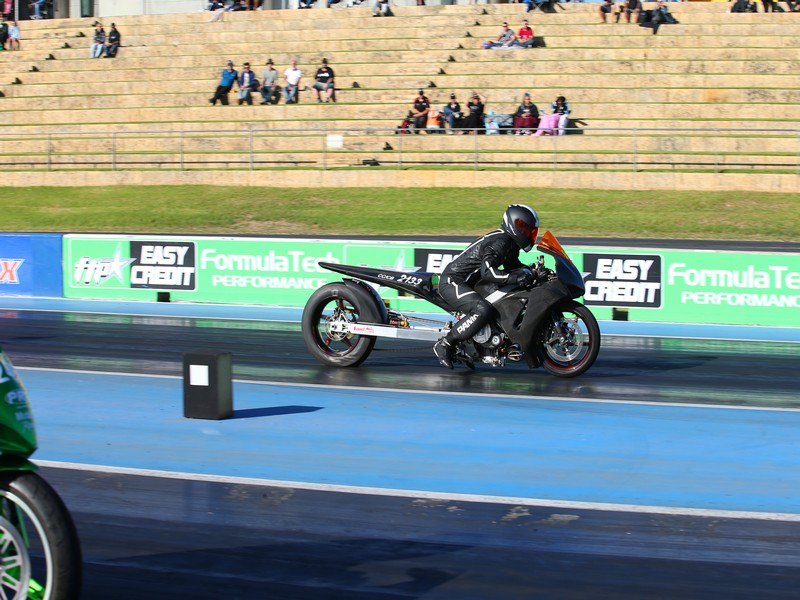 "Today went spectacularly well – we thought it was going to go fast, but not that fast! Sometimes you win and sometimes you lose, so that was a very good win!" said Kalamunda (WA) racer Ghedina.
"Tomorrow it will most likely come down to the person that makes the least mistakes will win, it is often the case for our level of racing! If you don't make a mistake you will be pretty well set, you just have to make sure you make less mistakes than the person you are racing.
"We are feeling reasonably confident having the top qualifying spot, but we are still doing a lot of testing with this motorcycle so I haven't really been focusing on my start line reactions. So even though I top qualified by a massive margin, I kind of give that advantage away on the tree at the moment. We will just see how it goes tomorrow and keep turning it up to make it go faster!
"In the meantime I have to thank my dad Guido for picking up a simple problem with the bike which we had overlooked for four race meetings – we made an adjustment on what he saw and hey presto, it works! My thanks also goes to Trev and Jason for their help on my crew – without these guys this doesn't happen."
For Boyanup (WA) racer Bowden, it wasn't a smooth journey to the top spot in Supercharged Outlaws today.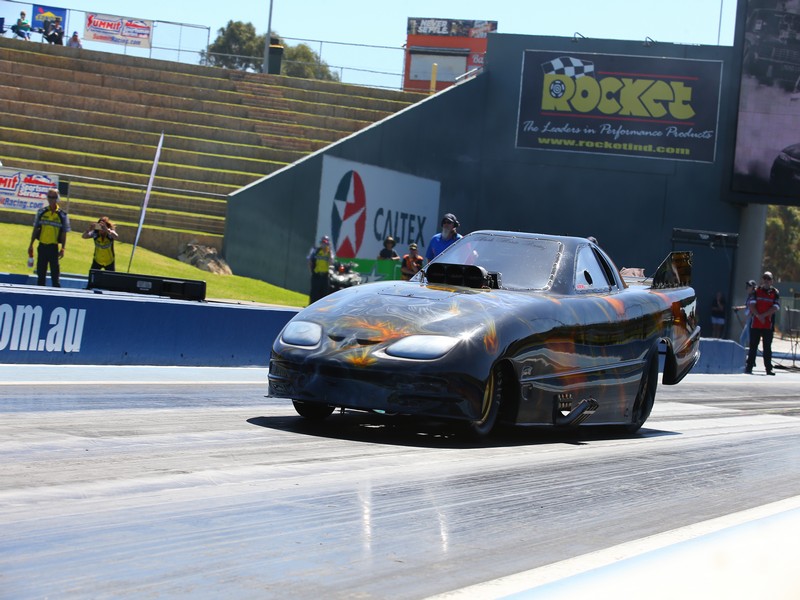 "In the first run we had issues with the car jumping out of gear in the burnout, so then that worried me on the launch as to whether it was in gear properly or not so it was a slow reaction time of half a second and we ran a conservative 'six-ninety,'" Bowden said.
"We got back and sorted that issue out and then went back out and ran a 6.54s which went well, but then on our last pass we got backed up out of the groove and the car just couldn't get the track, so that was the end of that.
"The second run was good but the third run would have been a lot better as this engine loves the temperature at that time of night, so it would have been a cracker run, but that's racing.
"We got a fair bit of data for the middle of the day today, although we didn't get any for the beginning of the day or for the end of the day. But we do have data for the last meeting we did here where we ran a 6.51 so we will just work on that for getting toward the finals, if we get up that far.
"We learned a few lessons today, we never stop learning lessons! Tomorrow we will go with the same tune-up and no changes and just aim for a straight run – with no mistakes of course!" he laughed, while thanking  Rocket, Robbie, Renna, Kelly, Laurie, Jaymon, Young Jack and Shane Higgins of Higgins Mechanical for their support.
Also taking to the track today was the final round of the Perth Motorplex's Summer Slam series, with Daniel Gregorini (5.760s/414.96kmh) leading the way in qualifying for the Top Doorslammer mini-series. Meanwhile, Top Fuel Motorcycle competitors also entertained the crowd (Benny Stevens was fastest with a 6.633 second pass at 349.81kmh) while local Top Alcohol competitors also put on well-received exhibition passes for the crowd. Craig Glassby in particular impressed with a lightning quick 5.434s pass at 432.44kmh.
The ANDRA Grand Finals action at the Perth Motorplex will conclude on Sunday 7 April. All of the action will be streamed live and free on the ANDRA Facebook page at https://www.facebook.com/ANDRADragRacing/
For event results as the event unfolds, visit www.motorplex.com.au/drag-results/ For full event information, including full schedules, entry lists and more, go to http://www.motorplex.com.au/andra-sportsman-grand-finals/