The Australian Nationals are the most prestigious event on the ANDRA Drag Racing calendar and eliminations in the six ANDRA Drag Racing Series brackets delivered action, drama and excitement at Sydney Dragway.
The Top Fuel title fight between Phil Lamattina and Allan Dobson lasted only one round on race day but the tension was thick as both knew they could be just one loss away from a season up in smoke.
When all was said and done, Lamattina secured the ANDRA Championship Gold Christmas Tree when Dobbo was eliminated by his own Rapisarda teammate Damien Harris in Round 1.
Lamattina then smoked the tyres at around half-track in a defeat to Peter Xiberras but it wasn't enough to ruin his day earning a second ANDRA Drag Racing Series Top Fuel Championship.
"Obviously I was quite relieved when Dobbo went down," said Lamattina. "It was hard to get too excited because I still had a job to do and that didn't work out too well for me."
"The Championship win has been a lot of hard work from a lot of people and especially Aaron (Hambridge), the crew, Fuchs sticking by us for 10 years.
"What a way to repay them. And the whole family, especially my wife, she's the rock.
"It's my second son's birthday today and I always said, 'what do you want for your birthday?' And he said; 'a Championship' so we got that and he's pretty wrapped."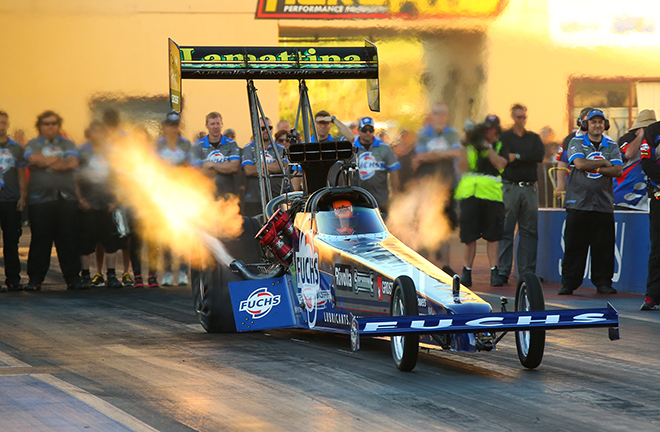 Phil's brother John lifted the Gold Tree for a LTFR double defeating Terry Sainty, Damien Harris and finally Peter Xiberras with a flaming 4.831 elapsed time at 306.67 mph from a 4.893 at 279.38 mph.
"We're very happy after a good year," said John Lamattina. "We've been strong all year and just haven't quite got the win but to get our first win I'm really happy and proud. But really happy for Phil to win the Championship."
"I'm happy with our ETs and really happy with the reaction times so it was a pretty good weekend all up. Thanks to the crew, Aaron (Hambridge) and everybody."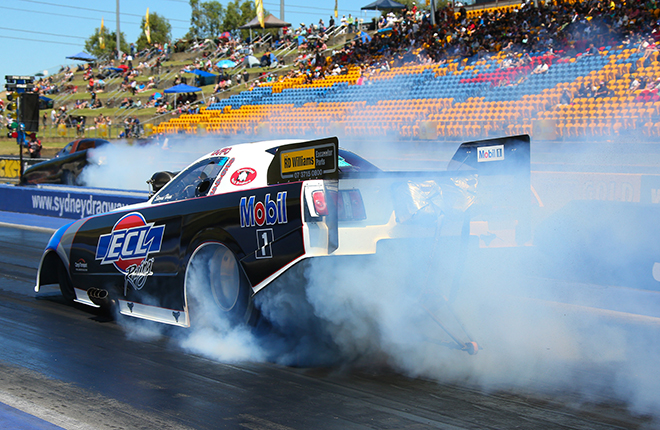 No one could have predicted the story in Top Alcohol Gary Phillips fialed to qualify for the first time in over two years. He watched on from the traps as Steven Ham did everything he needed to in reaching the Australian Nationals final securing a first ever Australian Top Alcohol Championship.
Ham defeated Wayne Price in round one and posted a perfect .000 reaction on the hit in his semi final victory over Russell Mills to lift the ANDRA Championship Gold Christmas Tree and break Phillips dominance.
The final was a rematch of the X-Champs in Sydney back in May between Ham and Steven Reed but this time both drivers got out of the groove, Reed scraping the wall whilst in the lead and Ham crossing the centre line.
As Reed touched the wall that meant Ham would claim a golden double with the Australian Nationals title added to his new Top Alcohol crown.
"The Championship is huge," said Ham. "This is the only year we've actually tried to run and did run every round of the Championship.
"We had a lot of bad luck early and we had a few wins toward the end of the season and it was a struggle toward the end.
"I've got a really good crew that have been with me for five years and we gel. That's what makes it at the end of the day but you've got to have good people around you to make the car happen.
"If you didn't have a good crew, go home."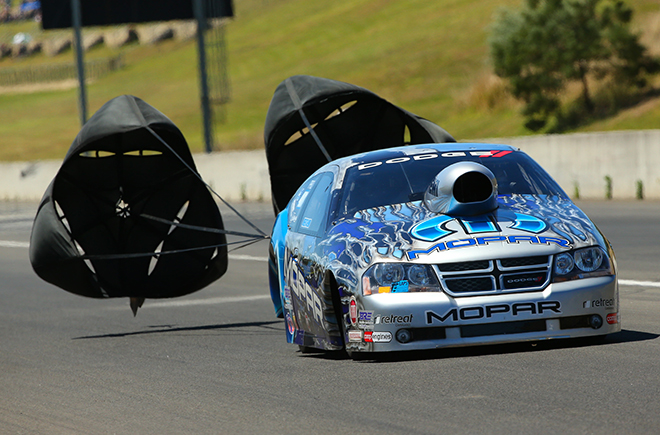 In Pro Stock records tumbled again as first Emilio Spinozzi ran a 6.937 ET at 196.62 mph before a 6.959 ET at 196.93 mph to reach the semi finals.
There he met Lee Bektash who recorded the quickest and, to this point, the fastest Pro Stock pass in Australia on a whopping 6.877 ET at 199.85 mph during a solo pass in Round 1.
That spectacular run came before a sketchy pass where only a great drive job kept his Dodge Mopar off the wall to advance past John Barbagallo in Round 2.
Spinozzi got loose crossing the centre line on what was shaping up as a great side by side pass while Bektash backed up his earlier record setting runs on a 6.911 at 199.11 mph to reach the final.
Bektash not only defeated Nino Cavallo on a 6.920 from a 6.985 in the final, but he did so by reaching a new record 200.14 mph to break one of the last barriers still standing in the sport of ANDRA Drag Racing.
"I feel pretty overwhelmed," said Bektash. "It's a lot of hard work for over twelve months.
To be rewarded with all the records, top qualifier, the win, it's a good way to finish off the season. It's healthy for the sponsors, there's no better way to give them exposure than to perform like that.
"We're over the moon. We've been up here a week. I've made eight finals in Pro Stock and only won two of them, the ratio is not real flash. If I win the next four it makes it even and I'll be happy with that."
All Aaron Tremayne had to do to wrap up his fifth Pro Stock crown was advance past the first round. He did just that but it came on a holeshot win against Bill Perdikaris with a 7.029 defeating a quicker but losing 7.027.
Tremayne then advanced past his brother Tyronne but joined his brother on the sidelines final at the hands of Nino Cavallo.
"It feels unreal (to win five Championships), said Tremayne. "It's a major team effort, from a family team.
"We've been doing a lot of homework trying to nut it out and obviously now we've got another benchmark to catch. It's a matter of time.
"We're wrapped, couldn't be happier. Losing to Nino this weekend, we made some horrible runs in eliminations so (I'm) a little bit disappointed on the weekend to how we ran because we should have run a lot faster considering how we ran at the Winternationals.
"But it is what it is, you learn from your mistakes and hopefully run better next year."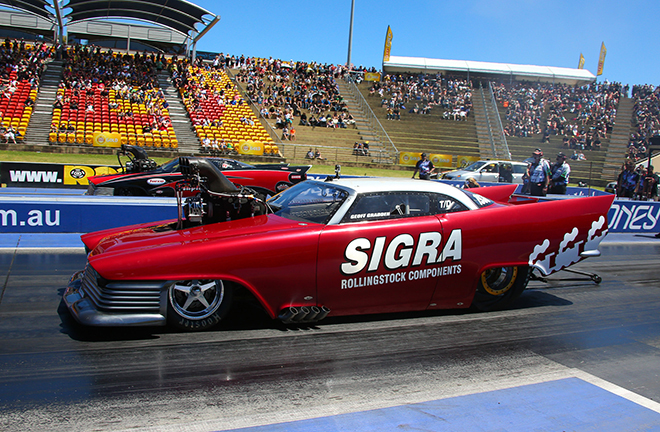 Top Doorslammer was an exhilarating affair as Geoff Gradden took out the number 1 qualifier Peter Kapiris before advancing to the final on a solo effort.
John Zappia would have been his semi final opponent but he got sideways and tagged the wall heavily on a solo pass ending his Nationals assault. Zappia was unhurt but philosophical about the damage.
Marty Dack defeated Grant O'Rourke before popping the supercharger in Round 2 while Stuart Bishop got way out of shape and hit both the left and right walls. Bishop emerged okay but hthe same cannot be said for his Camaro.
Gradden, competing in his first ever final in his first ever Top Doorslammer field, won his first ever ANDRA Gold Christmas Tree on a 6.031 ET from Dack who lifted the blower once again at half track.
"I can tell you the only part we broke on the weekend was the towing hook on the Ute, and that just happened when we came back," said Gradden.
"We're amazed. I knew we had a race car but it had to come together. It's come together for us this weekend and hopefully another time it will come together for us again."
"We're a low budget part time team. We beat a couple of professionals this weekend. It's just great to be apart of the show. We've been on the sidelines for many years watching and this weekend we were part of the show and that's great."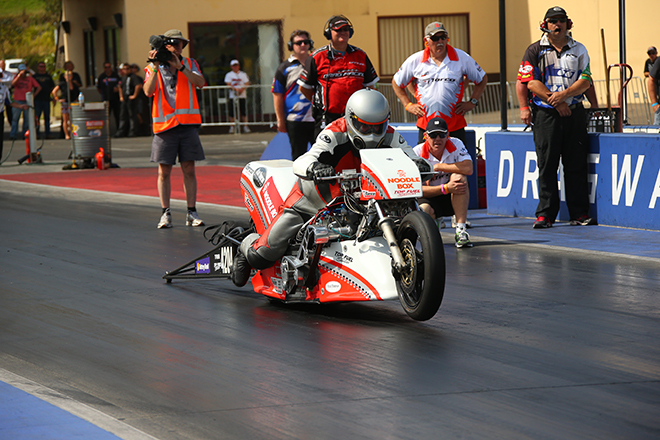 In Top Fuel Motorcycle, Gavin Spann picked up his first Australian Nationals title win since 1985 on a solo 7.540 ET.
His would be opponent, American Darren Guillory, was a no show due to a torched head in his earlier run against three time Australian Champion Chris Matheson.
Spann had earlier defeated Phil Parker to reach the final on the low ET of the day with a 6.915.
"It feels awesome. It's probably the easiest Nationals I've ever won," said Spann. "I've been racing since 1976 and although I had a break from 1999 to 2010.
"Last time I won the Nationals was 1985, a long time ago. The competition is always hard but this weekend there were a lot of breakages but stuff happens and I was virtually the last man standing."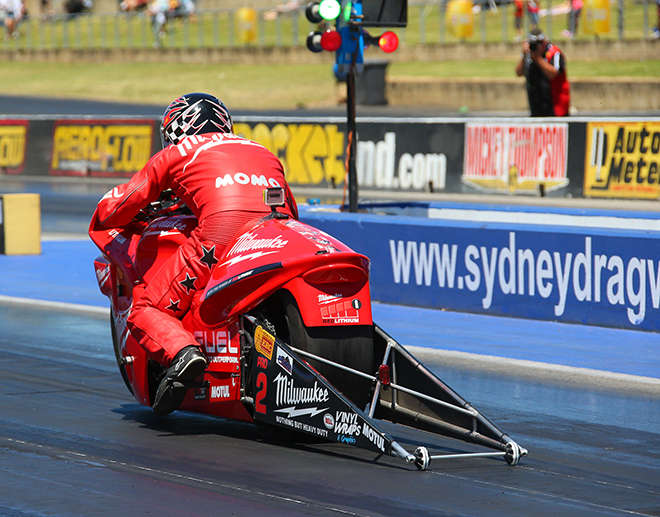 In Pro Stock Motorcycle Luke Crowley was unable to get his bike started in yet another match up with Maurice Allen who advanced straight to the final on the resulting solo 7.333 second pass. Scott White was his opponent after going solo on a 7.511.
Although breakages accounted for most of the field, Allen and White managed to show what Pro Stock Motorcycle is all about in a close encounter settled by a holeshot.
Allen's 7.297 ET from White's quicker but losing 7.264 was enough to get the job done and give Allen his first ANDRA Drag Racing Series round win in 2014.
"Many people were involved in this event and it's a shame due to the rate of attrition of breakages that the bracket was diminished, so it was important for all of us to put on a great show," said Allen.
"We had some technical difficulties in the earlier rounds and if it wasn't for Nathan Stone stepping up and helping us out today with a new ignition and shift light we would have been nowhere.
"Thanks to my sponsor Milwaukee Tools, my Dad (Peter Allen), Stewy, Steve my guys that have been with me all year. It's been a hard year, congrats to Luke (Crowley), he's done an awesome job and taken out the Championship.
"For me the goal this weekend was to win the Gold Tree and we've done that for Milwaukee, it's a great feeling. To win the Nationals is always the holy grail of Drag Racing."
The ANDRA Drag Racing Series now comes to an end for 2014 and will resume once again in January 2015.
For full results from the Australian Nationals please click here.
Images courtesy: dragphotos.com.au