When he claimed the 2017/2018 Summit Racing Equipment Sportsman Series Australian Title for the Competition bracket last month, Craig Geddes also made history.
By taking the title, he was the first racer in Australia to claim three back-to-back championships in the Competition class.
"To have won our third straight Competition Championship is an amazing feeling, and something our team is very proud of," Geddes explained.
"We set that goal for ourselves early in the season, but then went to the Grand Finals with a self-inflicted points shortage – we had decided to run our new Cavalier Super Stocker at the Rowe Memorial in which we won, but in the wrong class when it came to our championship chase! We also decided not to run at the penultimate round in Perth, as we were just too busy with work commitments.
"All of this meant that Ralph Lewis was way out in front of us on points, but then he did not race at the Grand Finals and that left Shane Baxter and ourselves to shoot it out for the title, all the while navigating through a mega-tough Super Stock field in the combined SuperComp bracket.
"Thankfully for us, Shane red-lit early in the piece and we made it through to the final to seal the championship deal.
"It was a real privilege to stand up in front of our fellow competitors, team members and supporters to receive the highest honours in Australian drag racing at the Grand Finals. It really is an amazing sport – I still remember in the early 90s going to watch every event at Heathcote and Calder with my now-wife Amanda, dreaming about one day being in a position to compete in any class – never did we think we could be so successful!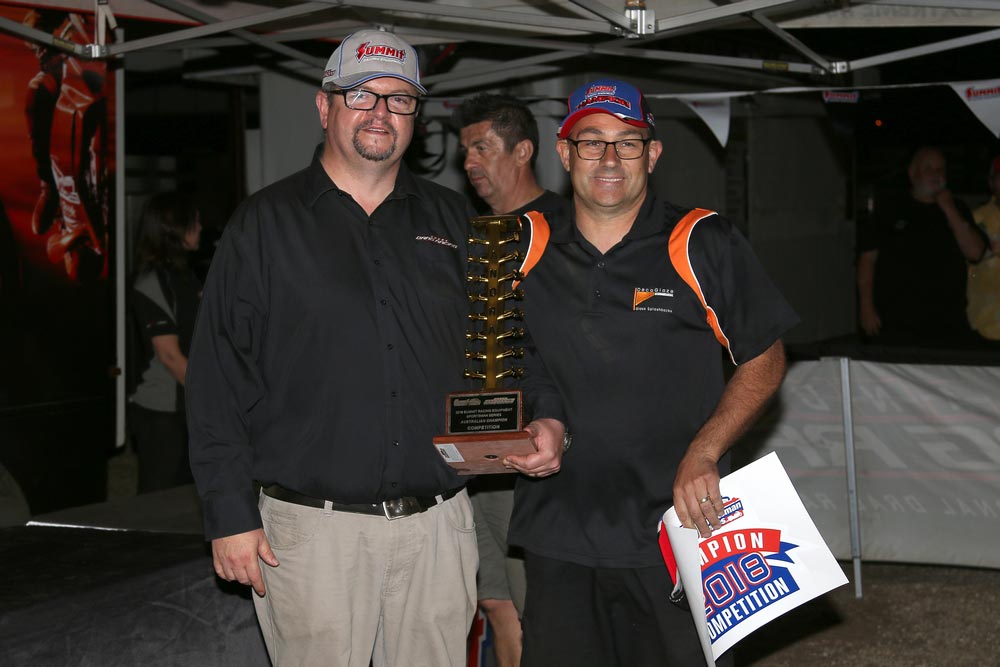 "This is not only our third back-to-back title, but our fifth in total – our first came in the Super Gas bracket in 1996 and then we took out Competition Eliminator in 2006 ahead of these last three (2016, 2017, 2018). From memory, in the 23 years we have been racing, we have never finished outside of the top five and we are pretty proud of that!
"We will be back for a full assault on Super Stock in the Cavalier next season, and we would love to win a fourth championship in a row – I guess some of the other competitors might have something to say about that though!" he laughed.
It is unsurprising to hear that Geddes has a long list of people to thank for playing a part in his journey.
"Our team and sponsors get on really well and always have a great time at the track and away from it – it is a fantastic space we operate in. It is important I think to really enjoy what we do on and off the track, and our success shows that," Geddes said.
"Firstly, and most importantly I have to thank my family – Amanda and the kids: Laura, Jesse, Charlie and Alexander.
"My team partners and crew Rob Martin, Michelle, Heppy, Ethan and Ross also need to be recognised, as do my sponsors and all-round good guys DecoGlaze Glass Splashbacks, Quicks Freight Express, JAX Tyres Ballarat, The Cleaners Room, Lucas Oils, Ballarat Roadworthy Centre, Laser Electrics Ballarat, CHS Broadbent Grain, Crane Cams, Bullet race Engineering, Custom Engines, Patterson Elite Racing USA, Protrans, Peter Ridgeway, Michael Marriot and Jamie Tanksley in the USA."
For more on the results from the ANDRA Grand Finals and the 2017/2018 Summit Racing Equipment Sportsman Series Championship, please click here.
IMAGE ONE: OUTLAW IMAGES
IMAGE TWO: MARK CUFFE, DRAGSSA.COM