One final day of racing is all that remains for the 2017/2018 Summit Racing Equipment Sportsman Series, with day one of the Grand Finals at Adelaide International Raceway now complete.
More than 170 sportsman racers took to the track for two rounds of qualifying today, with one final session of qualifying to be held for all of the Summit Racing Equipment Sportsman Series classes tomorrow morning ahead of eliminations racing in the afternoon.
Currently leading the way for their brackets are Colin Griffin (Super Gas), Mikey Naylor (Summit Racing Equipment Junior Dragster), Graeme Cooper (DENSO Super Street), Danny Rickard (Modified Bike), Leon Davies (Super Sedan), Simon Barlow (Modified), Paul Russo (Top Sportsman), Adam Murrihy (Supercharged Outlaws), Jim Ioannidis (SuperComp) and Tony Frost (Competition Bike).
In the DENSO Super Street bracket, Cooper – who is currently second on the points standings for his class – is refusing to count any chickens before they hatch.
"We are just out there swinging the axe. It is too early to call anything, we will just see what happens and keep going 'round and round'," Cooper explained.
"The car is doing well, it is performing exactly as expected; we more have to worry about the driver behind the wheel! I have to be able to do it tomorrow, that is the thing with this sport, you can go all year to get where you are, and then with one little mistake you can lose the lot. You can't win the thing on the first round, but boy you can lose it!
"I have been helping Jason Keily with his car this weekend and that is helping keep my mind off it all. We will just see what happens, hopefully at the end of the day we can take two Gold Christmas Trees home – that is the plan, we didn't come here for a haircut!" he laughed.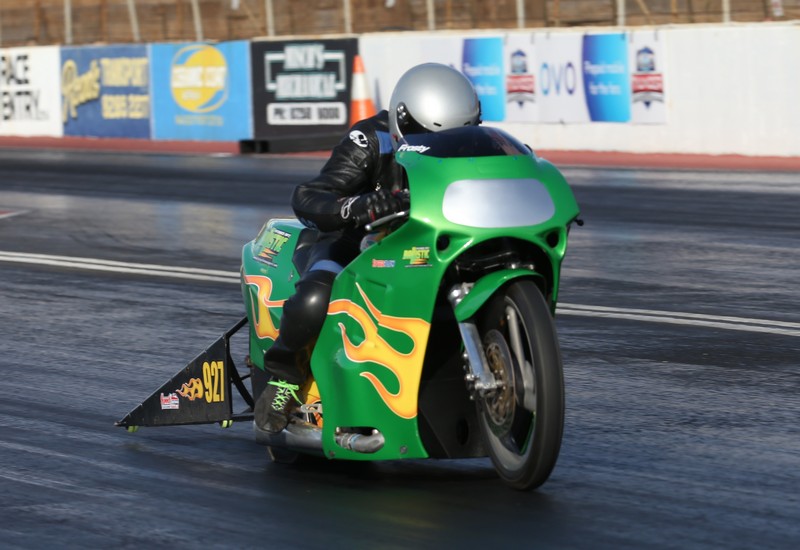 Another in contention for a Summit Racing Equipment Sportsman Series title but also not feeling confident is Competition Bike racer Tony Frost, who despite being on top of the qualifying ladder currently is battling with mechanical issues.
"It looks like we have damaged the gearbox, so we have to pull the motor out tonight and see what is wrong with it. Hopefully we can get back into it and give Rob a good run for his money," Frost said, referring to his fellow championship contender Robert Cassar.
"We will have to see what happens; we had some problems at Calder Park a little while ago and we thought we had fixed them…hopefully we can fix it tonight and come out for the eliminations, but it is going to be a long night!"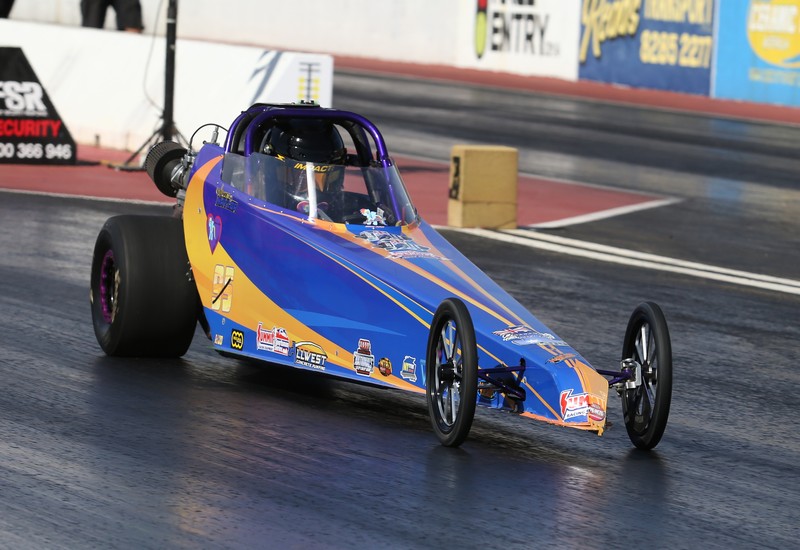 Feeling more confident than Frost is West Australian teenager Mikey Naylor, who currently leads qualifying in the Summit Racing Equipment Junior Dragster bracket. Naylor might not be in the running for a championship title this weekend, but this weekend is still special to the 17-year-old.
"It is going pretty good so far, my lights have been pretty good at the moment: a 0.22s is my worst light and a 0.14s is my best," Naylor said.
"This is my last Summit Racing Equipment Sportsman Series event in Junior Dragster, so it would be pretty special to take it out, but I am trying not to think about it!" he laughed.
"We are feeling pretty confident at the moment, I do have a lot of things on my mind at the moment but I will get rid of them for tomorrow. I am pretty good at the moment and pretty consistent with my lights, and the car is doing well, so I am pretty confident."
The final round of the 2017/2018 Summit Racing Equipment Sportsman Series will conclude tomorrow, Sunday March 24, at Adelaide International Raceway. A third qualifying round will be held for all brackets from 10.30am, ahead of the beginning of eliminations racing for the Summit Racing Equipment Sportsman Series racers from 12.55pm. For more information, visit www.andra.com.au or www.adelaidedragracepromotions.com.au/2018gf/#
For results, visit https://andra.com.au/series/results.html
PHOTOS: ABOVE: GRAEME COOPER, TONY FROST AND MIKEY NAYLOR, ALL CREDIT TO OUTLAW IMAGES
PHOTOS BELOW: ADAM MURRIHY, COLIN GRIFFIN, DANNY RICKARD, JIM IOANNIDIS, LEON DAVIES, PAUL RUSSO, SIMON BARLOW, ALL CREDIT TO OUTLAW IMAGES