Gary Phillips, John Zappia and Maurice Allen all showed their class in qualifying first in Top Alcohol, Top Doorslammer and Pro Stock Motorcycle respectively at the VPW Pro Series 1000 in Adelaide.
Three Queenslanders, Gary Phillips, Steven Reed and John Cannuli all touched up the Adelaide International Raceway track record over 1000 feet qualifying one, two and three as Phillips and Reed waged their own four second battle.
Phillips spun the tyres in Q1 but did enough in his second qualifier with a 4.727 then choosing to park up for the third qualifier and prepare for race day.
"The 4.72 was a frickin good run," said Phillips. "The first run it shouldn't have done what it did and we didn't get any data because the arm restraint got caught on the switch and flicked it (off).
"Cheyne (Phillips) wasn't happy but I said lets wing it, we know what we're doing right. We just said here's the deal, this is what it should have run and here you go.
"Steven Reed and I have got a whole thing going, we have for a hundred years! But everything looks good we'll go over everything and Lucas Oil gives us the perfect stuff."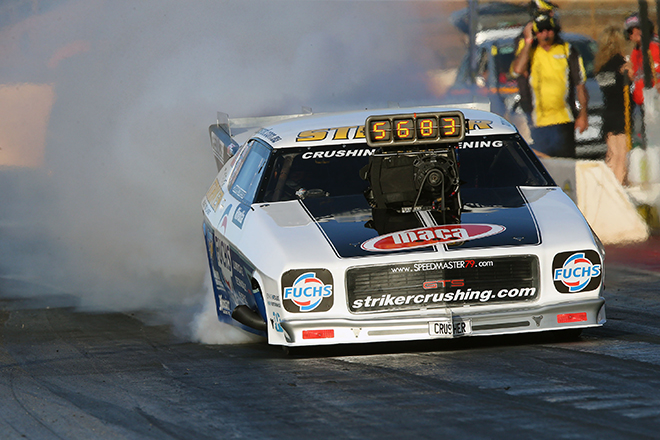 John Zappia sensationally catapulted from ninth to first in his final qualifying run of 4.882 bringing the crowd to their feet.
Having missed the second qualifier due to a broken throttle linkage on the burnout, Zappia found himself sitting on the bump spot and in danger of not qualifying.
He soon found himself out of the field as the session progressed before making that electrifying pass to snatch the number one and simultaneously push old sparring partner Peter Kapiris out of contention for Sunday.
"On the first run the car launched nice and straight in first gear and actually went further in first without rattling than it did in Perth," said Zappia.
"Then it started to rattle and I did a bad job of pedalling it and I knew the 5.262 wasn't going to hold.
"We were on the bump and thought, we're either going to get knocked off the bump which we did right in front of me, so it was yeah beauty nothing like a bit of pressure.
"But we got the Fuchs/Striker Monaro dead straight down the middle, the smoothest pass I've done in a long time.
"It was a little bit soft but hey, look at the time that's come out of it, it was like a 5.76-5.77 on the quarter mile. Pretty happy with that."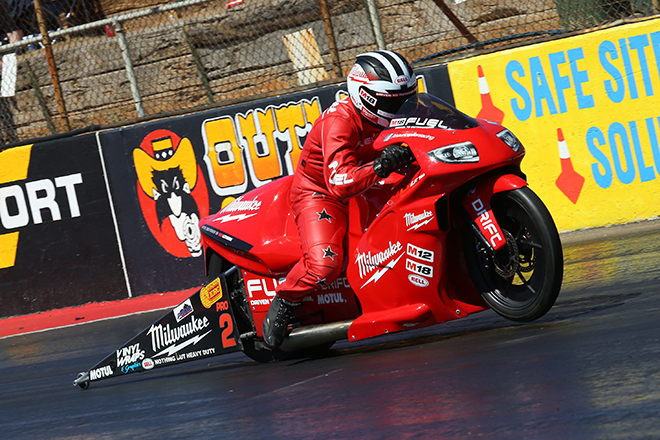 Maurice Allen was left a little baffled after qualifying first in Pro Stock Motorcycle when his 7.382 ET was enough to hold out close competition from Scott White and newcomer Ryan Learmonth.
Allen said he was confused as his team misread the track conditions running the same tune up that brought home an ANDRA Gold Christmas tree at the Australian Nationals in Sydney last November.
"We wanted to start off with similar numbers (to the Australian Nationals final) but 2pm, 30 degree heat on a Pro Stock bike it knocked it around a little bit," explained Allen.
"The main thing was to get down the track and the second run was dynamite. It went really well but the gust of wind got me at about 800-900 feet and took me straight over to the wall. I just shut the bike down and brought it off the wall.
"That was promising, I made a couple of errors but when you haven't raced for three or four months, these bikes operate in such a fine window it shows up pretty quickly if you're not on your game.
"I was probably a little bit off today. But it's been a good day for us, to be number one, a great crowd and they gave us a fantastic cheer on the way back. For our sponsors Milwaukee, Bell Helmets, Motul Oil and ERC that's what we come to do, put the bike on pole and start off the season with a bang."
ANDRA Drag Racing Series eliminations are scheduled for Sunday March 15 from approximate 12:20pm. Summit Racing Equipment Sportsman Series gets underway from 9am.
Images courtesy: Grant Stephens / Drag News