There were fireworks in the sky as well as on the track, but not even a thunderstorm or two could dampen day two of the Australian Nationals at Sydney Dragway.
The crowds weren't deterred as the thunder, rain and lightning came and went more than once during qualifying for the final round of the 2014 ANDRA Drag Racing Series, but the fans and track crew persevered to be rewarded by a dramatic Group One qualifying session.
With Championships on the line the action came thick and fast as Allan Dobson applied pressure to his own team when the throttle became stuck on the burnout in what could have had huge Championship implications.
Dobbo recovered in Q2 burning his engine to the ground on a 4.782 at 217.79 mph to qualify third and keep his Championship dream alive for another day.
Phil Lamattina snatched away the bonus points for low ET and top speed from Dobson by qualifying first on a 4.643 at 329.34 mph followed closely by his brother John in third on a career best 4.670 at 326.63 mph.
That effort extended the points gap between Lamattina and Dobson ever so slightly going into race day meaning Dobbo must advance to the final and Lamattina exit in Round 1 to see the Championship swing to Rapisarda Autosport International.
"At the moment we've got an extra 10 points," said Lamattina. "That brings us up to 43 points plus an extra couple of bonus points to we're up to about 45 points ahead.
"But that can evaporate pretty quick and he only has to make the final and we go out in the first round. We're not counting our chickens and we've still go to get past a tough first round. We've got to win and try and get into the final.
"Fingers crossed everything works out alright, meet John in the final again and hopefully try and wrap this Championship up.
"We knew the track would hold a mid-4.60 pretty easy and our cars always seem to find the mile per hour. They make big power in the top end. John went 326 mph and to watch that gives you confidence.
"We're wrapped, one and two, same as Adelaide but we just swapped it around a bit."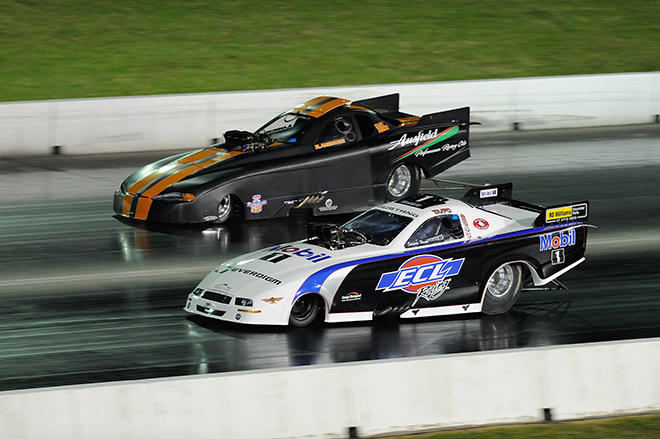 Amazingly 16-times Top Alcohol Champion Gary Phillips did not qualify for the Top Alcohol field for the first time in two years putting his bid for a 17th Championship in jeopardy.
That turn of events opens the door for Steven Ham to make what seemed an improbable run at making up the 61-point deficit to steal the title from under the nose of Phillips.
Helping his cause was a 5.643 second pass at 257.68 mph putting the ECL Racing Ford Mustang into second. Ham was pipped by Steven Reed to first on a 5.630 at 252.19 mph.
Should Ham reach the final on race day he will clinch a maiden Australian Top Alcohol Championship.
"We're feeling a little bit nervous as to what to do because we need to make the final to clinch it so we've got to race smart," said Ham.
"Gary is probably not in a good way right now. He probably thinks I've stirred him up a fair bit too."
"We'll see what tomorrow brings, we'll race smart that's for sure but we just need to repeat Darwin again and it'll be all good."
Following Reed and Ham is a trio of Dragsters, Fuchs Winternationals winner Jon Sting, Russell Mills and Brett White in third, fourth and fifth.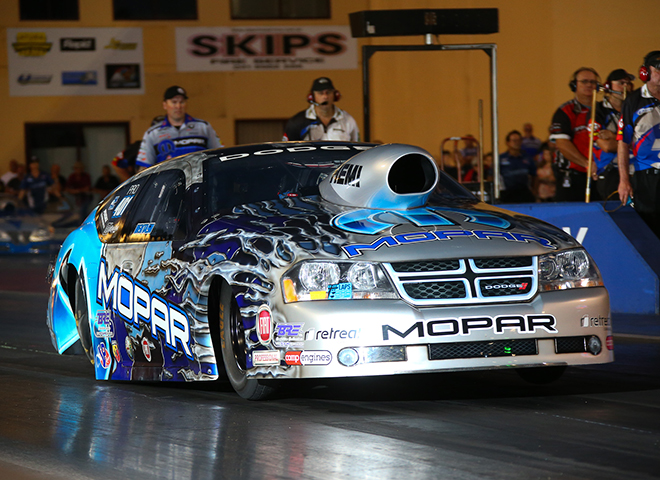 Lee Bektash had been on a tear in Pro Stock testing and repeated the trick in his second qualifier to run a 6.944 second pass, under the National record, at 196.56 mph to take the number one spot.
While everyone else flirted with low 7-second passes Bektash kept his Dodge Mopar straight and narrow to lead the field by over a tenth of a second.
"It's overwhelming," said Bektash. "We've spent a lot of time and money on research and development on this engine and we didn't think it'd be that good.
"It's better being first than last, we're happy. I'm lost for words."
"We've got to do the right thing, we'll go through all the procedures. This engine is really going to set the pace in Pro Stock for the next year.
"Bob Book from BRE Enterprises has taken this team to another level. We've been dealing with him the past 18 months now, world class."
Tyronne Tremayne raced to second spot on a 7.055 with Nino Cavallo one thousandth of a second behind in third on a 7.056.
Should Aaron Tremayne advance past the first round tomorrow, he will wrap up his fifth Australian Pro Stock Championship since 2008.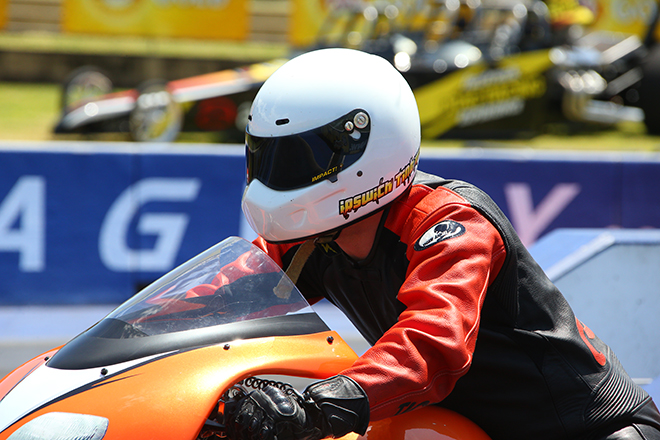 By making one qualifying run, Luke Crowley was able to secure enough points to wrap up a second successive Australian Pro Stock Motorcycle Championship.
It came at a cost though with heavy damage sustained to a piston and although that tempered his enthusiasm somewhat, he was still excited to win ANDRA Gold once again.
"Over the moon to get back to back championships," said Crowley. "We were striving all year for a perfect season and at this point we've made every final.
"We were the quickest bike all year apart from Scott White's pass at the Spring Nationals.
"We pushed the bike all year and compared to last year we've had breakage after breakage, which a lot of it we kind of knew was going to happen but some of it has been oddball stuff that has caught us out."
"In the offseason we'll go back, pull the bike apart and probably put in a brand new bullet to start next year and get the other two engines back to where they should be and find our consistency."
Scott White qualified first on a 7.400 second ET from Luke Crowley's troubled 7.505 and Maurice Allen with a 7.534. Dennis Ackland staged the Jason Grima Buell but was unable to make a pass.
Peter Kapiris re-found his form in Top Doorslammer leading the field after Q1 in hot conditions with a 6.032 ET. But it was in Q2 where Kapiris put on a show with a 5.790 second pass at 257.09 mph as conditions cooled.
Stuart Bishop put his 67 Chevy Camaro into second on a 5.954 ET at 235.31 mph from Marty Dack in his Ford Falcon with a 6.033 at 240.51 mph.
John Zappia dropped from second to fourth by the close of qualifying after a snaking run near the wall meant his earlier 6.076 second run stood as his best of the day.
Finally, American Darren Guillory claimed the number one spot in Top Fuel Motorcycle riding the Suzuki Timblin owned by Rod Barchett. Guillory qualified on a 7.057 second pass at 191.40 mph from Gavin Spann and Phil Parker.
2013 Champion Chris Porter continued his troubles detonating another engine on the hit of the throttle after experiencing the same issues at the Fuchs Winternationals and in testing leading into the Nationals.
Eliminations commence tomorrow from 9am at Sydney Dragway. For more information please click here.
Images courtesy: dragphotos.com.au (top, 3rd, 4th), Fred Dwyer (2nd)