Alice Springs local Cody Hodgins will make his Summit Racing Equipment Sportsman Series Super Street debut at this weekend's Desert Nationals.
The Hodgins family have been a part of the Alice Springs drag racing scene for many years, with Cody's father Dan racing a Supercharged Outlaws Funny Car while his mother Josie is preparing to compete in a Modified altered later this year.
"It is mainly a drag racing family," Cody said. "Dad has done a lot of racing and Mum has raced her street car a bit and will be going faster very soon in a car we are building now. We're going to bring us all under a new name – Hawkeye Motorsport.
"I did some speedway, and now my main sport is off-road racing. There is a local track about 40km south of Alice Springs with sand dunes and big corners, similar to the Finke Desert Race. At the moment I have just been navigating, but I bought myself a crashed car at the end of last year which we have stripped down and rebuilt."
Cody is a former Junior Dragster driver, but his machine of choice for the Desert Nationals will be a Holden VY SS Commodore ute the family recently purchased. Dan asked Cody to race the car this weekend, though he perhaps had some ulterior motives in mind given Cody's off-road persuasions.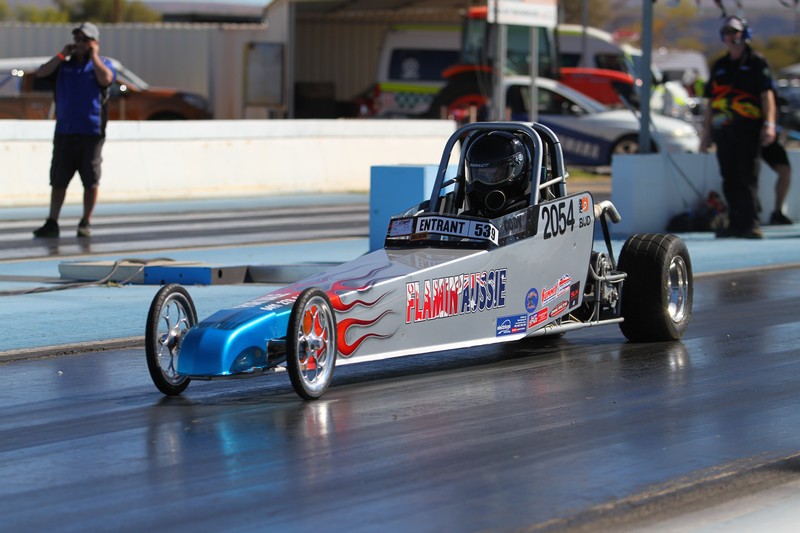 "I wanted to get the young fella back to drag racing!" Dan said.
While Super Street is actually open to race-only cars, Cody said the Commodore definitely fits the street mould.
"It is currently a street car but we are debating if we should make it a full drag car," Cody said. "Hopefully I can get out there and be consistent; we will do as many passes as we can. It's going to be even harder because it is a manual, so staying consistent while changing gears can be a real challenge. You almost need to make changing the gears slow rather than fast, so you can be smooth."
"There are a lot of other competitors in the field who have been racing for a long time. I have some good memories from racing the Junior Dragster but this is a new test!"
The Summit Racing Equipment Sportsman Series brings an influx of Australian drag racing talent to Alice Springs each year, alongside the spectacular Top Doorslammers of the Australian Drag Racing Championship. Cody said there is a different atmosphere at the track for a national round.
"It is a big event, and it is good for the town," he said. "We get more spectators and more racers out there. I haven't raced on the quarter-mile before besides a few runs at a street meet in my Hilux, and I normally only drive the Commodore to school, so this will be a great meeting."
The Desert Nationals at Alice Spring Inland Dragway begins on Saturday, July 24 with qualifying from 11am. Race day takes place on Sunday, July 25, also commencing from 11am. The event includes the second round of the Australian Drag Racing Championship and the Summit Racing Equipment Sportsman Series.
For event information, go to www.cadra.com.au or www.andra.com.au.