It may have been over a month since he took out the Summit Racing Equipment Sportsman Series Australian Title for the DENSO Super Street bracket, but South Australian Harry Harris is still buzzing.
"I don't think it will settle in until the next Summit Racing Equipment Sportsman Series season starts really," Harris said.
"Having said that, I have been able to enjoy a couple of races at Whyalla Dragway since taking the championship out, and it was a real buzz to be able to run the number one on the car, that is for sure."
Harris' breakthrough Australian title comes as a well-deserved reward after a number of years spent in its pursuit.
"This is certainly a very exciting time for my team and I. We have been chasing the title for a few years and it has felt like we have been knocking on the door of the championship for some time, but now we have finally got there," he said.
"When it came time to receive the trophy, I was pretty speechless – no matter how many times I stand in front of a crowd, I never know what to say, and this was no different.
"To be honest I don't really remember how the presentation unfolded, I was on such a 'high' with the excitement of it all. It was really good to be able to thank all of the people who have helped me along the way in front of such a supportive crowd."
Harris' road to the Australian title wasn't an easy one by any means.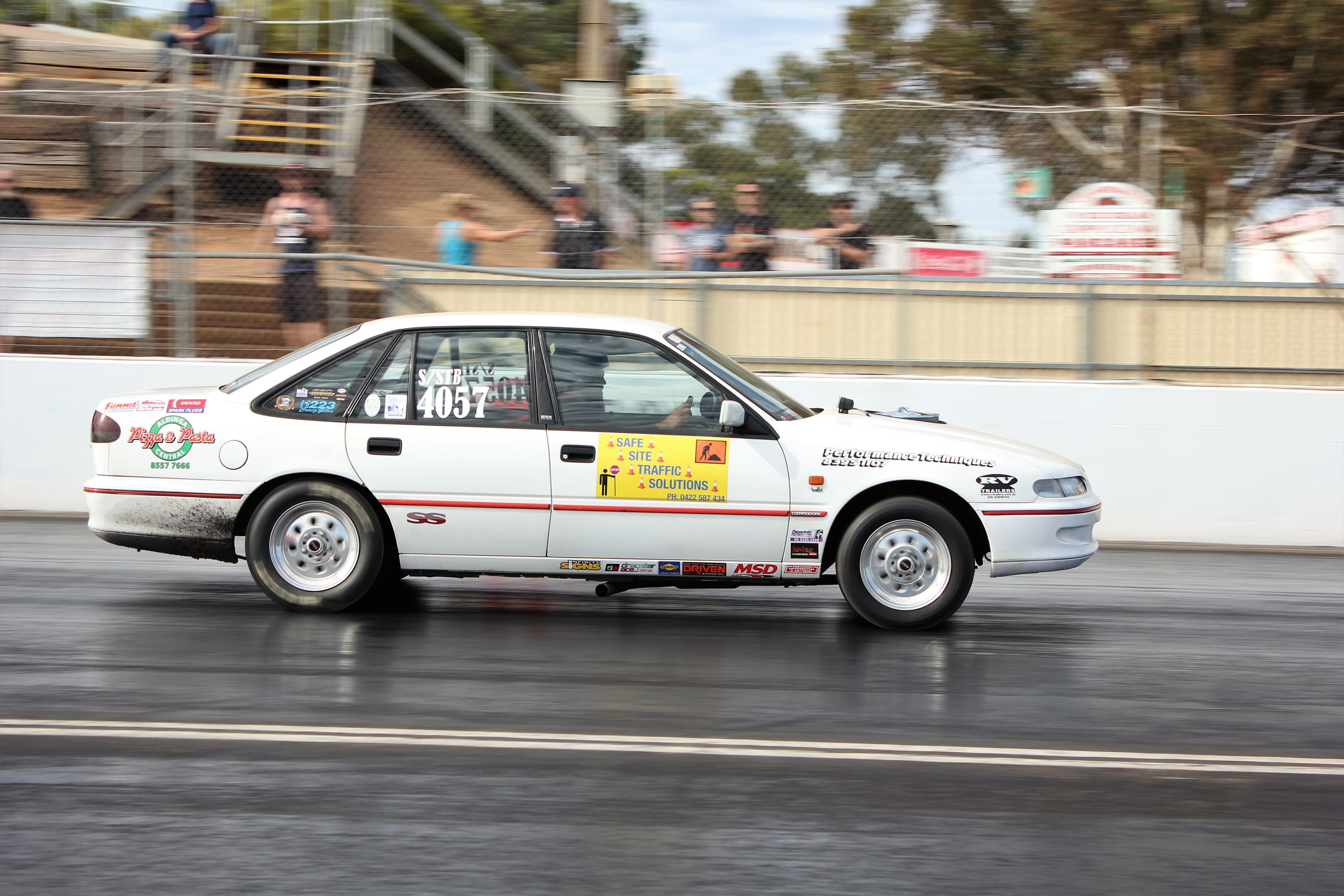 "It is always challenging for us to get to the rounds to begin with as we always run on a shoe string budget," Harris explained.
"We managed to start our season off in Alice Springs, with a really tight run against Robyn Phillis in the final.
"From that high point where we also gathered 50 percent bonus points, we went to Mildura where we left as the 'first round runner-up' after racing Graeme Cooper," he laughed.
"From there we went on to race in Adelaide and Portland, accumulating some good points along the way while making the semi-finals at Portland's South Coast 660.
"John Kapiris, Graeme Cooper and myself shared the points lead across the year, with Cooper especially having a couple of good wins.
"In the end it came down to Cooper and myself, and I was really pleased that we were just able to keep a straight head and focus on each pass all the way to the title."
Mindset was certainly a key factor in the title battle, with Harris finding a silver lining in the severe wind which impacted the running of the final race day for the 17/18 Summit Racing Equipment Sportsman Series.
"I was anxious to make sure that I got the best out of myself on the day, but when it came time to go racing the weather and the changed format did help as a distraction to keep my mind off the points and more on when and how we were going to go racing!" Harris said.
"Having the points lead during the weather break was certainly helpful and left me with a bit more confidence too.
"Once we got underway, the car went fine. We faced off against the top qualifier Robyn Phillis in the first round which was a bit nerve-wracking as I knew I had a real challenge ahead of me. If they had re-seeded the class, it would have been Graeme and me racing each other in the first round which I would have loved – we could have ripped the band-aid off nice and early! But as it was he had a bye before going out in the second round and I was able to make it through all the way to the quarter-final to take out the title."
Now, the DENSO Super Street Champion is looking for new partners as he formulates his title defence across the 18/19 Summit Racing Equipment Sportsman Series season.
"We are looking to start our season once again in Alice Springs, and hopefully we can then follow the calendar down and do as many rounds as we can," Harris said.
"If we can afford to do it, we certainly will – we are always looking for sponsors and hopefully we can have a few more come on board to help us really throw everything at defending the title this coming season."
While he may be looking for sponsorship, there are still plenty of people Harris has to thank for their help to this point.
"My father Harry Harris needs to be thanked first and foremost – he is my crew chief, and when I come back from a pass he attends to the car and does everything to turn it around so all I have to worry about is driving and dial-ins. Without him, we couldn't be doing what we do," Harris explained.
"I also need to thank Peter Schafer of Performance Techniques for taking care of the engine and componentry for me, he has been with us since day one and with his mechanical help and advice we have now accumulated a few ANDRA Christmas Trees.
"My thanks also goes to Mark and Maxine of Huntsman Racing for the transport; Safe Site Traffic Solutions; RV Trailers for keeping us on the road; The Boathouse Tavern; and Marine Tyres."
For more information on Harry Harris' racing, please click here.
For more on the results from the ANDRA Grand Finals and the 2017/2018 Summit Racing Equipment Sportsman Series Championship, please click here.
IMAGE ONE: BY MARK CUFFE, DRAGSSA.COM
IMAGE TWO: BY CARA BERTOLI