Following a high-pressure season, defending Top Sportsman Australian Champion Jason Arbery is readying himself for the final stand of the 18/19 Summit Racing Equipment Sportsman Series season.
The reigning champ and John Storm Memorial Award winner is one of four racers sitting on maximum points for the Top Sportsman bracket (alongside Darren Saliba, Ricky Smith and Vlado Turic) heading to the ANDRA Grand Final; which will be held at the Perth Motorplex across April 6 and 7.
"There has been pressure all year for me after winning the championship last season which has taken a little bit of getting used to," the Mount Gambier (SA) racer said.
"Obviously whenever anyone lines up against the number one in any bracket they try their absolute best and I have certainly noticed that pressure.
"As far as the pressure I am feeling heading into the ANDRA Grand Final, it is the same as last year I guess in that you can forget about the whole season now, we are at the pointy end and it all comes down to this last meeting.
"I am a bit lucky in that I do already have a championship under my belt which is what a lot of people strive for, so the desperation to get it probably isn't there, but we will still be just as hungry as last year.
"My competition are all guys that you always need to bring your A-Game to; they will put you on the trailer as quick as look at you. I have a slight advantage with bonus points, so if we can get through the first couple of rounds we will be well on our way to defending the title.
"A lot can happen in the first round though so we are certainly not too confident, but we are as confident as anyone can be. Everyone will try their hardest, myself included, and what will be, will be."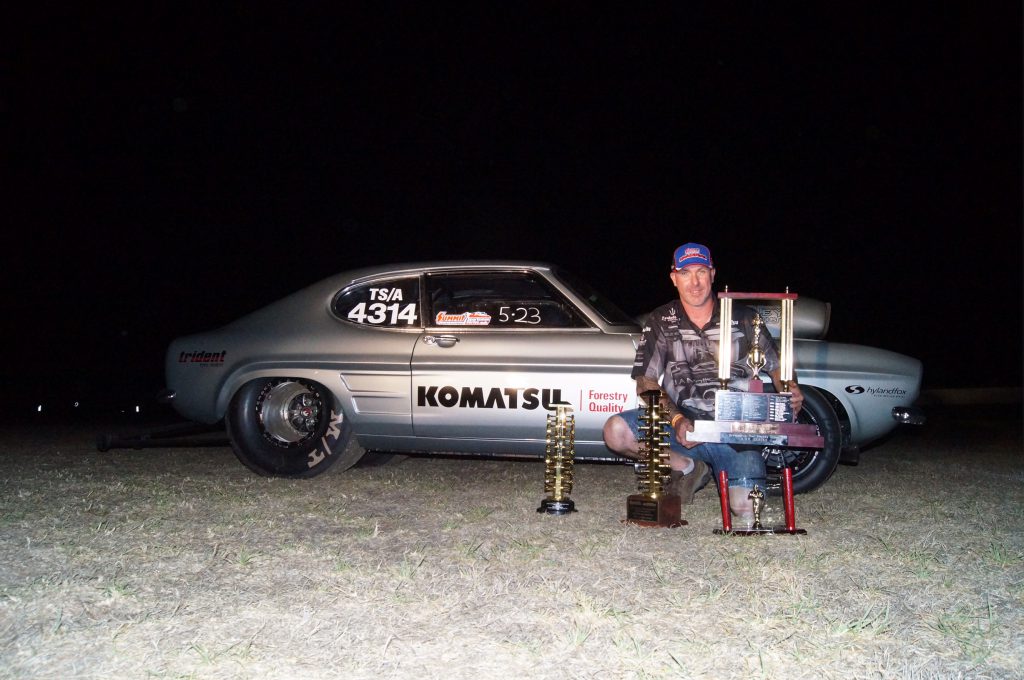 When it comes to his pre-Grand Final preparation, the South Australian racer will have to wait until he returns to Perth as his Ford Capri and all of the associated gear remains there following the penultimate round of the series (Westernationals, March 2/3).
"The routine ahead of this round in theory is much the same as always, but the thing is that the car and all of the gear is over in Perth still after the Westernationals, so I can't just go out into the shed and double check things," Arbery said.
"Everyone from this side of the country is in the same boat though.
"The Perth Motorplex is the best place I have been too, I haven't raced at a place like that or at a meeting run so well in a very long time. The Westernationals was my first event in Perth and it just ran so smoothly, it is an amazing place.
"It has been a good year, and I really need to thank my wife and my family who have been behind me all of the way. I also have to thank my crew, you can't do this on your own and they take time away from work and from their families to help me. I can't thank them all enough, and in particular Mick Pfitzner, Phil Busbridge, Josh Gosden and Ken Moore. There is a lot of other people in the background as well, it is a big long list of too many to name, but I really appreciate everyone's support.
"Thanks must also go to my supporting sponsors, Komatsu Forrest, Shannons Insurance, Trident Tyre Centre, and Hyland Fox Signs."
The ANDRA Grand Final will host the final battle for the 18/19 Summit Racing Equipment Sportsman Series at the Perth Motorplex across April 6 and 7. For more information, visit www.andra.com.au or www.motorplex.com.au/andra-sportsman-grand-finals/