In her first round of the 2015 Top Alcohol season, ex-pat West Australian turned Brisbane-resident Debbie O'Rourke has punched out a personal best pass at the Perth Motorplex at the weekend.
Debbie was on-track at her original 'home track' alongside Top Doorslammer racing husband Grant O'Rourke for the 44th Westernationals, laying down the 5.651 second PB pass in the second of three qualifying sessions for the event.
The effort saw her qualify for an exceptionally tough Top Alcohol eliminations field, despite her decision to not complete the third available qualifying run.
"The track conditions on both Friday and Saturday were very good, and we were pleased to see our qualifying get off to a good start with a 5.75 second pass before we were able to achieve my new personal best elapsed time of 5.651 seconds in the second qualifying round," said Debbie O'Rourke, who along with Grant and the OMS crew hosted 40 guests from OMS supporters Total Eden and Hitachi Construction Machinery in the Perth Motorplex corporate area and OMS pit area on Friday evening.
"While I elected not to complete the third qualifying pass as I was not a hundred percent happy with the engine during the burnout and instead decided to shut it off, the previous efforts meant we were able to qualify for what was a highly competitive field of Top Alcohol racers in Perth this weekend.
"This saw us line up against Rob Pilkington in the first round of eliminations, where we experienced tyre shake at the top of first gear and forced me to pedal the car hard to regain control. While I was unable to recover to take the win, the weekend has been exceptionally promising for us especially given that we are running a new fuel and clutch combination in my car, and I can't wait to see what we can put together for the next round in Adelaide."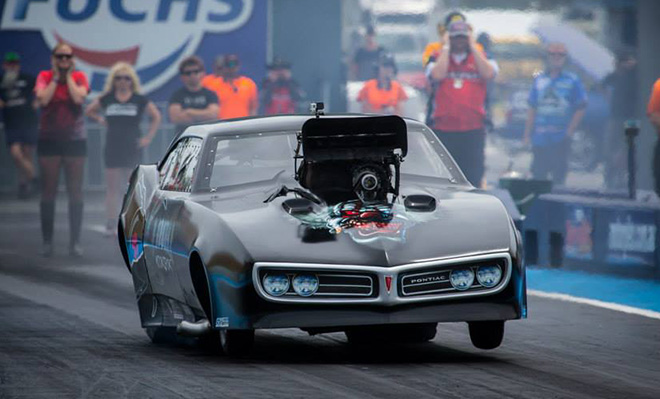 While qualifying may have gone well for his wife, for Grant O'Rourke it was another story, with engine damage in the second and third sessions seeing his solid first pass not enough to qualify for the field – missing out by just two one hundredths of a second.
"With oil downs by other entries early in the night on Friday, the program ran late and that saw our third qualifying session postponed to Saturday morning," said Grant O'Rourke, who along with the entire Top Doorslammer field was running a special heart decal emblazoned with 'Bonnie XOX' on his Doorslammer this weekend.
"While our first pass was good enough to be sixth fastest for the eight car eliminations field after the second session, on Saturday morning with more good conditions and engine damage for us, I was bumped out of the field to ninth by some great passes from the other competitors.
"We increased the compression in our engine before this round to create extra power, and when you do that you need to also increase the amount of fuel that you run. Unfortunately when we got to the half-track distance on both the second and third qualifying runs the engine was leaning out (not enough fuel) and it saw us blow the burst panel out of the blower on both occasions.
"While that certainly didn't go the way that we wanted, I still took home a trophy – securing the longest distance travelled award!" laughed Grant.
"I was also proud to be able to carry the Bonnie sticker on my car this weekend as I know my fellow Top Doorslammer competitors were. Bonnie is a long-time Top Doorslammer official who is close to all our hearts, and has just returned this weekend from her third trip to Singapore for Hematopoietic Stem Cell Transplant treatment for Multiple Scleroses following her diagnosis four years ago. The entire OMS crew is sending our best wishes to her as she continues her recovery from treatment."
Originally, the husband and wife drag racing team had planned to drive the O'Rourke Motorsport transporter and both cars back to their Brisbane base following this event, ready for Adelaide's upcoming next rounds for both racers. However, with the damage sustained to Grant's Doorslammer, such a move would have seen the engine unable to be fixed in time for that event.
In a great show of team work and comradery, many of the OMS crew (who are based in Perth) have insisted that the OMS Transporter and race cars stay in Perth for them to service and completely repair ready for Adelaide, in a move that has touched both Debbie and Grant deeply.
"The offer by our Perth-based crew to host and work on the car over the coming weeks to get it ready for the next round is a really big deal for them and for us, and we couldn't be more thankful to have such a dedicated and caring team around us," said Debbie O'Rourke.
"Andrew and Chris Fowler, Perry Maxwell, Kelvin Baker, Clinton Anderson and David Sullivan all deserve our heartfelt thanks, and we will be doing everything we can in Adelaide to make sure their efforts are rewarded!"
Taking out victory in the Top Alcohol bracket this weekend was Gary Phillips while John Zappia claimed the top honours in Top Doorslammer.
Next up on the Top Doorslammer and Top Alcohol calendar is the Pro Series 1000 event, to be held at Adelaide International Raceway across March 14 and 15.
Images courtesy: O'Rourke Motorsport