The Fuchs Winternationals will play host to American drag racing star Cory 'Cory Mac' McClenathan when it hits Willowbank Raceway next week (4-7 June), with the two-time NHRA champion confirmed today amongst the event's 10-strong Top Fuel line-up.
The two-time US Nationals event champion (1996 and 1999) has twenty years of Top Fuel racing expertise behind him, and is one of only six drivers to win all three consecutive events of the prestigious 'Western Swing'. He was the first driver to break the 320 mph barrier (approx. 514kmh) in NHRA (the United States' primary drag racing sanctioning body) history and also the first to break their 4.80 second elapsed time marker over the quarter-mile
This will be the second time the Indianapolis-based racer – who boasts more than 500 round victories and more than 34 event victories at home in the NHRA – has entered for the Fuchs Winternationals event. He will compete with the Rapisarda Autosport International (RAI) team.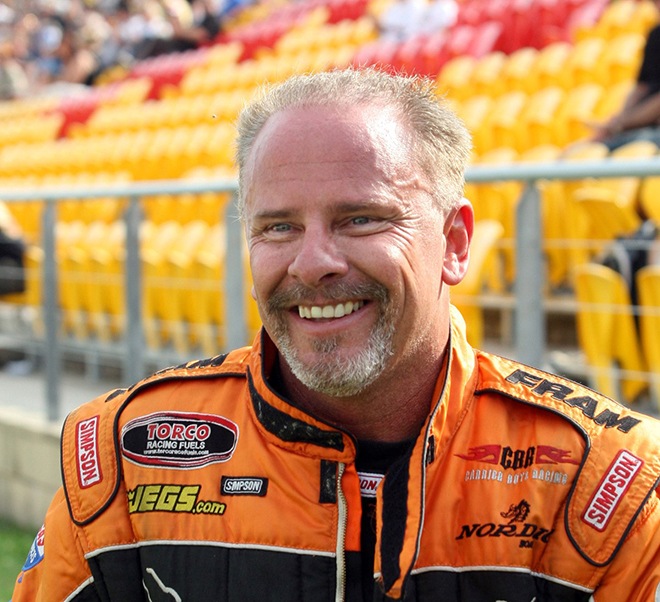 "I love coming over and racing in Australia – the fans are great, and while the tracks are all news to me I have been getting to know them fairly well over the past few years, and the competition is always tough," said McClenathan, who has raced at a number of Australian events over the years as part of the RAI team, which competes both in Australia and in the NHRA.
"I have only run at the Winternationals once and it was rained out so that was a bummer, because it can be a very fast track being at sea level.
"I am really excited to race for Santo and the boys again and look forward to working with Lee Beard, as well as seeing a lot of people that I have met in the past."
McClenathan will be the third driver for the Rapisarada Autosport International Top Fuel team, alongside reigning event winner and current championship leader Damien Harris, and former Top Alcohol champion Wayne Newby.
"We are really looking forward to having Cory Mac as part of our driver line-up for the Fuchs Winternationals," said team owner Santo Rapisarda.
"Cory is a great driver and is a perfect addition to our line-up. This event is always a big one, and we are ready to challenge for the victory and the Top Fuel championship!"