Vlado Turic is the latest Super Sedan racer to have an eye on joining the ever-growing Top Sportsman ranks but not before he tries to knock 4-time Super Sedan Champion John Kapiris off the mantle.
The South Aussie pair has already faced off once this season in Darwin where Kapiris won the race with a .002 second reaction time and a near perfect dial in.
The battle will resume at Mildura Sunset Strip on October 22-23 but for Turic the focus is to win his first ANDRA Christmas Tree and be in contention when the Grand Final rolls around in April 2017.
"To beat Johnny Kapiris – you need positive thinking, consistency, be switched on and for everything to come together on the day. And a bit of luck helps!" he said.
"Super Sedan is a relatively hard bracket, it always has a large field with some really good competitors. You definitely need a very reliable and have a consistent car and the driver needs to be switched on.
"I believe that Drag Racing is like an apprenticeship it takes years of seat time – learning and consistency to become a great racer."
That is a lesson is he is passing onto his son Tommy who will come full circle in Mildura having begun his Summit Racing Equipment Junior Dragster licencing at the Sunset Strip in December last year before completing the process at the season Grand Final in April.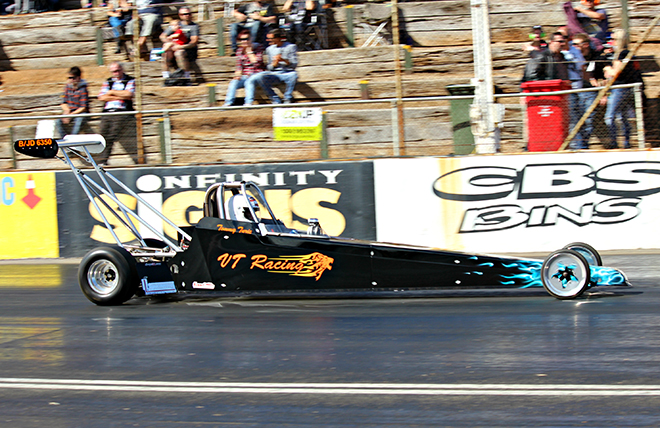 Tommy is racing under the VT Racing banner in a B/JD half scale Top Fuel car that his father Vlado surprised him with on his birthday.
"I will run this season with my JD combination, I have to get more seat time and improve my consistency and reaction time on the tree, before I step it up with a new motor," said Tommy.
"My dream after Juniors is to go into Super Sedan and run my Dad's XY Gold Falcon. After that who knows?"
The father/son duo plan to race at the next five Summit Racing Equipment Sportsman Series events hoping to tick that first ANDRA Christmas Tree off the list.
That could come sooner rather than later following a red light plagued 2015/2016 season for Turic senior with the problem now been rectified.
"Unfortunately I was red lighting for most of that season but we finally sorted that issue out. The tow hitch under the car was actually breaking the beam. We rectified the problem and now no more red lights.
"For myself though it was still a pretty good try for a first season (chasing Championship points). I qualified number 1 five times and won Best Presented Car and Crew but still the elusive Christmas Tree has escaped me.
"This season my aim is to concentrate on consistency and hopefully take home a trophy.
"Thanks go out to Huntsman Racing for putting the car together, all the maintenance between meetings and transporting the vehicle to the tracks, and Maxine for crewing, cooking and now for being part of Tommy's crew."
Qualifying for Round 3 of the Summit Racing Equipment Sportsman Series at Mildura Sunset Strip commences from 10am – 5pm on Saturday October 22. Cut throat elimination racing begins from 11am – 4pm on Sunday October 23.
For more information please visit www.sunsetstrip.org.au
Image credits: Grant Stephens / Drag News Australia (top), Cara Bertoli (middle)