The weekend's South Coast 660 has plenty of success stories, but it also has a tale to tell when it comes to the true community spirit so often shown by the Australian drag racing community.
After a huge effort to even get to South Coast Raceway in light of Brisbane's COVID-19 lockdown, on the Saturday afternoon Supercharged Outlaws championship contender Christine Steffens looked sure to miss out on any running on Sunday's race-day after destroying a gearbox in the third and final qualifier of the day.
However, a keen group of racers would have nothing of that, banding together to make sure Steffens could return to the racetrack Sunday morning. While race day may not have turned out how they may have hoped, you still cannot wipe the smile off Steffens' face when she talks about her gratitude for the outpouring of support she and her team received in Portland.
"Our first qualifying run was normal although the crew said it looked like I had to drive it, but the car felt fine. In the second one, I had massive tyre shake at the top end, so I had to get off it a bit early. Ricky (Steffens' husband and crew chief) and I discussed what we needed to do to sort the shake out and when I launched on the last qualifier, it felt great for about 60 feet," Steffens explained.
"But then came a big free rev. After that the engine still sounded okay so I was not sure if I had just gone up in smoke on the startline, so I tested to see if I had any drive and there was nothing – I knew at that point I had done a gearbox.
"We have done a couple of input shafts over the years and the gearbox was checked and rebuilt a couple of years ago, but the planetary shaft looked good so wasn't replaced at the time. The gearbox has never really given us any real big issues and our dragster is normally so reliable, so it was quite a shock and I felt bad for holding up the racing as I never like to do that.
"To say what happened next was a mammoth effort is an understatement. As far as I was concerned my weekend was finished – it was an effort just to get the car off the racetrack as the gearbox had locked up, so we had to put a jack under the diff and gingerly tow it around the return road, where we had to pull the back wheels and tyres off and remove the axels just to tow it back to the pits.
"But then the next thing we knew, (ANDRA CEO) Brett Stevens was in our pit introducing us to Paul Rogers Snr and the boys were pulling the gearbox out while Paul Rogers Snr was on FaceTime as they looked to see if they had the parts at Paul Rogers Performance Transmissions to replace the planetary gear set.
"Paul Rogers Jnr then drove over three hours from their base in Bacchus Marsh with the parts we needed, arriving at 11.00pm. Shane Wynd who was pitted next to us also came over with a host of fluids and parts they had on-hand just to help us out.
"I went to bed at midnight and they tell me that after drilling a hole in my table to set the gearbox into, Jnr got the gearbox back together and was finished around 1.30am. The boys then put the box, diff and everything else back in and on the dragster and got to bed themselves around 4.00am.
"Come the morning, we fired it up and tested in the pits and it all seemed to be working okay – as I am not used to the car misbehaving, it is safe to say I was pretty stressed.
"Without a test down the track I was nervous of course ahead of round one, but the dragster behaved so well in the burnout I did feel some relief and thought, 'maybe we can do this!' I actually smiled to myself while reversing back.
"Unfortunately, it appears that the transbrake didn't hold under revs and I pulled through the lights and that was us done. Or possibly, I just lost the plot and stuffed up. We will be pulling the gearbox out and checking it and getting the converter cleaned out just in case some small bits of metal still remain from the breakage.
"I am of course disappointed for all of the people that put in so much work that I wasn't able to make it any further, as I really wanted to make good for them.
"But while I am disappointed we did not get past round one, I am just so appreciative of the support I was shown and all of the assistance I was given.
"I am stunned actually that Paul Rogers Jnr drove all that way and I feel really bad that I couldn't get to the final to say thank you and give them a big plug at the trophy presentation, they certainly deserve it.
"Paul Rogers Performance Transmissions have a very good name in the industry for gearboxes and I feel so blessed to have had them do all that they did for me. I cannot thank Paul Rogers Snr and Paul Rogers Jnr enough for giving me hope and for proving that as a bunch of drag racers we really are a pretty good group who will go out of our way to see a fellow competitor back on the track. They really were amazing.
"I also want to thank Ricky as without his drive and determination I would not have even been going to Portland; Peter Mazzer who flew all the way from Cairns to chip in when our local crew were banned from Victoria for being in a Red Zone, Shaun 'Slim' Kinnane for forfeiting sleep for most of the weekend to get to Portland and then work almost all through the night to get us back on track Sunday, and all of the racers who stopped by to wish us well or who offered us parts, including our neighbour Shane Wynd.
"While things certainly didn't go to plan, I am of course also very pleased that we were able to travel again and socialise with so many amazing people – you know what they say, a bad day racing is still better than any day at work!"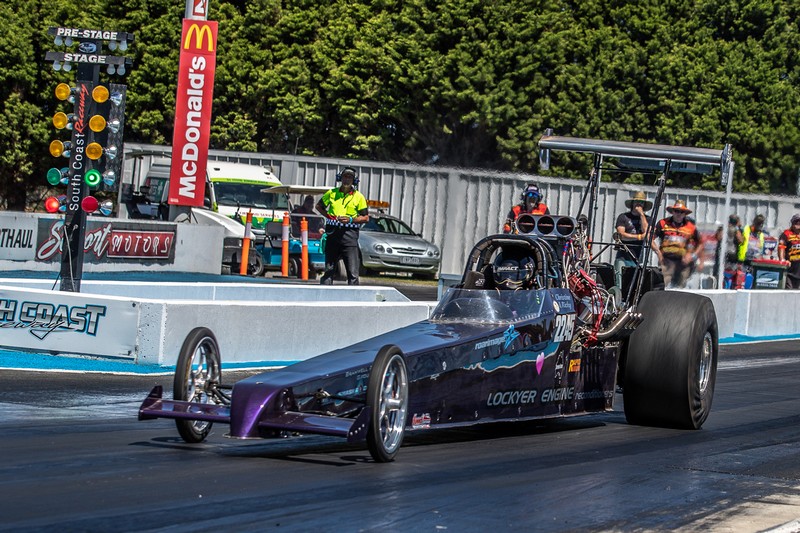 For full results from the 2021 South Coast 660, please click here.
To see the current points tally ahead of the next round of the extended 19/20/21 Summit Racing Equipment Sportsman Series, please click here.
The Summit Racing Equipment Sportsman Series will now travel to the Perth Motorplex for the Westernationals before returning to Victoria for the Twilight Nationals at Mildura's Sunset Strip across March 12-13. Confirmation about the dates and venue of the ANDRA Grand Final is expected to be confirmed in the coming days.
The 19/20/21 Summit Racing Equipment Sportsman Series season which has been extended in the face of COVID-19 to not only deliver successful completion of the current competition, but also a record prize pool thanks to Summit Racing Equipment. The performance powerhouse has announced it will offer 50 percent extra end of season prize money for a total prize pool of more than $100k including $10k for the prestigious John Storm Memorial, creating the biggest prize pool in Australian Drag Racing history.
For more information, visit www.andra.com.au